[Report] Top 7 airline marketing trends for 2018
A crucial part of a successful marketing plan implementation is reviewing and adjusting the steps and direction regularly.
With the first quarter of 2018 being in full swings already, here is our free report containing seven airline marketing trends you should pay attention to this year to stay ahead of the competition.
Trend 1: Storytelling
Storytelling has been one of the most used words in recent times and with good reason. Relatable, human stories are effective in getting airlines to form emotional bonds with their customers. This year, storytelling will take center stage with more airlines riding the bandwagon.
Trend 2: Influencers
Web and social media influencers are becoming increasingly relevant to airline marketing. In 2018, we expect to see a continued increase in influencer-generated content and a double down on airlines' efforts to identify and engage influencers that are already flying with them.
Trend 3: Crews
In 2018, we see crew marketing becoming an increasingly important part of airline communication. The goal will be two-fold: give airlines a more human face and give employees more recognition and motivation to do their job better.

Trend 4: Politics
Politics has been traditionally avoided by airlines. Though, we have seen a surge in politically-related messages and campaigns by airlines. In 2018, this trend will undoubtedly continue but it remains to be seen how airlines will approach it without risking damage to their brands.
Trend 5: Stopover programs
Stopover programs are not a new thing. Though in 2018, we foresee an increase in competition between stopover programs as airlines battle for transit traffic and attempt to lure passengers to their hubs.
Trend 6: Bots and humans
Bots and humans don't mix or at least that's what many Hollywood movies would have us believe. In 2018, we foresee a gradual spread of these hybrid solutions that will create an environment where the airline gains, efficiencies, machine learning improves algorithms and humans are less frustrated.
Trend 7: Channel uncertainty
Channel uncertainty is perhaps the best way to describe the situation in which many airline marketing teams find themselves when looking at the long-term future. Moreover, local variability is also becoming an issue and we are seeing an increasing gap in the way people use platforms in different countries. In 2018, we see this tendency is likely to continue and, over time, will become a very significant factor in the way airlines plan their marketing, especially on international routes.
Download free State of Airline Marketing report 2018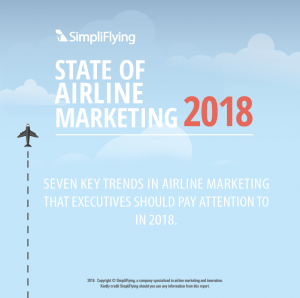 ---
Subscribe to Airline Marketing Benchmark Reports and be inspired by 10 new, innovative airline marketing campaigns every month. It's a fantastic resource for motivating your team and staying ahead of the competition. Trusted for years by the likes of Boeing, LATAM, Turkish Airlines, Airbus, and more. Learn more