Download our special 'flight shaming' report
For the first time ever, we've devoted an entire edition of Airline Marketing Monthly to one issue – Flight Shaming, the climate change movement and aviation.  This is the editorial from that edition, you can access the full report here.
The recent World Travel Market in London featured a panel discussion on the Future of Aviation and the decarbonisation of travel.
Representing the 'green' side of the debate was Justin Francis of Responsible Travel.  Many of the audience questions Justin fielded went something like this (and I am paraphrasing):
'I am from South Africa and many jobs depend on tourism' / 'Yes, but if the planet burns there won't be any jobs in tourism'
'What about tourism and travel supporting conservation projects' / 'But there may not be any conservation projects, if the planet heats up.'
And so on.  That neatly summarises the problem the aviation industry faces.  The issue of climate change is one that's quite simple to articulate and understand ('the planet is burning.') It has a sense of immediacy about it.
Yet, so far many of the industry responses are quite complicated, touching on a variety of different messages.  In fact, most airlines respond something like this:
1 – We're halving carbon emissions by 2050 (sounds like a long time away)
2 – We're introducing the brand new A320neo (what's an A320neo?)
3 – We're experimenting with biofuels (what's a biofuel? What difference does it make?)
4 – You can offset your carbon emissions by paying at this website (what's a carbon offset? Why should it be my responsibility?)
5 – Look at how we're cutting down on single use plastics (wonderful, now what about greenhouse gases?)
6 – In the  case of Ryanair and Frontier – We're the green airline! (Are you?  Can an airline be 'green'?)
That sets the scene of this edition of AMM.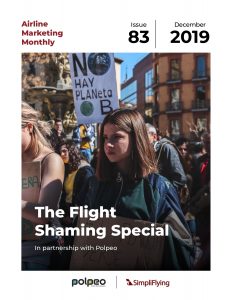 For the first time ever, we've devoted an issue to one topic – flight shaming, for the reason that it is arguably the major challenge the industry faces over the next two decades.
That's because it takes aim at the core of an airline's business by encouraging people not to fly.  And the calls for action on climate change will only increase, this issue is not going away.
As a result, in this issue we've looked at green activism, how the airline industry is responding and how it should respond.
We look at whether flight shaming is working (research says yes, but we think it's more complicated than that), and how different airlines are trying to show that they are environmentally responsible.
With the global climate strikes having been driven by High School students, we examine what the next generation of travellers – Generation Z – thinks.
In light of  easyJet announcing that it would be the first major airline to introduce carbon offsetting for all flights, we look at some of the objections many environmentalists have towards carbon offset projects, and we make some recommendations as to how you should talk about these projects if your airline uses them.
(Above, a video produced by German activist group 'Am Boden Bleiben' (stay on the ground) to promote a protest at Berlin's Tegel Airport)
Finally, we move on to talk about what happens when passive protests move to direct action.  This is an issue our industry partner, crisis simulation company Polpeo, is particularly qualified to talk about.
A subsidiary company of social media specialists, The Social Element,  Polpeo simulates any brand crisis, situation or social media experience.
It is the closest thing to managing a live, breaking situation on social media, but in a private and safe environment.
As a result, in addition to looking at the wider communications challenges around flight shaming, we will also spend time talking about what to do when things really start heating up.
Do you want to discuss this issue further, or do you want more information about some of the background to the different articles in this edition?  Get in touch by emailing me – dirk@simpliflying.com