How online user behaviour is being driven by sound – and what that means for aviation brands
The brand new issue of Airline Marketing Monthly is out.  As well as covering 30 aviation marketing campaigns, we've got a special supplement on how airlines and airports can use sound to enhance their brands, which we put together in partnership with sonic branding specialists DLMDD.  You can read the supplement and magazine here.  
Several years ago technologist and futurologist Andrew Ng predicted that speech recognition accuracy will be what pushes voice search into being not so much mainstream, but ubiquitous.  
His criteria was for this to happen was when accuracy moves from 95% accuracy to 99%.
95% is actually the same level of accuracy that humans have, and Google reached this threshold in 2017.  
In other words, we're reaching the point where machines and AI will be better at deciphering voice than the human ear. Accuracy increases usefulness, which increases adoption. 
For one thing it is often just more convenient to do a voice search on your phone, for example when on the move.  And consumers are increasingly becoming used to devices such as Alexa or Google Home being in one or more rooms of their home, with the estimate being that 22% of US homes will have Alexa-type smart speakers by 2022.
Airlines on Alexa
Changing user behaviour and the adoption of sound based technology and devices has led to a number of airlines to develop Alexa skills.
Examples include easyJet, which offers flight arrival and departure information via Amazon Alexa.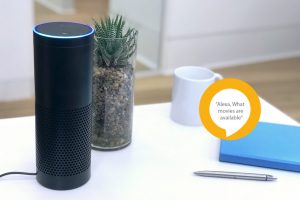 United's Alexa skill goes further by giving you information on Star Alliance partner flights, in flight amenities (does flight X have WiFi) and even prices ('what's the cheapest flight from Chicago to Houston').
A few airlines also now allow voice check-in, for example Virgin Australia.  
As of last year, Virgin Australia passengers who have the Alexa skill enabled can say 'Alexa, ask Virgin Australia to check me in', and have their boarding passes sent to a designated mobile number.
Meanwhile, last year American plugged into the Alexa skill developed by IFE company Spafax.
With the new Skill, American Airlines customers can ask a variety of questions about the entertainment available on board their upcoming flight, including what titles are available, featured actors, ratings and much more.

While a number of airlines have developed Alexa skills, KLM launched four voice activated services on Google Home last year.  
This includes a travel guide (find your next destination based on a number of criteria), a departure planner (what time do you need to be at AMS), a flight search function and finally a packing planner which advises on what to pack based on destination and time of year.
Technology reinforces the need for a strong sonic brand
The final point worth stressing about the move to voice based search and commands, is that the technology is of course AI driven.  
And so it also fits into the wider trend of routine customer service queries (e.g. 'when can I check in?', 'what's my baggage allowance') moving from customer services agents to bots – be they chatbots, or voice operated ones.
That in turn makes having the right sonic brand even more important.  Customers are increasingly interacting with you via sound.
Some of that sound, such as the voice on Alexa, you can't control.  But there are lots of other touch points which provide audio branding opportunities, which we've talked about in another article in our sonic branding supplement.