SimpliFlying Global Institute Webinar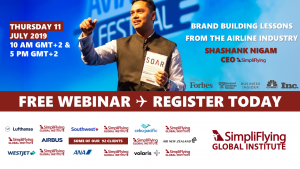 Next week the SimpliFlying Global Institute is hosting a free webinar where we will share branding lessons from the airline industry, developed by Shashank Nigam.
We will specifically discuss why airline marketing is different along with Shashank's proprietary 6X Airline Branding Model and more.
The webinar will showcase content from our Airline Marketing Fundamentals course, and offer great deals and free downloads.
We have 2 sessions available on Thursday 11 July 2019, to accommodate for various time-zones.
First session: 10AM GMT+2
Second session: 5PM GMT +2
Register for here for free: https://lnkd.in/deSD_RH
Please share this with those you think will find it relevant!