Flying the WestJet 787 Business Class – 16 seats that will change the airline and flying for Canadians forever #WestJet787
Most Canadians know WestJet as a fun low-cost airline. Those outside Canada may recognize WestJet's blue Santa Claus and its epic Christmas videos. But 16 seats on the WestJet 787 are going to change both these perceptions forever. 
WestJet has introduced a stunning Business Class on board their brand new 787 Dreamliner that will be flying to Europe. I had a chance to experience it on the inaugural flight from Toronto to Calgary. 
Having flown 99 airlines till date, a majority of them in premium cabins, here is why I believe you need to book one of these 16 Business Class seats on the WestJet 787 Dreamliner this year.
You turn left to Business Class amidst refreshing teals and tans
Move over grey! Teal is in. The new Business Class on the WestJet 787 features deep teal seats with tan and bright teal accents. If you're a frequent flyer like me, it is a refreshing change after experiencing premium cabins with grey seats and blue or red accents on most North America to Europe flights.

As you take a seat, the design elements pop out
The seat, the magazine rack all have chevron-like patterns and edges to them. The design is inspired by the Canadian Rockies and colors by the lakes. After a while, you feel like you're in a luxurious sports car, not an aircraft.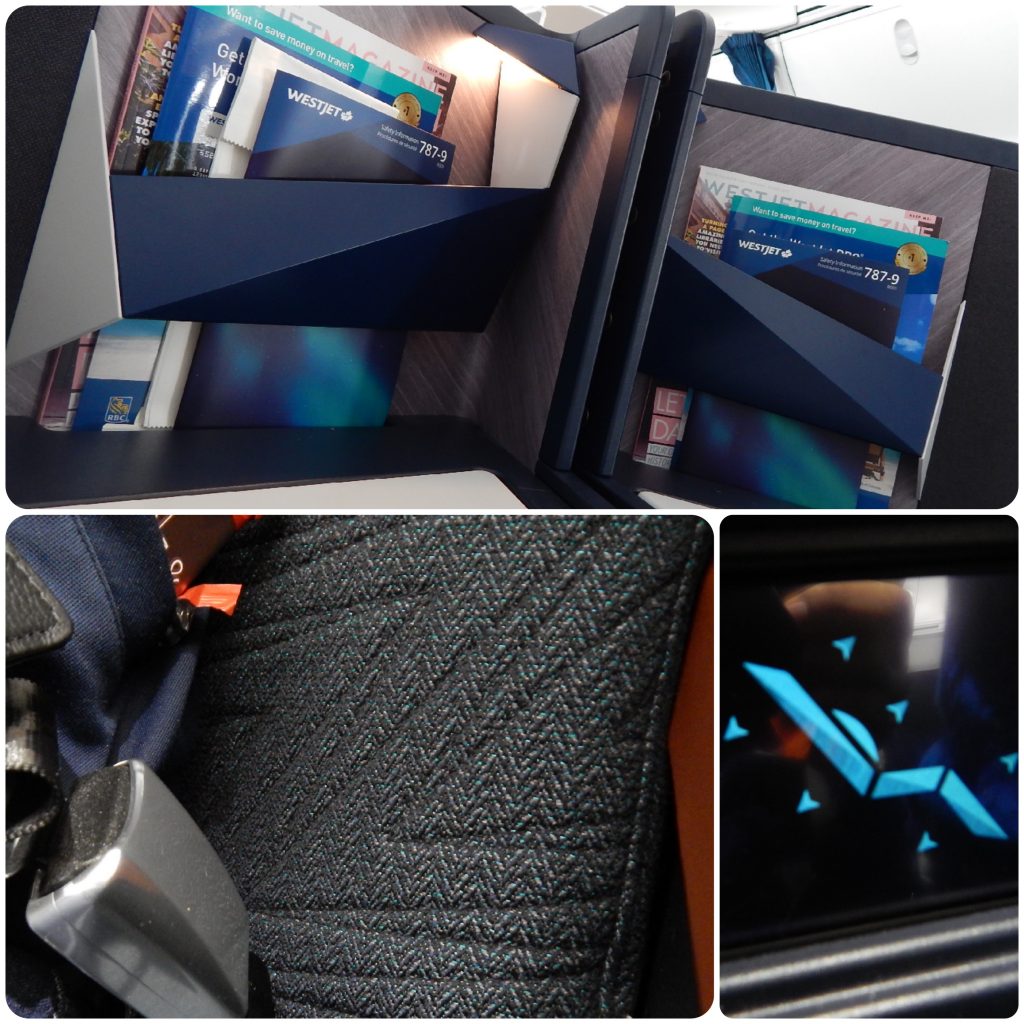 You start to appreciate the attention to details
When I fly on business, I want a good night's sleep. WestJet has introduced pull-up screens between the seats that give you added privacy. Moreover, you'll notice the Business Class cabin has a sound barrier between the curtains and the ceiling, so that you don't hear the clinking from the galley and the back of the aircraft. Frequent fliers will appreciate this, as both these features are not found in most other Dreamliners.
There's even a square vanity mirror hidden in the side storage of the seat for grooming yourself before landing (my wife loved this!).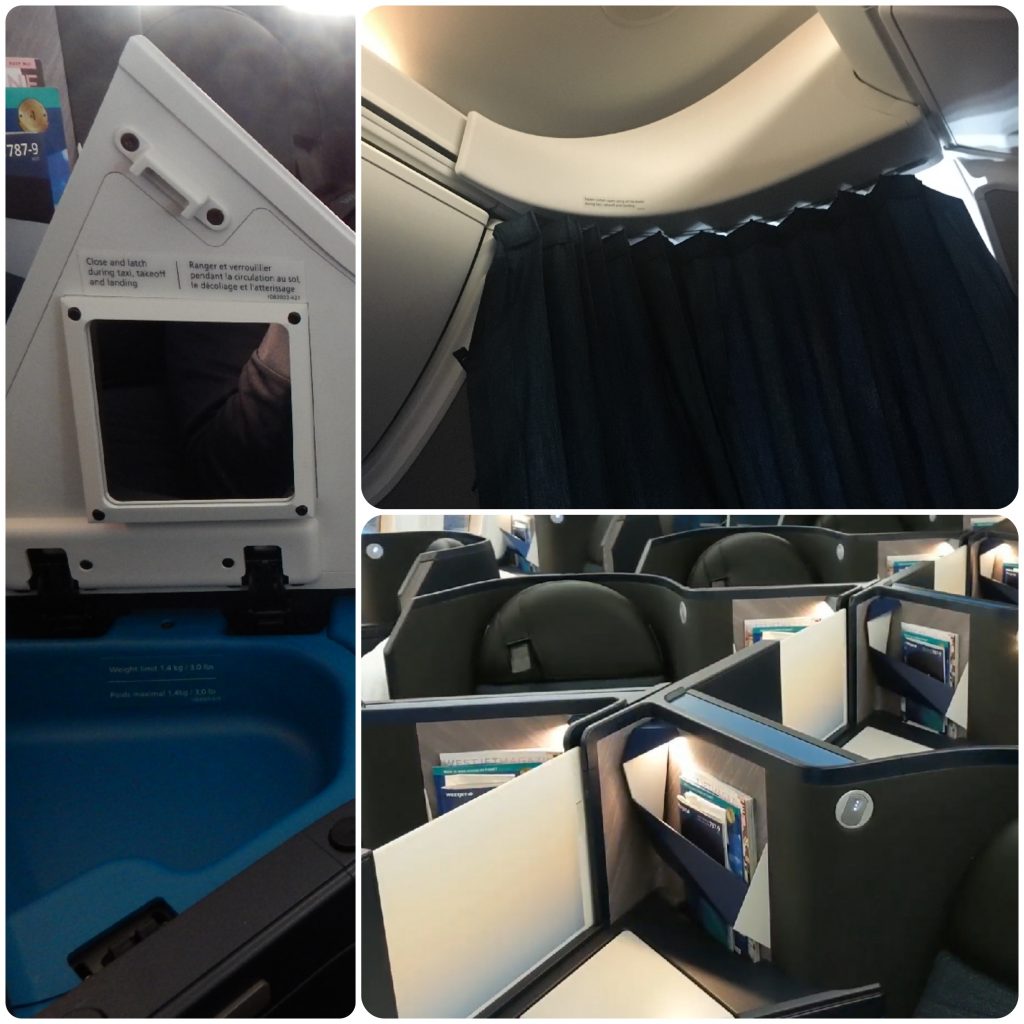 You'll find that the menu is a visual and culinary feast
In all my years of flying I have encountered few menus that look as beautiful as the one on the WestJet 787 – they feature paintings from local artists and not just food. I was pleasantly surprised how good my meal was, which WestJetters told me is inspired by Canadian cuisine.
On my long haul red-eye flights to Europe, I prefer to eat in the lounge before boarding so I can go to sleep upon take off. I then have my meal prior to landing. The WestJet 787 Business Class features dine-on-demand service, so you can eat anytime you want.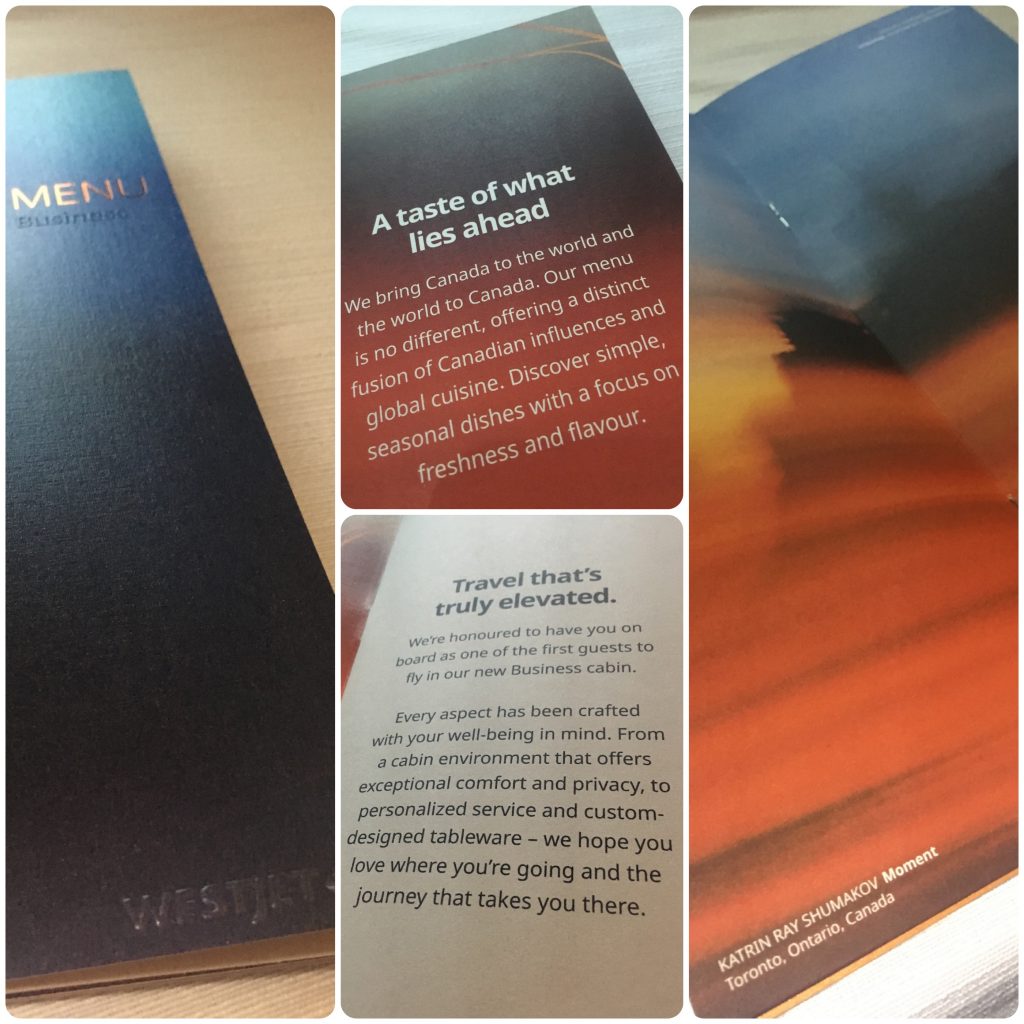 The meal is served with salt and pepper shakers that resemble the Canadian Rockies!
Yes, the three sisters from Canmore, Alberta! You'll find a lot of unique wares on the WestJet 787, like a blue bowl and a cutlery napkin holder made of hammered steel. It's totally fine if you want to nick them 😉
The plush velvet blanket is something else you might want to nick (but please don't!)
It is one of the more cozy blankets you'll find in the sky. And yes, it's teal as well!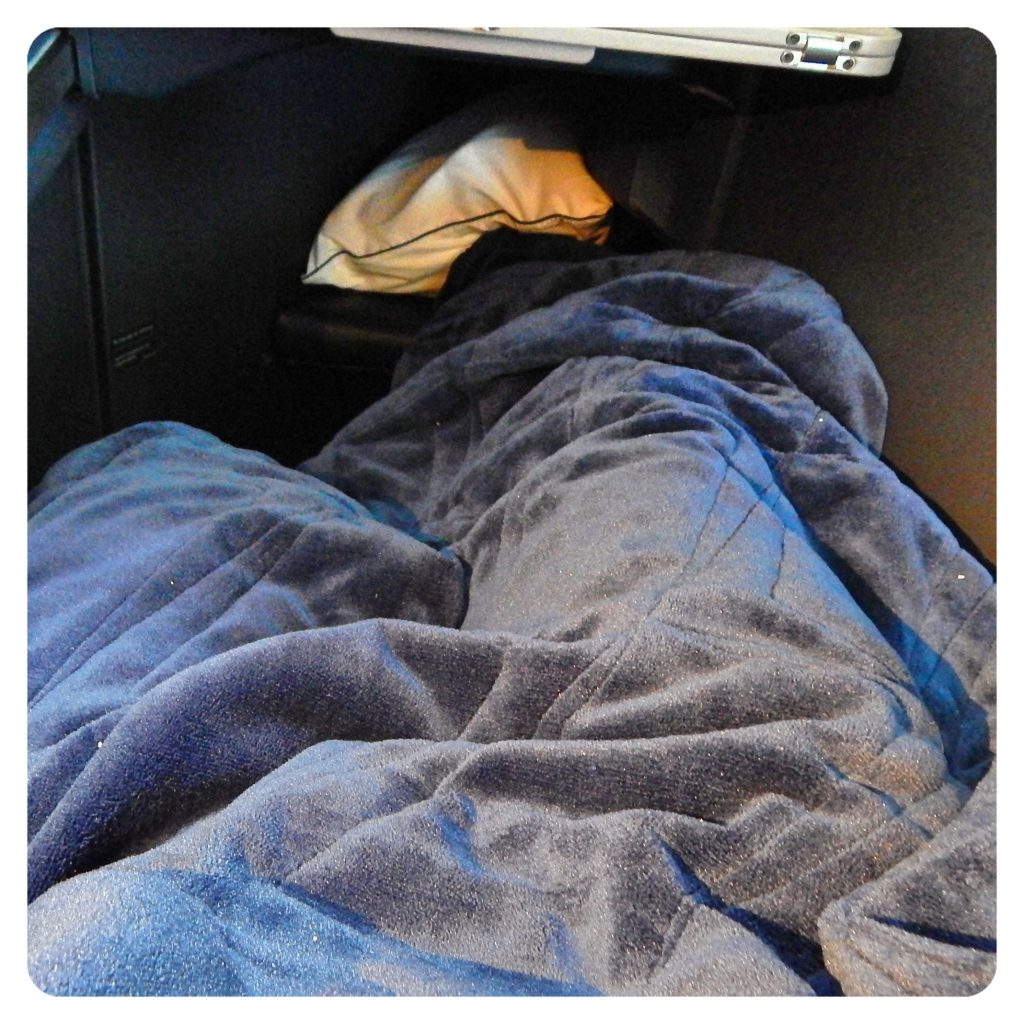 Before you slip into slumber, a dash of northern lights will leave you dazzled
The turndown service on the WestJet 787 Business Class is rather stunning. Your bed will be made and the mood lighting is switched to the "northern lights mode". Co-incidentally, you would probably be over Arctic Canada by this point if you're on your way to Europe. How apt!

When you're fully rested in your flat-bed comfort, you'll wake up to the sound of loons (no kidding!)
For the unaware, lots of Canadians spend long weekends and summers on cottages on lakes where loons signal dawn. Just like on the WestJet 787. 

Snack all you can
The WestJet 787 has a snack area that is cleverly carved out just behind the Premium Economy cabin. You can walk back and fill up anytime during the flight.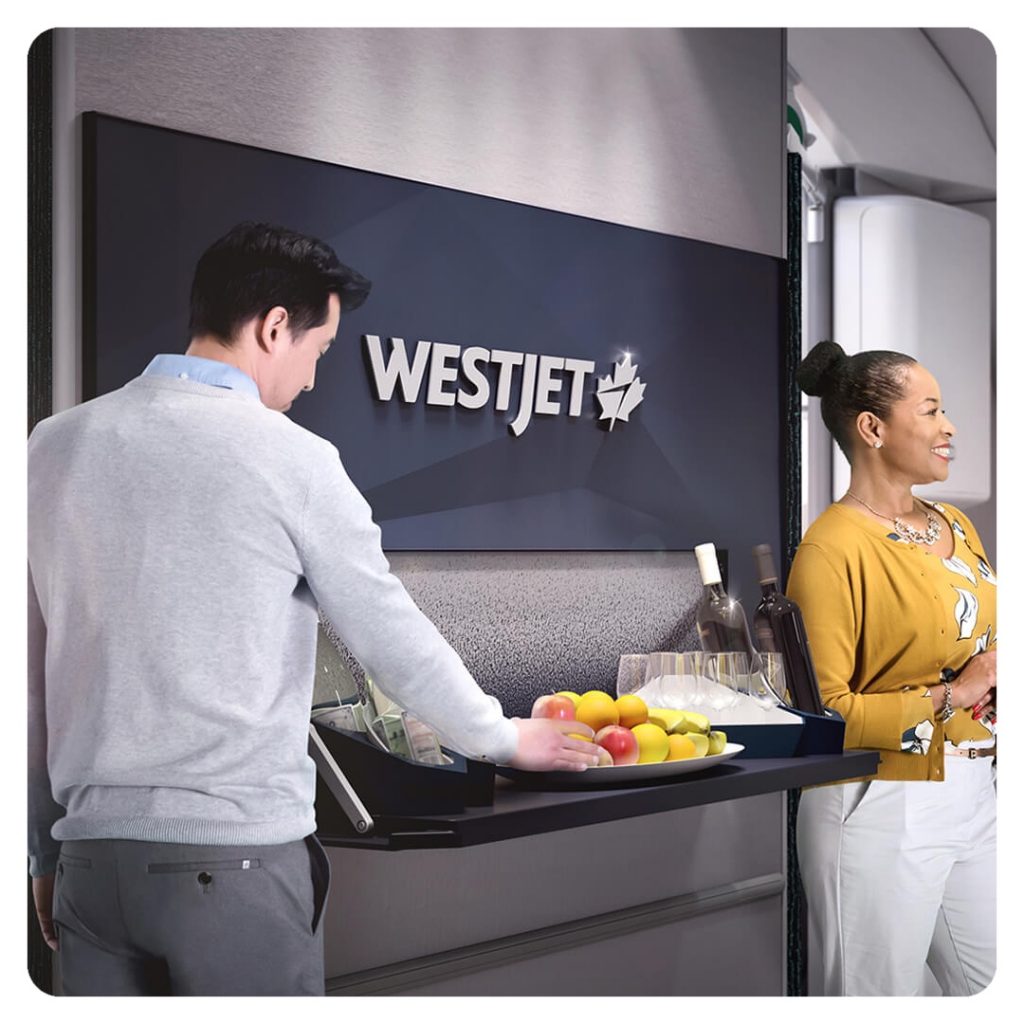 As you disembark, remember to take a selfie next to the selfie spot!
The bulkheads behind the Business Class and Premium Economy cabins feature stylized WestJet motifs. They are perfect spots to take a selfie!
There's one more thing… the Rahims of WestJet
Meet Rahim. As my wife and I struggled with two toddlers, their strollers, jackets, hats, mittens and all, he offered to help us. This was at the boarding gate. He then walked in with us to help us settle down. He belted up my kids. And helped us load the carry on items in the overhead bin (which was huge!). I thought he was part of the ground staff, but when he stayed aboard as we taxied, I realized he was working for the flight!
Once we took off, he helped my toddler with her IFE and put on Frozen for her. She was a happy trooper for the rest of the flight. I had a chat with him later and realized that Rahim is actually the Manager of all in-flight wide-body operations at WestJet. He's the man whose job it is to orchestrate the perfect in-flight service on the WestJet 787.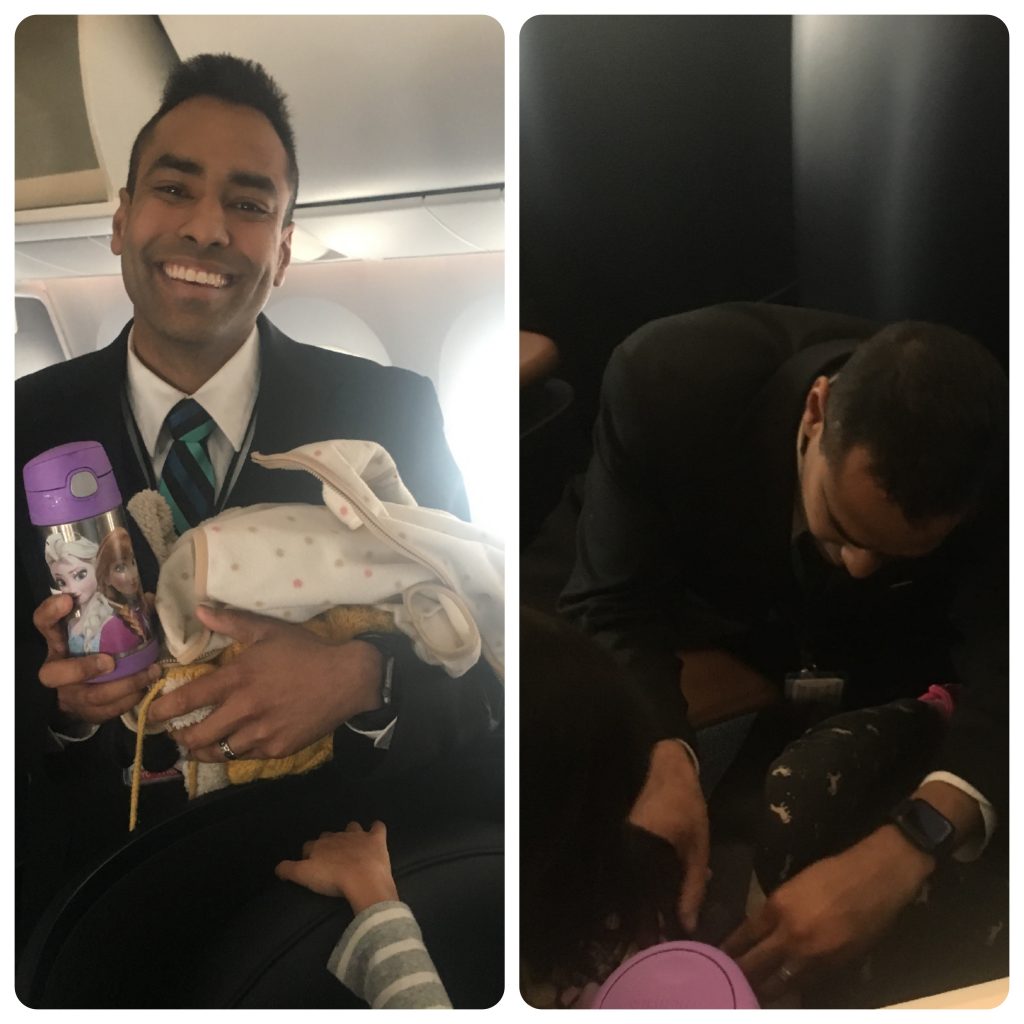 For the past two decades, WestJet has been known for one thing more than any others – WestJetters. American Airlines and Qatar Airways have the same Business Class seats as WestJet's. But they don't have the WestJetters. Rahim (and Kristy) are WestJetters. Ultimately, they will help set the WestJet 787 experience apart from the competition. It's the little touches that matter. I know, because traveling with kids is…different!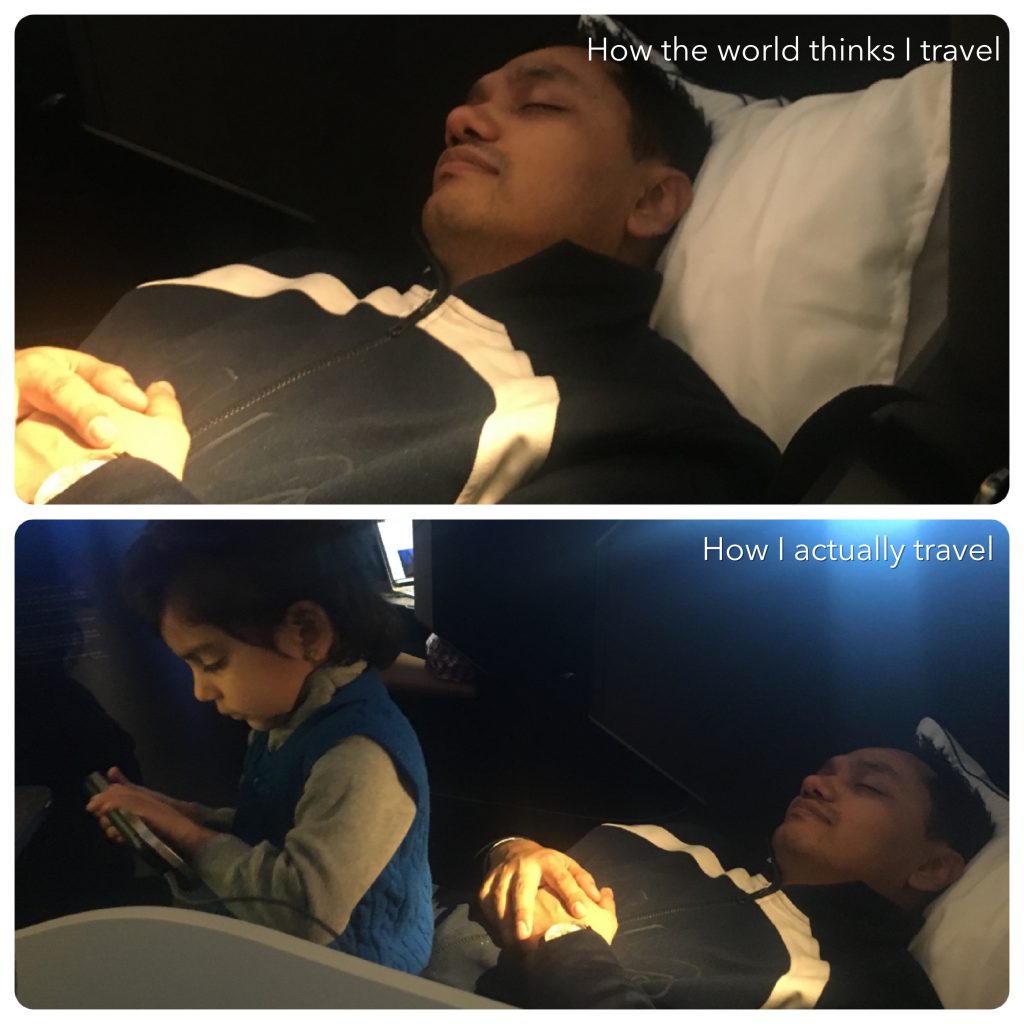 Having flown on so many different airlines, you may wonder where I felt the WestJet 787 fell short. There were indeed a couple of aspects. The Business Class cabin felt a bit too dark for me. If you're flying overnight to Europe, that's fine. But mine was a daytime flight and the cabin felt just a tad bit too masculine due to the dark tones. 
The other reality of the WestJet 787 is that the airline doesn't have too many of them right now. So it will only be flying from Calgary to Dublin, London, and Paris. While the initial network may work for travelers in Alberta and on the West Coast, I don't foresee myself flying from Toronto to be on the WestJet 787 to Europe as much as I would like to. I'm hoping that the airline will base a couple of 787s in Toronto in the future. Ultimately, the network will make a big difference if WestJet wants to attract business travelers. 
WestJet has been on a transformational journey over the past couple of years. The second largest airline in Canada, and the best one according to TripAdvisor, WestJet has gone full throttle in targeting premium travelers. Some serious work has gone bringing the WestJet 787 experience to life by the team led by Ed Sims (watch interview) and Louis Saint-Cyr. They've been well supported on the Marketing and Comms front by Richard Bartrem, Lauren Stewart, Rob Daintree, and Greg Hounslow.  
I believe the masterstroke from WestJet came much before the first 787 had taken off. It was when Rossen Dimitrov (watch interview) was brought on to lead the development of the WestJet 787 by the previous CEO Gregg Saretsky. Rossen has become the Michael Angelo of product design in aviation, having led the development of the Qatar Airways QSuite, possibly the best Business Class in the world. WestJet was smart to have leveraged on his years of experience in designing some of the world's best in-flight product and service. The result is a 787 experience you're unlikely to find on any North American airline.
Thanks to these 16 new Business Class seats, WestJet may soon be better known in Europe for Northern Lights and loons than its blue Santa. And in Canada for upping the standards of flying, especially up front.
*Note: WestJet paid for our flights to experience the new Business Class on the inaugural flight.