Aeroflot receives its first Airbus A350. And what a plane it is!
SimpliFlying was invited to the Airbus Headquarters in Toulouse for a 2-day event, and sent Marc Bång, CEO of the SimpliFlying Global institute, and our intern Pavel Bogomolov (Pasha),  to celebrate the delivery of the Aeroflot Russian Airlines (Aeroflot) first Airbus A350-900 (A350). This article is also featured in Airline Marketing Monthly Magazine, which you can subscribe to for free at the end of this article.
Aeroflot – More than you might think
Did you know that the Aeroflot Group consists of four different carriers, with the number one of course being Aeroflot, followed by their regional and charter airline, Rossiya, their low-cost carrier, Pobeda, and the Far East carrier, Aurora? And that they flew over 60 million passengers in 2019, to 300 unique destinations in over 56 countries? At least seven of the 300 destinations will be be served by the A350 including Osaka, Singapore. Delhi, London, New York, Miami and Tel Aviv.
A closer look at P. Tchaikovsky – The aircraft. Names Matter!
The newest member of the Aeroflot fleet, and their first ever A350, is named after the famous Russian composer, Pyotr Tchaikovsky. As a matter of fact, our Russian intern, Pasha, featured in  Sam Chui's video and provided a brief explanation along with proper pronunciation of his name.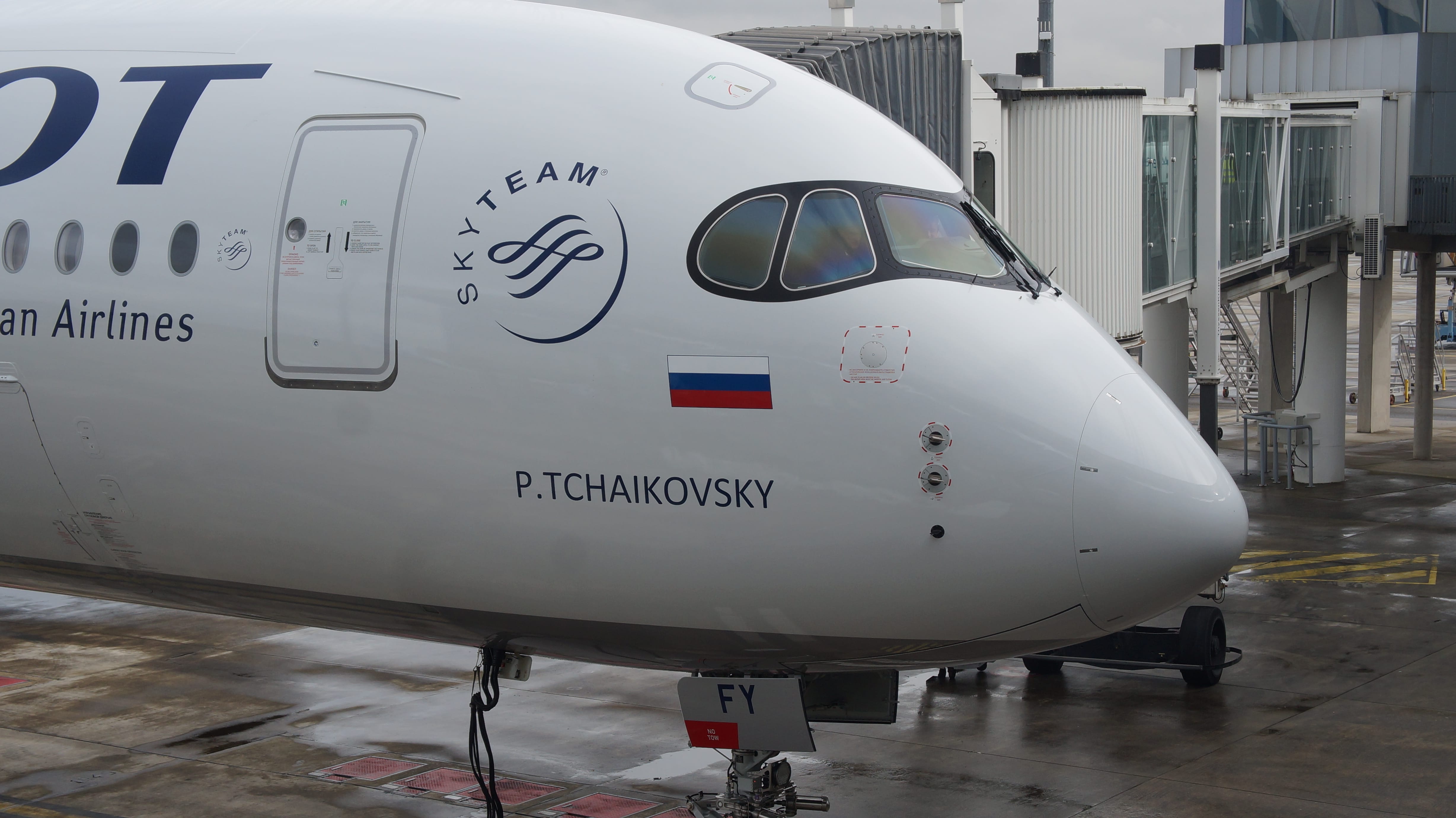 The new Aeroflot A350 flashing its name – P. Tchaikovsky
Fittingly, there was a live orchestra at the delivery ceremony playing his music from the Nutcracker – a classic in the world of ballet. It is not uncommon for airlines to name their aircraft, but what matters is finding the right name, to make an emotional connection with the brand and its passengers, which I think Aeroflot managed to do quite well here.
The Aeroflot A350 Experience
Apart from being met by a host of flight attendants, when we entered the plane, the first impression of the overall feel and interior, was bright and spacious, but also warm, welcoming and luxurious. Aeroflot has designed the new cabin by using leather, textured fabrics, and high-quality finishes, and coupled it with a toned-down color palette of dark blue seats, with terracotta like touches on headrest, seatbelts and the pillows in business class, which are also leather.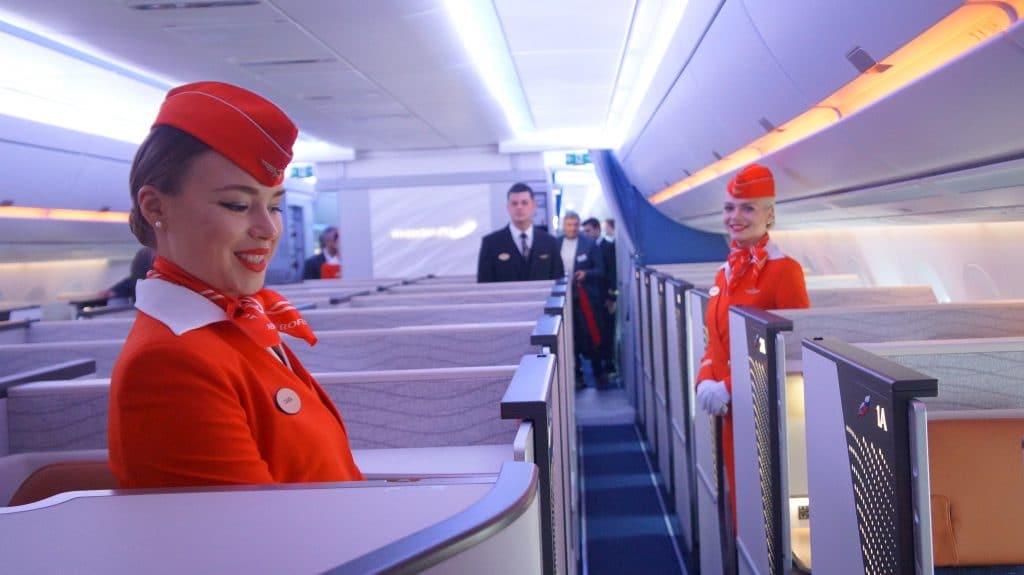 Aeroflot flight attendants bidding us welcome on-board their new Airbus A350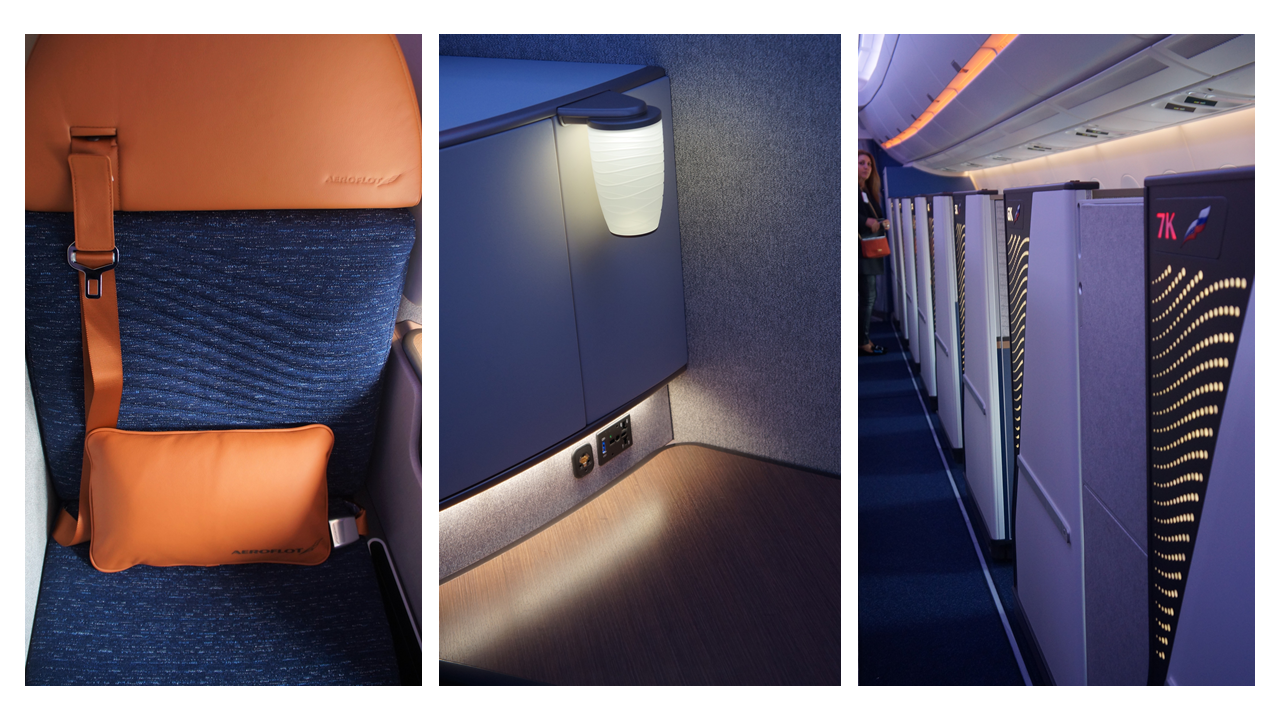 Business Class seat, with leather pillow and headrest – console with cosy light – the doors to the private suites
This makes for a modern and contemporary look, which is a huge upgrade from the bright orange currently being used on their other aircraft.  The genius here, is that it still is very much on-brand for Aeroflot and has instant brand recognition for the Russian Airline. The instant feeling of space is reinforced by the removal of the overhead bins over the centre seats. The on-board bar at the back the business class section also made it feel more like a hotel lobby, than an aircraft cabin. This, in combination with the mood lighting, provided a tranquil feeling, which at least for me, made me feel very much at home.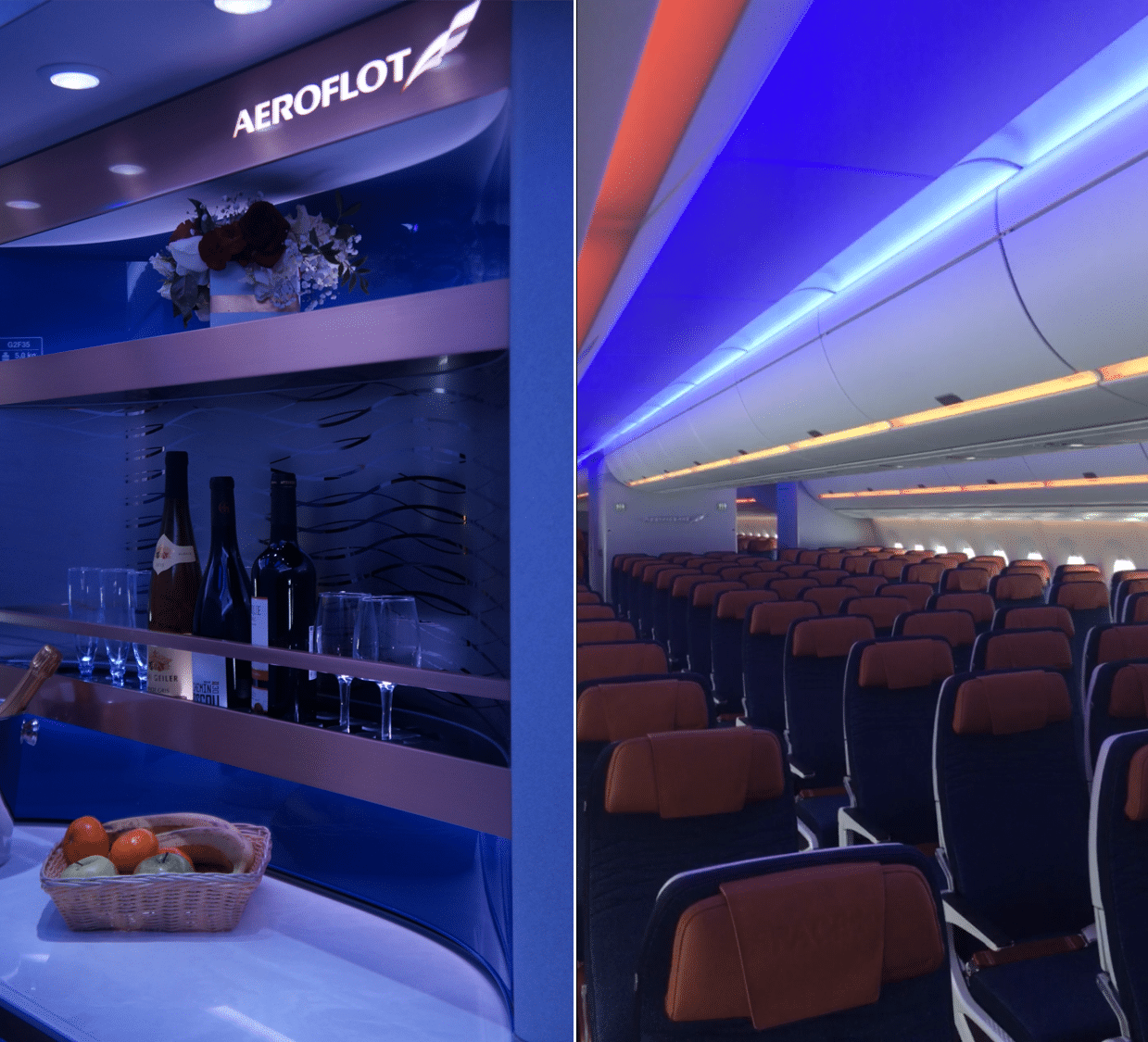 Business Class bar, and mood light in economy class
The 5 Matryoshka Dolls
Have you ever seen those typical Russian wooden dolls, that come in decreasing sizes, and that can be stack inside each other?  I'm sure you have. They are called – Matryoshka dolls. That same feeling of lifting up the biggest Matryoshka and uncovering another one that is smaller and different, was a bit like what exploring the new cabin felt like.  Every time I turned a corner, something new was waiting to be explored. To keep in line with this analogy, here are the 5 Matryoshka or details, that I discovered starting from the biggest, to the smallest.
1. The Personal Wardrobe
Each of the 28 business class suites, feature a small personal wardrobe, which is located next to the massive 54 cm in-flight entertainment screen. There is enough space in there for a suit jacket, which is what I tested out, and it worked great. Just above the coat hanger, there is also a literature pocket, which I assume is used for their in-flight magazine, the safety card, sick bag etc. which makes for a slick and clean look, as opposed to having it exposed and looking a bit cluttered.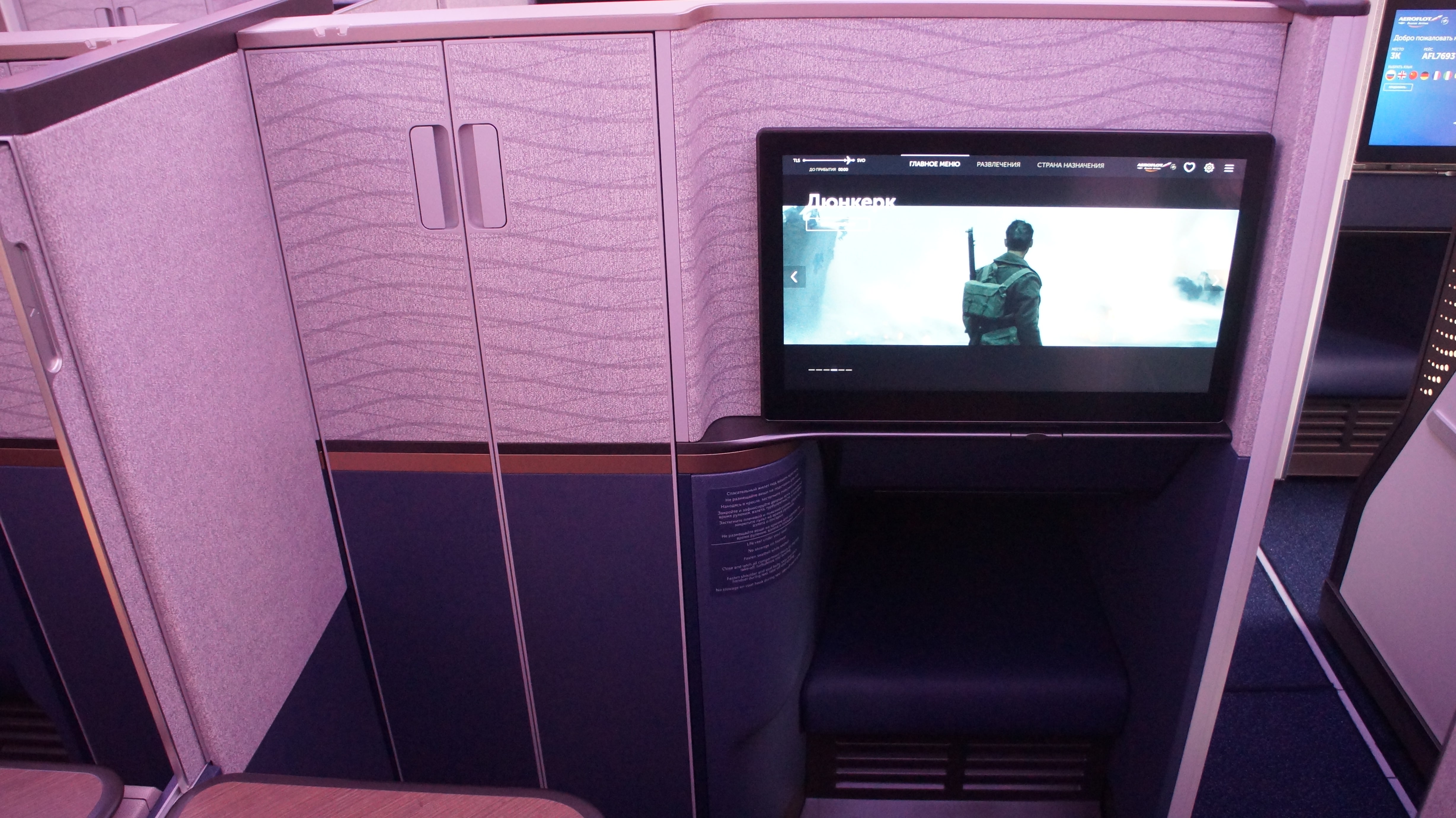 The personal, double door wardrobe in one of the two middle suites in Business Class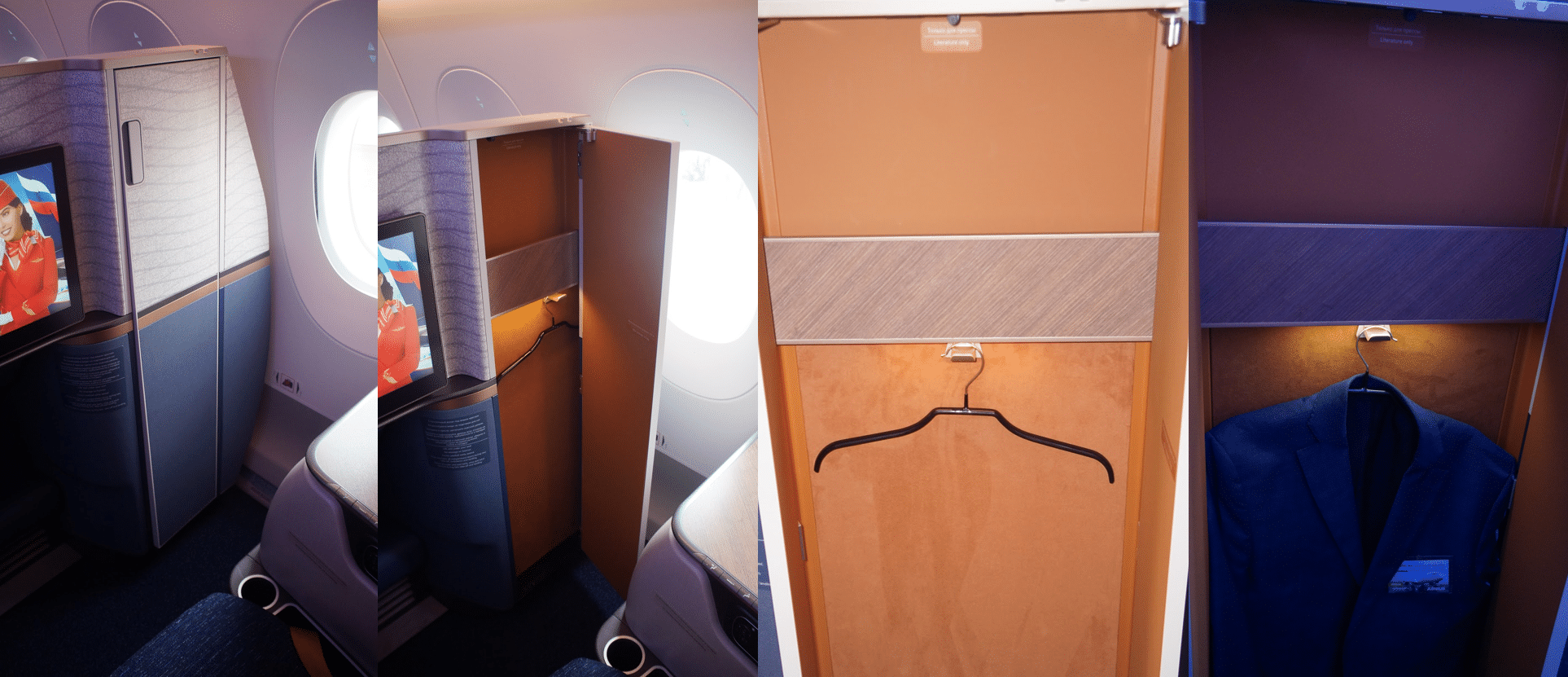 Personal wardrobe capacity
2. The Mirror
It sounds too simple to be noticeable right?
But it is not. If you have ever been on a long flight and slept during the flight, perhaps even with an eye mask on, you very well could be waking up with messy hair, marks around your forehead from the elastic band, and generally looking like a zombie. But regardless of when this scenario occurs, be it after 2 hours, or just before landing, you would most likely want to check yourself and freshen up a bit. For this, most people would head to the lavatory to use the mirror, but for many exposing themselves in this state to other passengers and cabin crew, is not ideal. This mirror is therefore perfectly sized and positioned to handle even the most severe cases of the "long-haul look", and allows for convenient and discrete way for passengers to freshen up.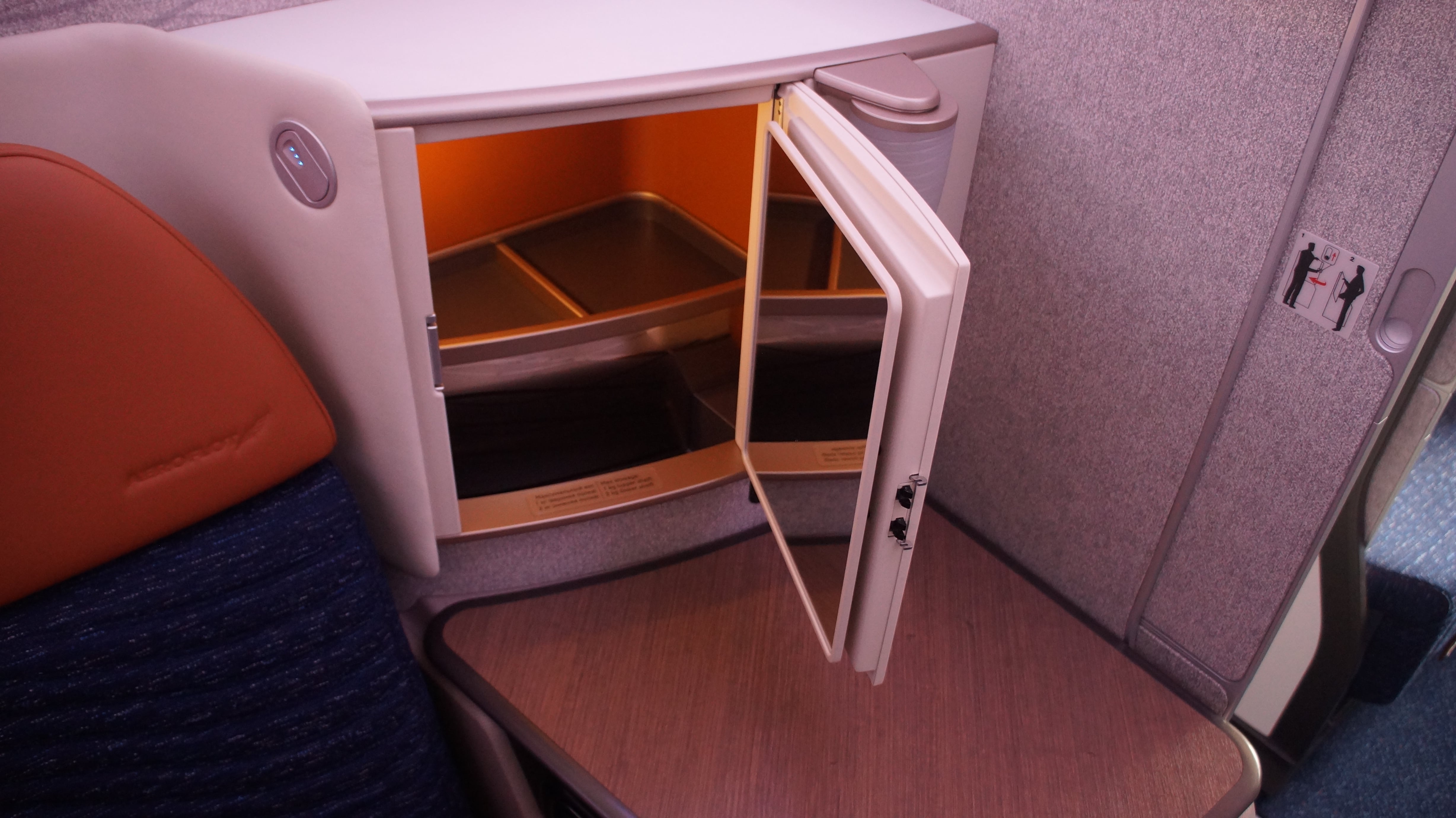 Mirror in the personal cabinet in the Business Class Suite
3. The Shoebox
When it comes to airlines, the word "shoebox" is normally regarded as negative, as it is a metaphor for not having a lot of space. However, in this case, it is an actual shoebox for your shoes, hidden in the console next to the aisle. This is rather convenient, as one does not have to place the shoes in the overhead bins, in a shoe bag ( which some airlines offer), or in some other spot that might be shared with other items, and or visible to the eye, again creating a cluttered look. Simple, but effective. And if you like to keep your shoes on, it can of course be used for many other things too!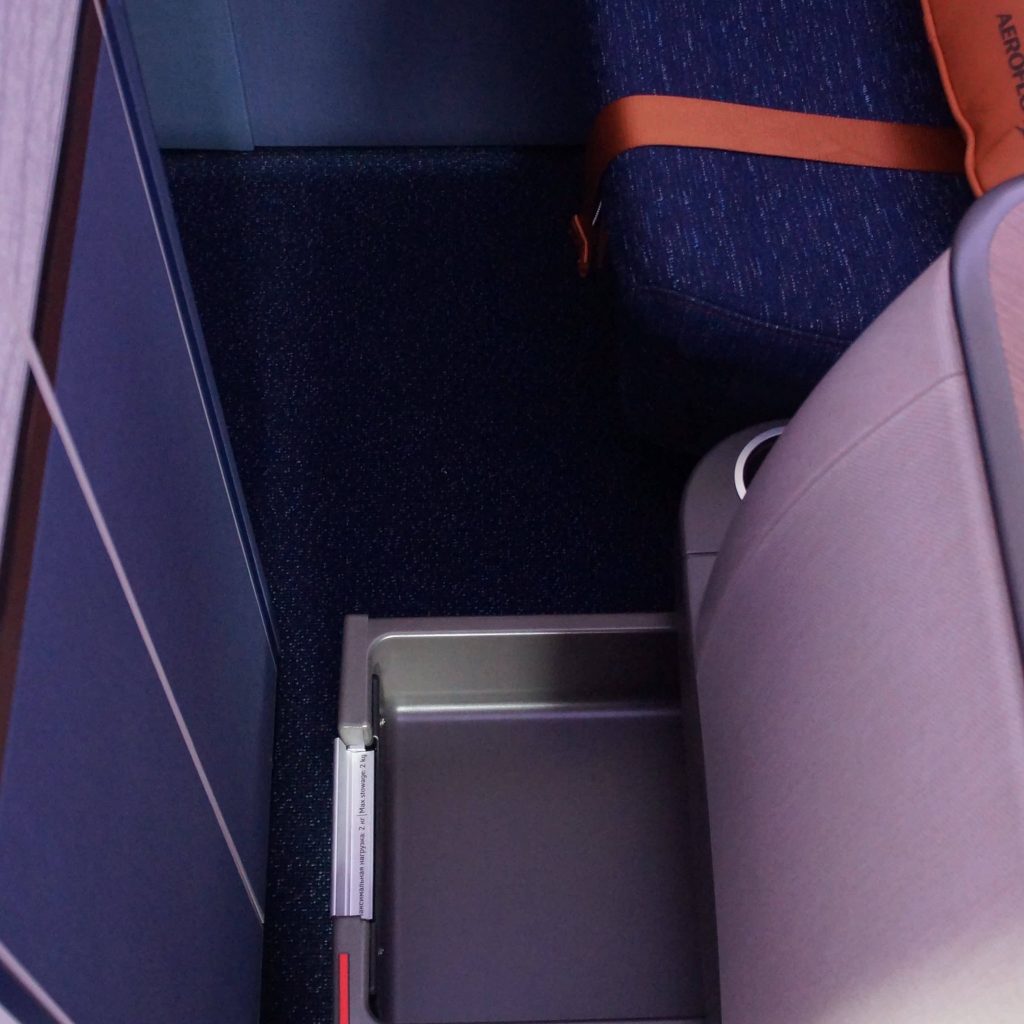 A shoebox in the Business Class Suite
4. The phone/tablet holder tray table
Let's move away from Business Class and look at Comfort Class, which is Aeroflot's premium economy product. The seats look good and are comfortable, the headrests and leg rests are also great, but none of that qualifies as the 4th Matryoshka. So, what does? The tray tables device holder, of course.  It is seemingly a small thing, like any 4th Matryoshka doll would be, but it packs a very convenient and practical punch. This is something passengers want. A place to have your phone or tablet, with no need to have your own device holder with you, or try to create a makeshift one on the fly (pun intended + yes, I have indeed had to do that many times!). You can also use the device holder when the tray table is folded in half, as the extension folds both ways. The tray table is also very sturdy.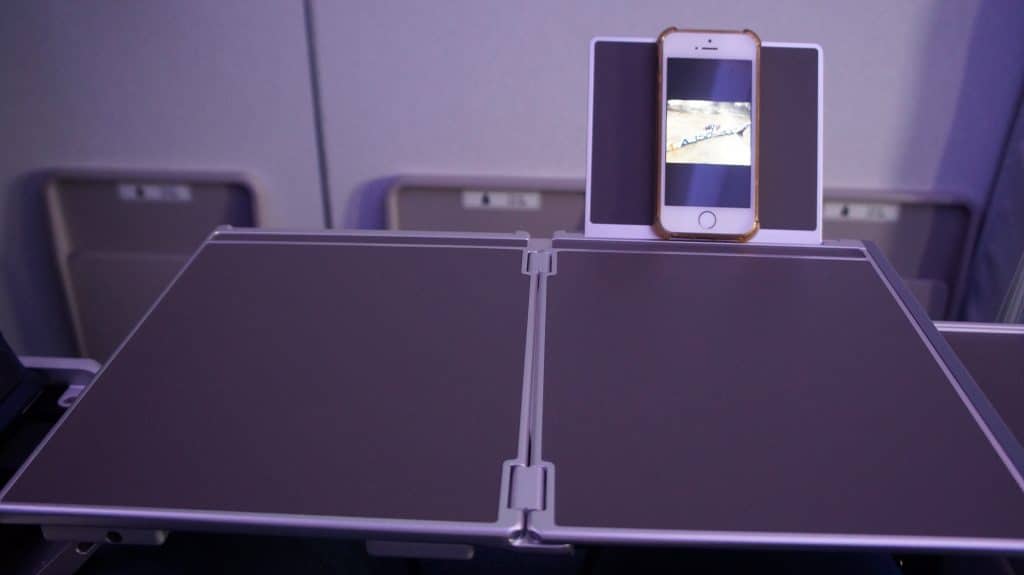 The tray table in Comfort Class with the device holder in use
5. The Branded Seat Belt Buckles
We are now exposing the last of the 5 Matryoshkas. It is small, yes. It is perhaps insignificant. But yet, there is something to be said about the Aeroflot logo appearing on the seat belt buckle. First of all, I think we can all agree that it looks nice. And think about it a bit, Aeroflot has managed to place an additional 316 logos throughout the cabin, in a very subtle and elegant way. That's good brand exposure. Sure, some other airlines do this too, like Qatar Airways, but there are not many. And who knows, perhaps subconsciously, passengers will perceive Aeroflot as a safer airline, because their logos appear on their safety belts? Bottom line – we like it!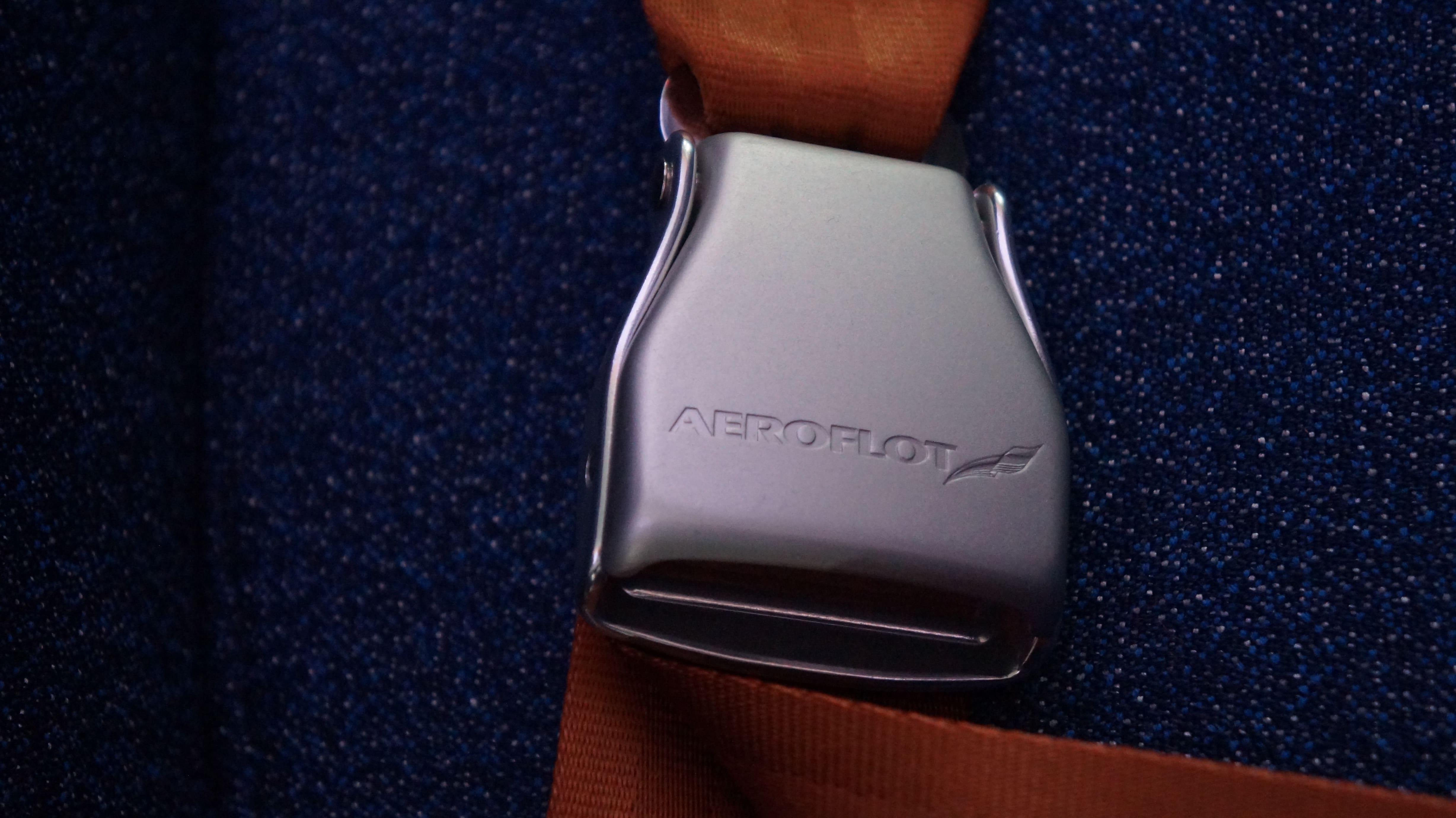 Aeroflot branded seat belt buckles
It is personal – Combining Flying with Football
Aeroflot sponsors one of the most iconic football clubs in the world, Manchester United, and has done so since 2013. Being a Manchester United fan myself, I wanted to make sure that I combined two of my passions in proper fashion. To make that happen, I wore a Man United shirt underneath my shirt and tie when touring the A350, and after having taken pictures in my formal attire, I did a quick change in the on-board lavatory, and came out sporting my Red Devils top. Mission accomplished.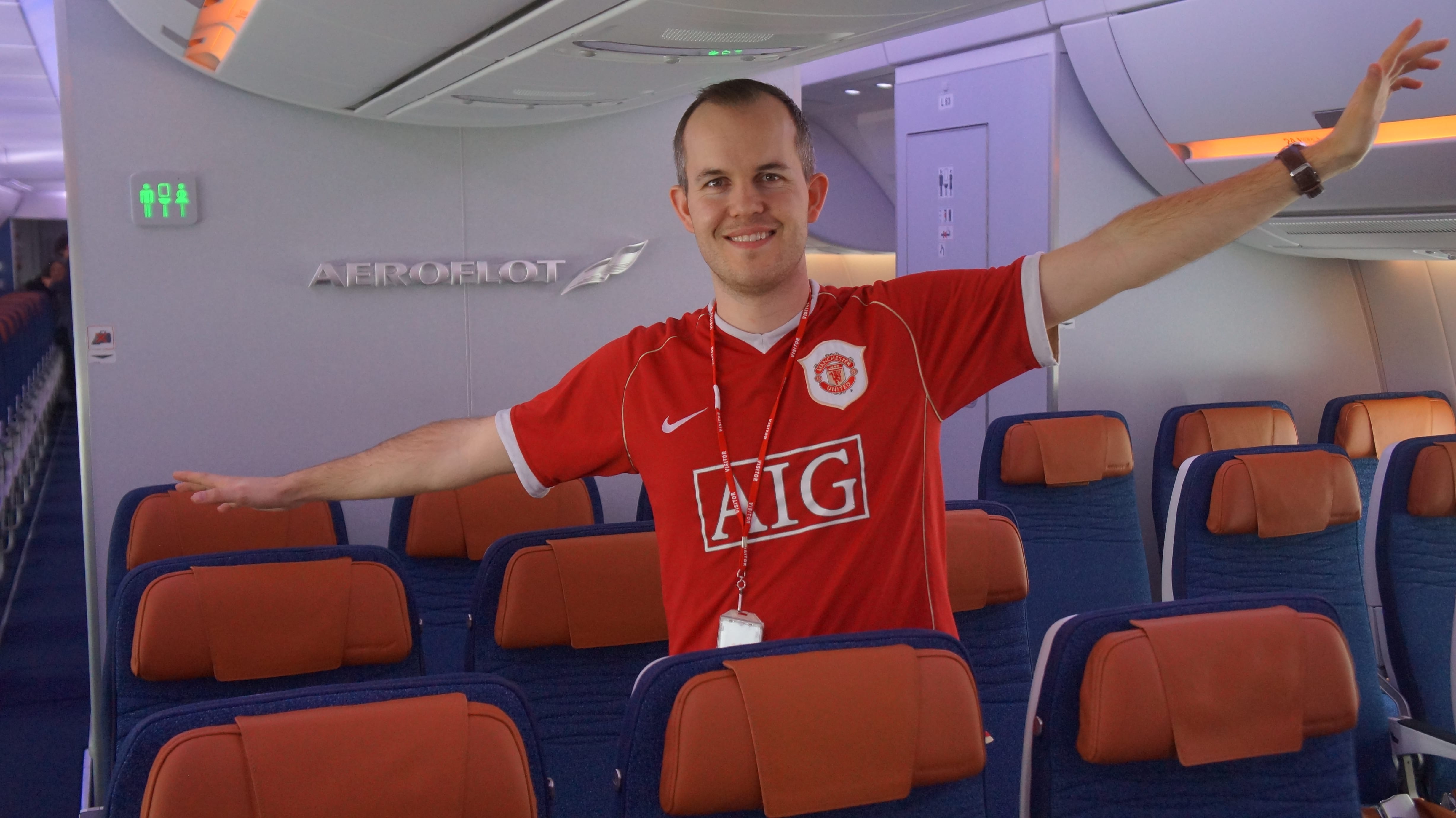 Marc Bång posing in his Manchester United top onboard the Aeroflot A350
A Russian Perspective – by Pavel Bogomolov, SimpliFlying Intern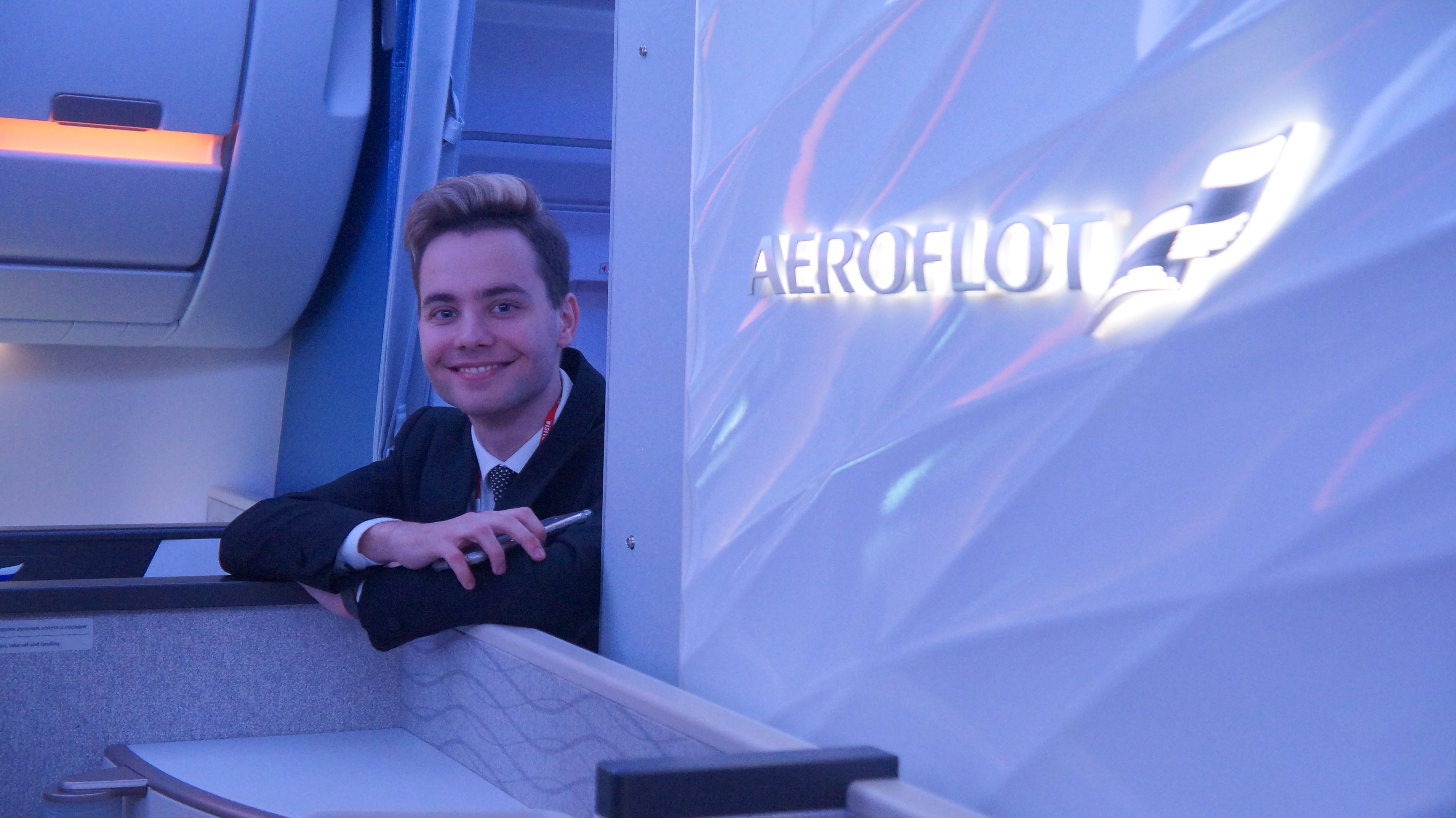 Pasha poses proudly next to his national carrier – Aeroflot
The Aeroflot Brand
If you are Russian and you need to fly somewhere, Aeroflot will be your top of mind recall, as it is the national carrier, and the most reliable, punctual and premium airline available in the country.
For the past, decade Aeroflot has worked successfully towards creating a positive image within its own home market, investing heavily in its product, service and branding. A good example of an unconventional ad can be found here, in partnership with CSKA Moscow. Aeroflot is no stranger to sports marketing, and apart from currently sponsoring Manchester United, as already mentioned, they also currently sponsor the basketball club, CSKA Moscow. All in all, this approach has had a positive impact on the brand, especially in its home market.
The new A350, which is the most technologically advanced commercial aircraft currently available, is a major step towards strengthening the brand on the global arena.
The 8-hour domestic flight
From a personal perspective, my most memorable flight with Aeroflot was 2 years ago from Moscow to Vladivostok. The flight time normally exceeds 8 hours on this route, so only widebodies are used. During the flight, I couldn't help but think about how big Russia is and that I would be flying for eight straight hours without ever crossing the national border. As anyone would do on a long flight, I was trying to make myself comfortable in my economy class seat, which all things considered, was quite good, as Aeroflot wide-bodies have the same service standard across domestic and international markets, which is not the case for eg. Domestic US carriers, despite of having similar flight times.
The A350 era
Little did I know, that my next Aeroflot widebody experience, would take place on the ground, in the brand new A350! Although I did not actually experience the service and flight onboard the A350, the difference was striking! Instead of a 3-4-3 layout, which I had experienced on my B777 flight to Vladivostok, the A350 had a 3-3-3 layout which provided at least one additional inch of width per seat – a decisive factor on long-haul flights.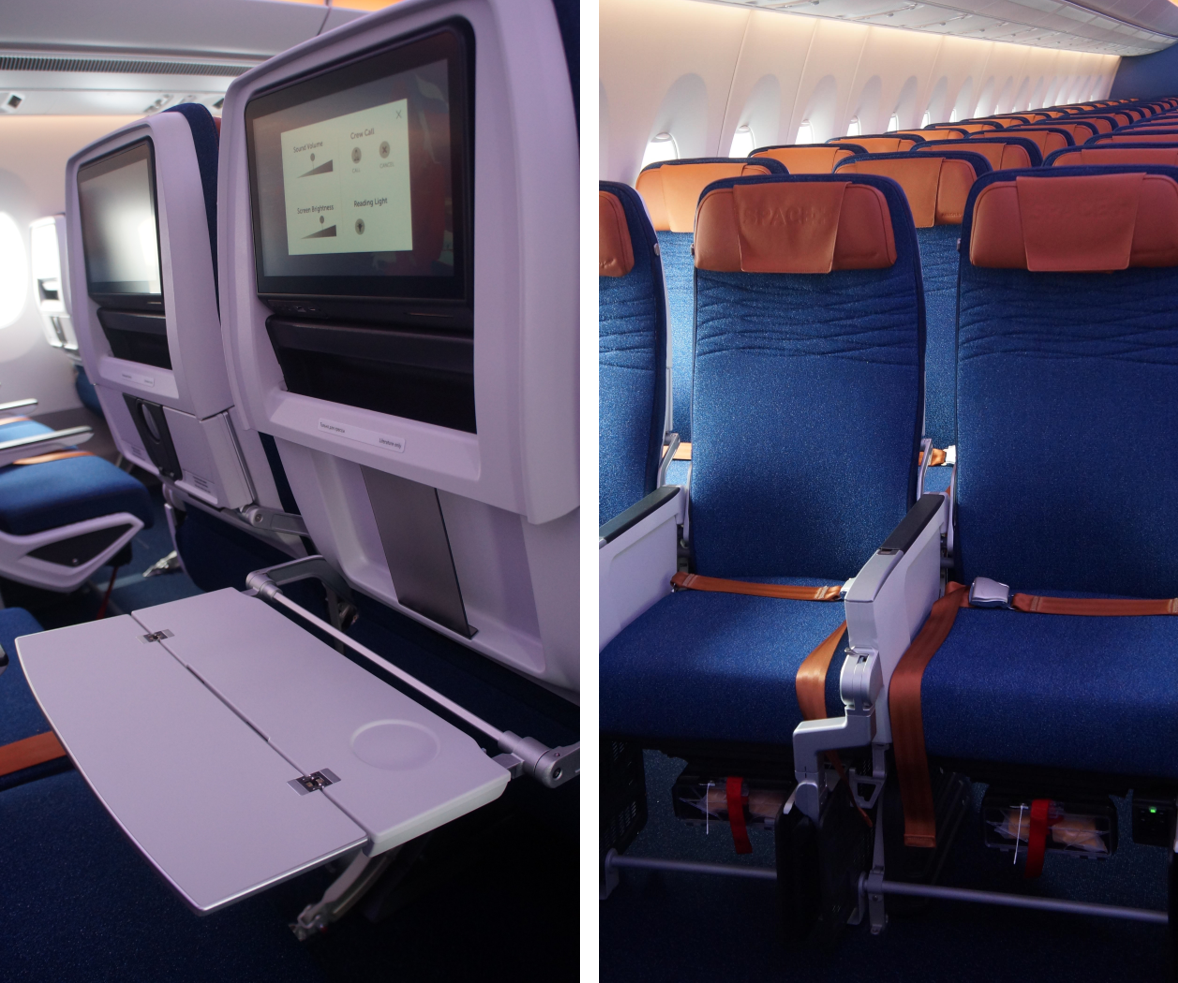 Aeroflot A350 economy class
With my 179 cm, I also noticed that the legroom was I improved, as I could fully stretch my legs forward under the seat in front of me. The seat recline is was also more generous, which is always a plus. Another notable change was the IFE system, as the screens have significantly improved in size, quality and responsiveness. The A350 marks a new era for Aeroflot, as the brand, service and product of the airline is rapidly aligning itself more and more with some of the world's top airlines. Personally, I wouldn't mind another 8-hour flight in economy class, if its on-board the new A350.
---
Subscribe to Airline Marketing Monthly here and receive our monthly selection of the best aviation campaigns from all around the world directly in your inbox!