Airline marketing pivots from planes to people in the age of coronavirus
Imagine the withdrawal effects the frequent flier who used to be on an airplane three to four times a month? Not only would he or she be feeling awkward at home, but he or she would also be missing his or her airline "family". From the crew to the check-in staff. From the airlines' perspective, it is also a challenge to stay in touch with frequent travellers who they flew often or even customers who may have forward bookings with the airline.
Should airlines be marketing? Hell yeah!
Traditional airline marketing campaigns have been paused due to the COVID-19 lockdown the world over. No one is buying any air tickets. How can then airlines stay top of mind? In fact, should airlines be marketing at all in these times? The simple answer is "Yes". Now is the time for creative airline marketing teams to forge deeper bonds with customers. To maintain the trust they may have built over many years. In fact, there is positive co-relation to revenue as well.
Back in 2008, in the aftermath of the global financial crisis, Virgin Atlantic doubled up on marketing while others scaled back with their "Still Red Hot" campaign.
The airline marketing campaign is estimated to have driven 20% of overall revenue during the campaign timeline, equal to a payback of £10.58 for every £1 invested.
Here is how some of the best airlines in the world are staying on top of minds through the COVID-19 crisis.
Showcase your staff and their skills
Virgin Atlantic is at it again. The airline is making marketing personal. They have launched the "Virgin Atlantic Flight School" on Instagram, which offers 15 minutes of lessons delivered by one of their staff members. The first lesson was by a female Boeing 787 pilot, talking about her workday. Subsequent lessons showcased a customer experience designer talking about putting together an aircraft cabin and a cabin supervisor teaching crisis management. It's not just curious students or aviation geeks who are soaking it in, it seems that Sir Richard Branson is watching too!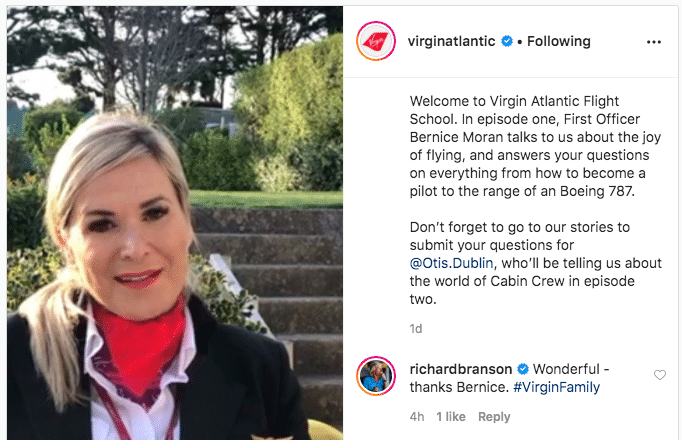 In the same vein, Etihad Airways is getting its multi-lingual cabin crew to run language lessons. You can learn Spanish, Arabic or other languages via their YouTube channel. This is on-brand for Etihad as it takes pride in having a diverse crew from all over the world. The airline even has its chef teaching out to make a mushroom risotto!
Make it personal
While most people are working from home for extended periods, they are missing the personal connections they had outside their family. With their coworkers, with other travelers and even with airline crew (for frequent travellers). Airlines have an opportunity to build emotional connections with their customers by making their marketing efforts more personal.
Qatar Airways is one of the few airlines that has continued to fly during the crisis. They have upguaged their aircraft to cities that had a lot of repatriating customers. The airline marketing team at Qatar Airways has swooped on this opportunity to brand these efforts under the #Takingyouhome banner.
One of their videos shows use cabin crew and how they have had to make sacrifices to continue flying during the coronavirus lockdown. A male crew member who misses his mom. Another crew who postponed her honeymoon to continue flying. And a flight attendant who recounts the story of a passenger who thanked her for repatriating her home. The video has a personal touch to it and that's what makes it stand out. Such videos help build an emotional bond with people who may be stuck at home.
Behind the scenes
Airlines are complex businesses. Now is a good time to give people a glimpse behind the scenes. A number of airlines have started showcasing how they are carrying freight, which has taken off in the absence of passenger traffic. Sharing a peek behind the airlines' operations allows everyone to better understand the efforts needed to keep planes flying. Qantas has shared a video of their head of maintenance showing how he stores aircraft. Once again, this gives us a chance to see someone we usually wouldn't and connect with the person, and hence the airline better.
Beyond people: Collaboration
COVID-19 has impacted everyone. Competing airlines are suffering together. So why not show solidarity with competition by collaborating with them. A very good example came from Saudi Arabia, where all four locally competing airlines produced a joint-safety-video themed campaign that encouraged people to stay at home and follow social distancing guidelines. It was a creative effort that was well-received globally.
In India, a similar effort was undertaken by various domestic airlines by starting a Twitter thread using each others' marketing slogans. The end result was that all airlines got a boost over a weekend where the tweets spread like wildfires across living rooms in India.
As we can see, a number of creative airline marketing teams are putting out content based on their people. That is because humans connect emotionally with other humansat a time when they can't fly. In addition to sharing this content on social media channels like Instagram and YouTube, we would encourage airlines to send targeted emails to frequent fliers and customers holding future reservations. After all, they too should hear something beyond, "we will be here for you when you are ready to fly."
Those airlines that continue to foster strong bonds through this crisis will be the ones that benefit the most once flying is normal again. It is impressive how many are already well down this path.
Sign up for my webinar next week – on how airlines can build brand trust though this crisis: https://lnkd.in/erAYQuB