How Airline Marketing Has Evolved Due To COVID-19
Marketing needs to be responsive to global events and crises to build brand trust between an airline and a passenger. Whatever might cause a disruption in the industry, airline marketing teams should always be ready to protect and push forward the brand they are representing. The global COVID-19 pandemic has disrupted travel, so changes in airline marketing are bound to take place.
Today we can clearly see a shift in priorities for those who choose airlines as a means of travel. People are eager to know that the airline they are flying with is taking all efforts to ensure virus-free travel. Understanding this, airlines, in turn, have changed the tone of their brand messages – now they opt to assure their customers that even though the flying experience may have changed, travelling with them is as safe as it used to be.
Focus on cleanliness
In the current times, few people care about the aircraft they are flying on. Instead, the cleaning procedures applied to the aircraft matter to passengers the most. A good example of this switch in marketing strategy is Delta Airlines. When the first state-of-art Delta Airbus A350 was delivered back in 2017, the airline rolled out more than a dozen of articles translated to multiple languages on their official news hub, describing the passengers' benefits of the newest aircraft in them. Today their news hub focus is on COVID-19 preventive measures being undertaken to make flying safe, with one particular article describing all their sanitizing efforts before every single flight.
Pathogen-free air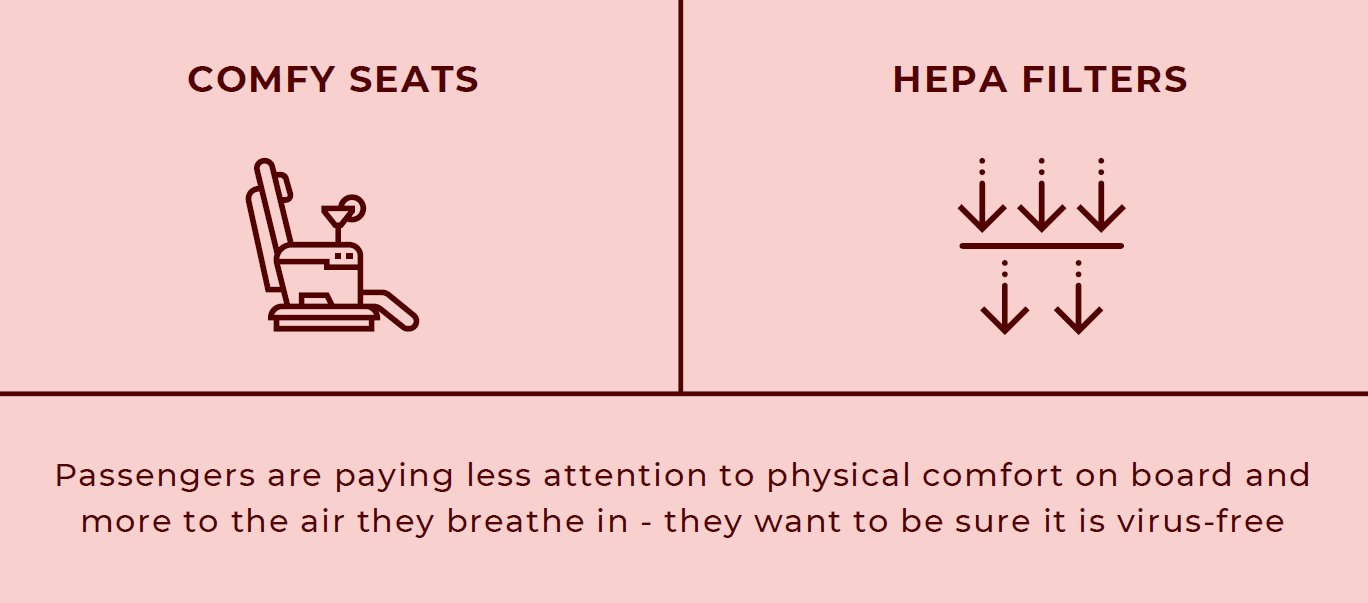 We all know the superb quality of service that is being provided on Qatar Airways flights. An important pre-COVID element of their brand experience was comfortable seating in all service classes with good seat recline, soft pillows and blankets. Huge emphasis has always been made on this brand touchpoint in their promo-videos and static ads. However, understanding the priorities of travellers today, Qatar Airways has started to emphasize the cleanliness of cabin air through HEPA filtration system installed on every single aircraft of their fleet. In fact, the three middle eastern airlines have gone even further, adding personal protective equipment for the crew and making masks and tests compulsory for the passengers too.
Preventive on-board measures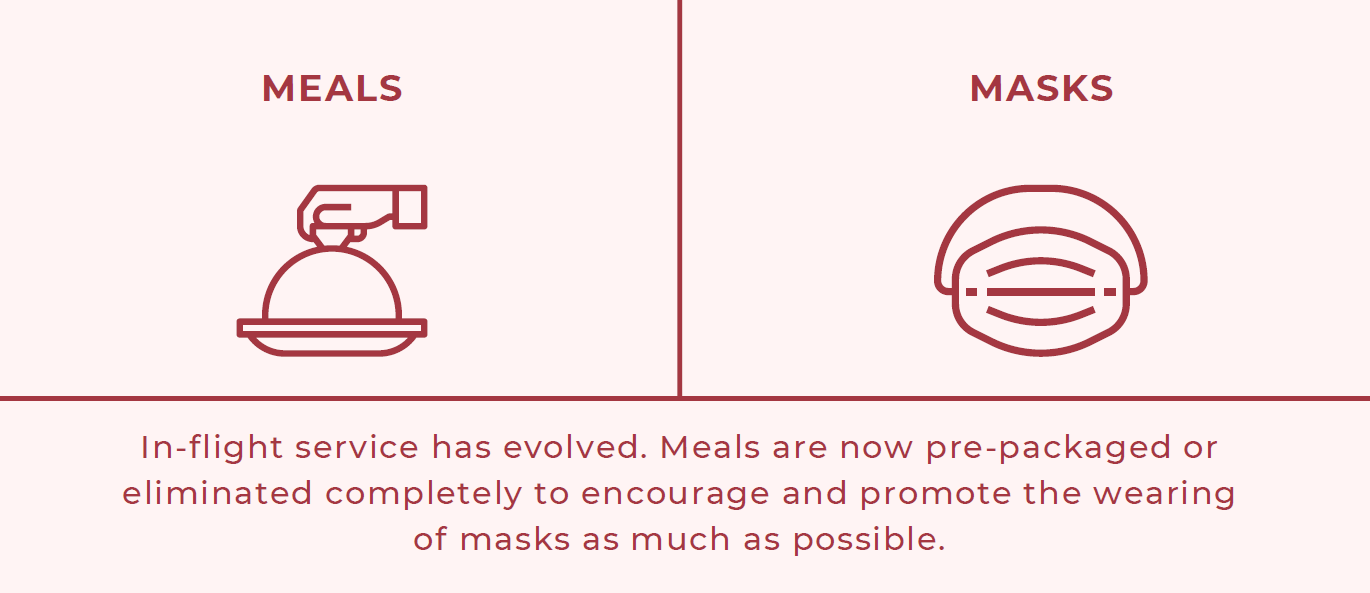 Undoubtedly, in-flight cuisine is a very strong distinguisher among airlines. It was an inherent attribute of onboard service provided by major legacy players on the global airline market before pandemic stunned the world. Take Turkish Airlines, for example, which has always been seeking onboard food perfection. Their focus on cuisine was even featured in our CEO's book, SOAR. Throughout the years, a majority of their marketing efforts were aimed at emphasizing the superb quality of meals offered to the passengers. You can tell this by some prominent promo campaigns with Turkish Airlines chefs being in the centre of attention. But the reality has changed even for this airline. Meals are now standardized and prepacked for all passengers and masks are encouraged to be worn at all times.
Re-thinking the network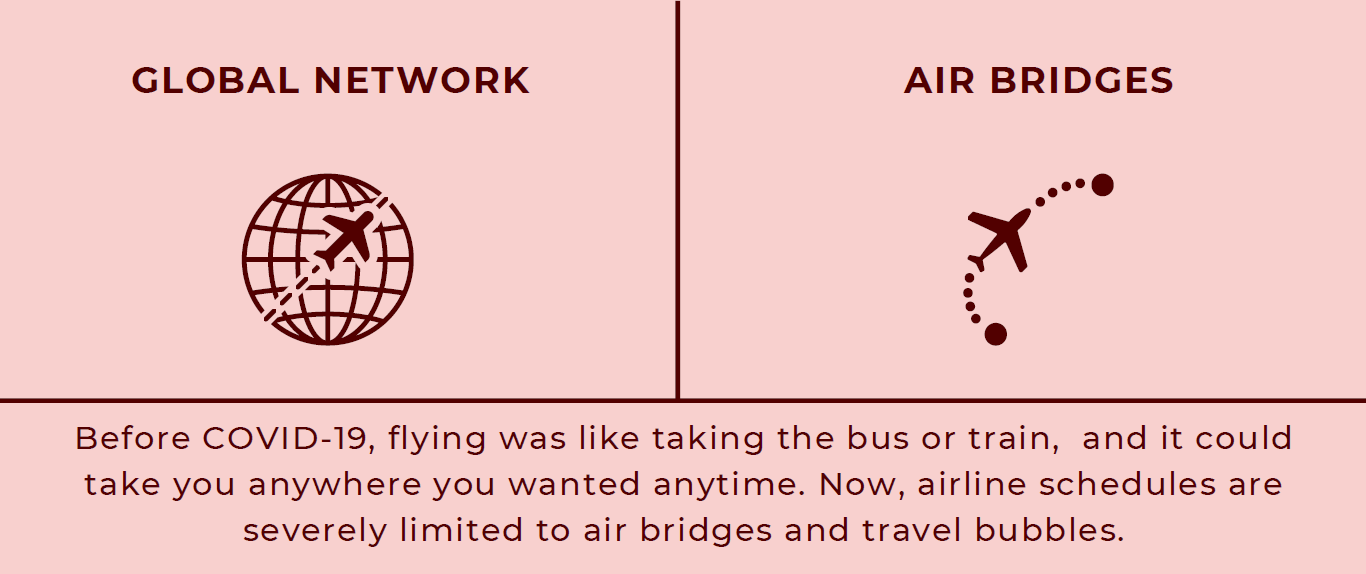 Flight networks have changed a lot — the reality we live in makes us forget about hundreds of destinations a single airline used to fly to. Lufthansa was serving 5 continents before the global pandemic and, subsequently, the halt of service. But recently the airline became famous for its charter 'air bridge' flights to multiple countries (such as India) to bring stuck passengers back home. The fact that you can fly at least somewhere with an airline has become even more valuable than its pre-COVID extensive map of destinations.
Re-thinking brand partnerships

Partnerships — another side of the aviation industry that has changed dramatically due to COVID-19. Partnerships with world-known brands were seen not only as a win-win solution to both business parties but as a strong mechanism to improve the passenger experience.
Sometimes a part of these agreements took the form of unique fancy liveries placed on aircraft — airlines such as Brussel Airlines and WestJet made the best of plane branding and became very known for extraordinary aircraft liveries. However, COVID-19 gave birth to a new form of partnerships — cleanliness partnerships. To re-build brand trust of a safe-to-fly airline Saudia Airlines, for example, has partnered with a brand of cleaning supplies Dettol. Delta has partnered with Lysol. And United with Clorox. The idea behind this partnership is to "elevate sanitization and access to hygiene products on-board flights". Since the partners are "home name" brands, they create a sense of familiarity and inherent trust with passengers board a flight.
As you can see, flying has become different in many aspects. Airline marketing is evolving step by step too. At SimpliFlying, we believe that even though passenger experience is now not what it was like last year, the changes are certainly for the better. After all, very soon we will be all flying again!