I'm flying to Guangzhou on Scoot (or am I?)
When I read the first notification on my phone this morning, I almost jumped out of bed. The notification had the details of my next flight to… Guangzhou…from Singapore! In four days! On Scoot!  The romantic in me rose from slumber. I am to take to the skies again, I muttered to myself, still half-asleep.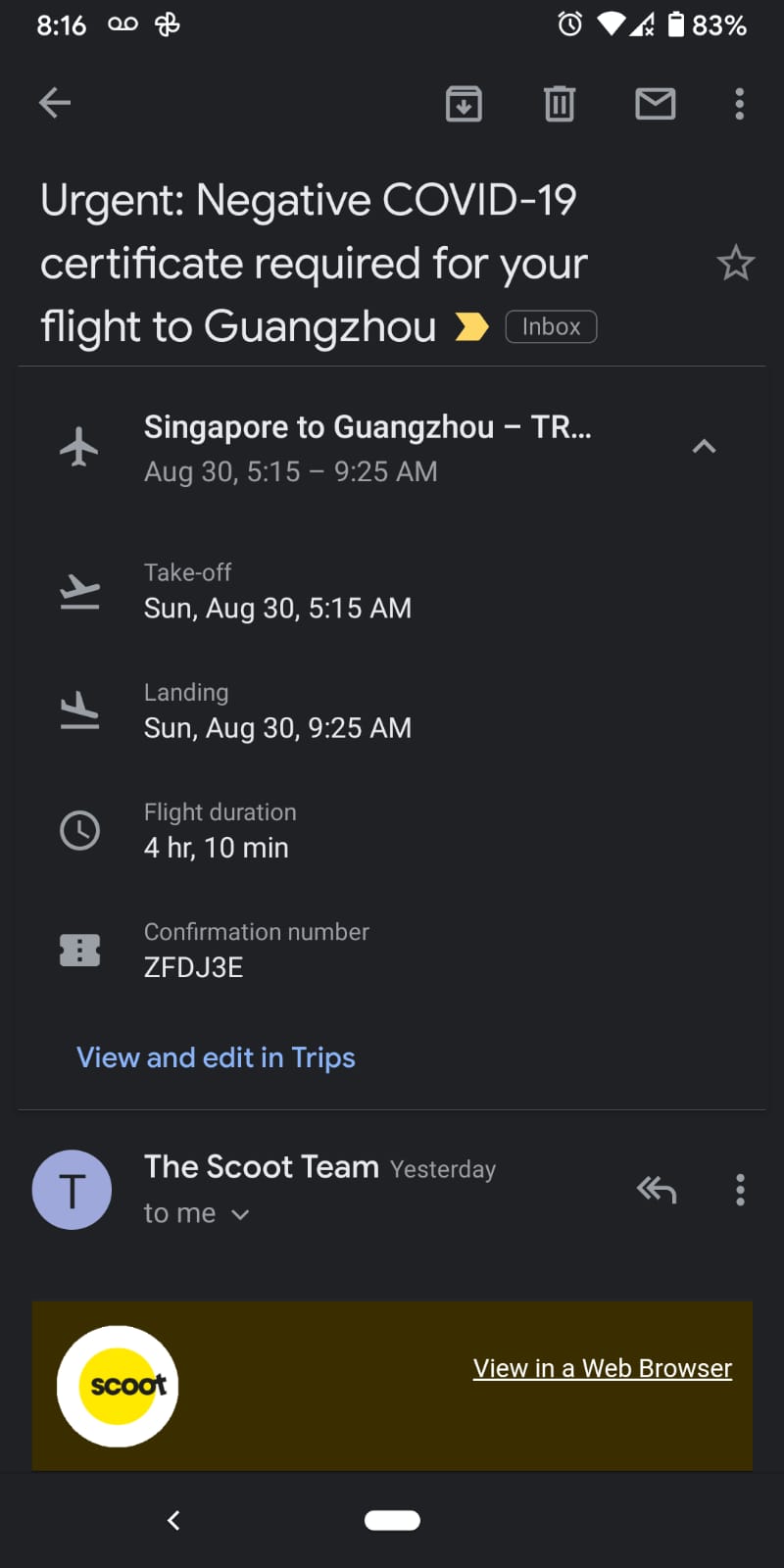 The email's subject had a bit of urgency to it. It told me that I needed a negative COVID-19 certificate to board my flight to Guangzhou on Sunday morning.
Wait, who booked the flight? Who cares? I can barely lift my eyelids, and the email says I need to get tested before my trip!
Where do I need to get tested? Ah! Jurong. When? Tomorrow! Ok! I'd need to take Bus number 15 to Eunos and then change to bus number 506 then walk a bit to get to the testing centre at Shuqun Secondary School. The total journey would be just over an hour. I should get there early to avoid the crowd, so I'd plan on leaving around 7.30 am.
For this "nucleic acid test" (NAT), I'd need my passport and a printout of this itinerary. No problem. I'll have that sorted. The test would cost $186, which seemed more than the last time I paid Scoot for a ticket. But since it needs to be done, I didn't think much about it. Nor was I rushing to check my credit card bill for any fraudulent use. I was luxuriating in the feeling of having an upcoming flight after a long time.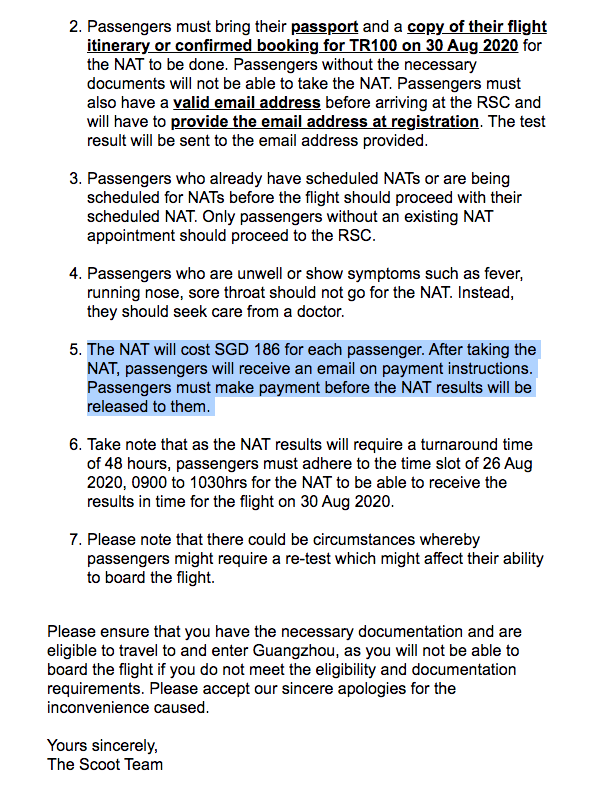 A few minutes later, another notification popped up on my phone, this time from Twitter. Mr Brown too was flying to Guangzhou on the same flight and had asked for a meetup. A social-distancing meet up – perhaps right after getting tested? I'm in! Maybe I'd take a half-day off from work for the early reporting for the test and then the meetup afterwards.
Alas, I was shaken from my fantasy and was brought back to reality.
Like the father of the bride who decided to call off the wedding, I received an email from Campbell Wilson a few hours later, shattering the dream of my next flight.
Campbell, the CEO of Scoot, said that the email I received earlier had been, "mistakenly sent to a distribution list containing customers who have travelled with Scoot in the past, or who have a future booking to any destination."
Ouch!
Everyone who had ever flown with Scoot or had a future booking received that email to get tested ahead of the flight to Guangzhou. Not just over 200 people. Everyone. Including me (and Mr Brown!)
Alas, I wasn't going to fly to Guangzhou after all.
I wouldn't be going to Jurong for the testing tomorrow.
Heck, I'm not even in Singapore right now to go for the testing tomorrow!
For a while, it all sounded too good to be true.
And it was.
Campbell, you broke my heart!
P.S: Those of you who know me personally know how much I look forward to flying. From booking the flights to boarding the plane to the flight itself. I have jet fuel running through my veins. The email from Scoot this morning gave me a brief rush I'd been missing for the past few months. The emails from Scoot were missing the typical Scootitude, so I thought I'd add my two cents 🙂
P.P.S: On a more serious note, as you can tell, flying will be different. Testing before travel is becoming the norm if we are to avoid being quarantined. SimpliFlying has launched a monthly briefing on how airlines can restore trust in travel. The first briefing is on getting testing right, on Sep 3. Sign up now.