What does the new UK COVID strain mean for aviation?
The big COVID news over the weekend was the UK Government announcing that a new strain could be 70% more infectious, resulting in (at latest count) 40+ countries closing their borders to Britain including France, Russia, India, The Netherlands, Canada and the Republic of Ireland.
Here's our take on what this means in terms of aviation and travel: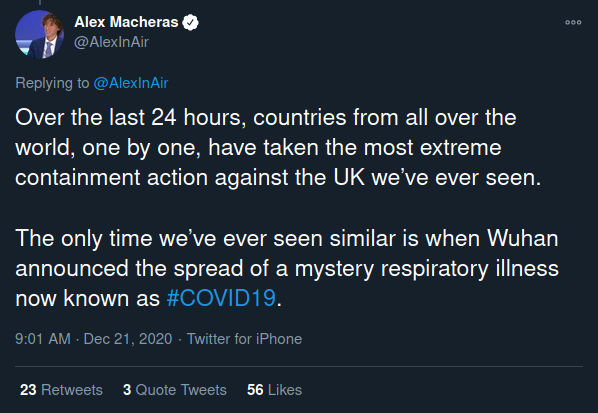 1 – Looking at the UK in particular, hardly anyone will be going anywhere in the short term.  The problems around the Government's 'test on release' programme, which saw the few accredited test providers overwhelmed by demand, are for now moot.
2 – Given that this strain has been in existence since September, it's hard to imagine France, the Netherlands and Ireland shutting their borders having any real meaningful impact. Instead, it's likely that this new strain has already spread via travel, and so these steps are in part for public consumption and the need to be seen to be doing something.
Expect news over the next few weeks about this new strain having taken hold in continental Europe, followed by further short term reactive travel bans, where countries such as Canada look at the whole of Europe, and not just the UK.
3 – If this new strain really is 70% more infectious, and increases the R rate by +0.4 to +0.9, then widespread vaccinations will be the only alternative to near total lockdowns (and travel bans).
As a result, we can see countries trying to now accelerate the vaccination programme, especially the UK which has a slight head-start due to the early approval of the Pfizer-BioNTech vaccine.
For sure this is a huge logistical exercise, but North American / European countries already vaccinate large numbers of people against the flu every winter.
4 – Some of those vaccines will be the AstraZeneca / University of Oxford one.  It's quite possible that the UK will approve it before the end of the year, while it's still under review in India (where the Serum Institute intends to produce a billion doses).
At the moment, there isn't enough data for regulators to approve the half dose + full dose, which could show 90% efficacy.  As a result, the approval is likely to be for the full dose + full dose regime which has 62% efficacy.
That's still better than the flu vaccine, and it will certainly make a difference, especially as there are reports that the AstraZeneca / Oxford vaccine does stop transmission of the virus.
5 – However this in turn leads to a number of questions.
When will the European Medicines Agency and the FDA approve it, one analyst for example predicted AstraZeneca / Oxford will never receive US regulatory approval. And will the 'inferior' efficacy rates (for the full dose + full dose) compared to the Pfizer-BioNTech vaccine, be deemed good enough on its own for travel?
Will for example, a test be required alongside the vaccine? Then there is the question of what happens with the Russian and Chinese vaccines, with Sinopharm already having emergency authorization in the UAE.
6 – On a global level, the vaccination programme will be uneven.  While rich countries may well now try and accelerate things as much as possible, there are accusations that the West has "cleared the shelves" of early vaccine supplies.  As a result, the global vaccination programme will carry on into 2022.
In our recent White Paper, we talked about a partial recovery for aviation from April, as well as a part vaccinated world.  If anything, this weekend's news supports that and we can expect to see vaccines, testing and biosafety continuing to work side by side, certainly for all of 2021.
The challenge for the aviation industry is to ensure a way that secure electronic records are kept, so that airlines know who has what in terms of vaccines, and which countries those vaccines are good for.
And for testing to continue to evolve to be as unobtrusive as possible, including a phasing out of the uncomfortable nasal / oral swab method in favour of saliva and mouthwash tests.