Covid-19: Singapore provides a glimpse of our future
Over the weekend in the UK, the host of the BBC's flagship politics programme, Andrew Marr revealed that he'd had Covid despite being double-jabbed.
A number of sensational headlines appeared – how could it be that Marr still got sick despite being vaccinated?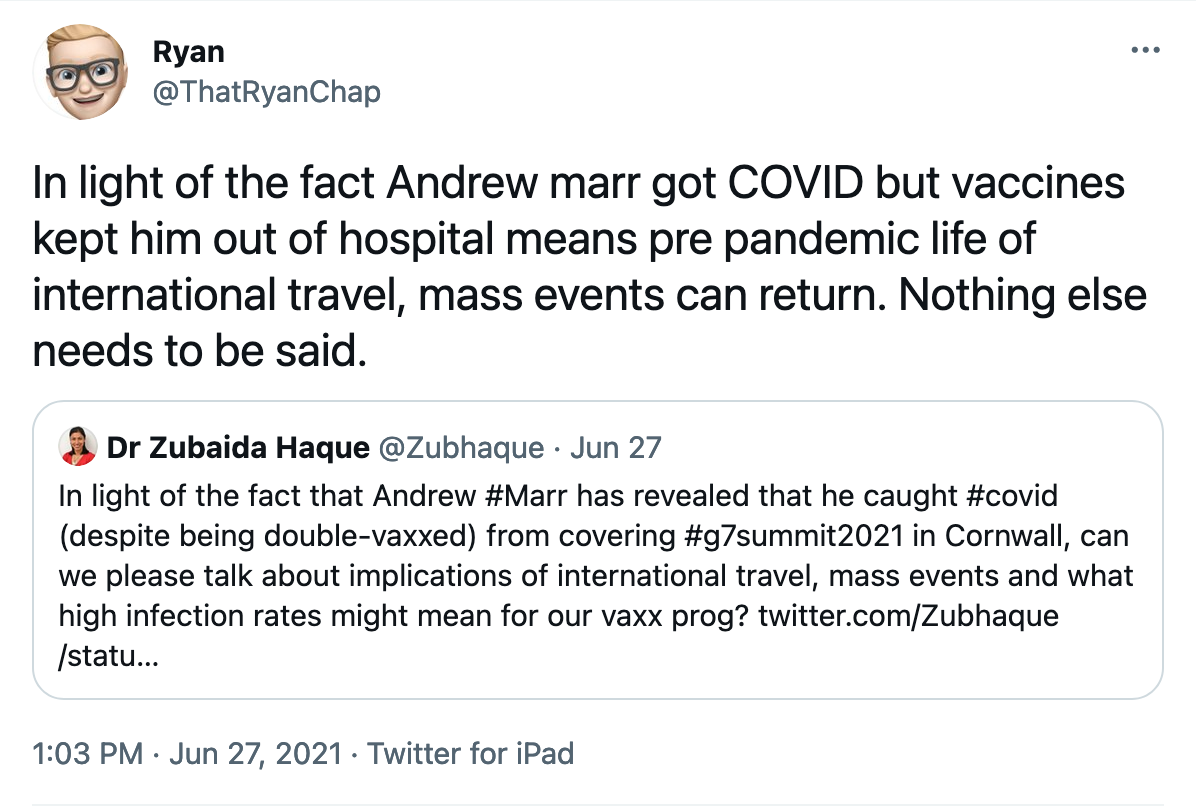 Marr is a 61 year old man who as a former cancer sufferer is highly clinically vulnerable.
He didn't feel well, stayed at home, missed a week of work and then came back. But he didn't end up in hospital.  The vaccines did their job.
As a result, the Andrew Marr story points to our future, one where Covid will be an illness that we live with and suppress.
That brings us to a widely discussed editorial by Singapore's Ministers for Finance, Trade and Industry and Health that appeared in the Straits Times.
Singapore has had some of the toughest border control policies in the world with a 21 day quarantine for most countries.
But going forward, the vision that these Ministers presented was one where vaccines will be front and centre of a Covid management strategy, and one where it's accepted that Covid will be endemic.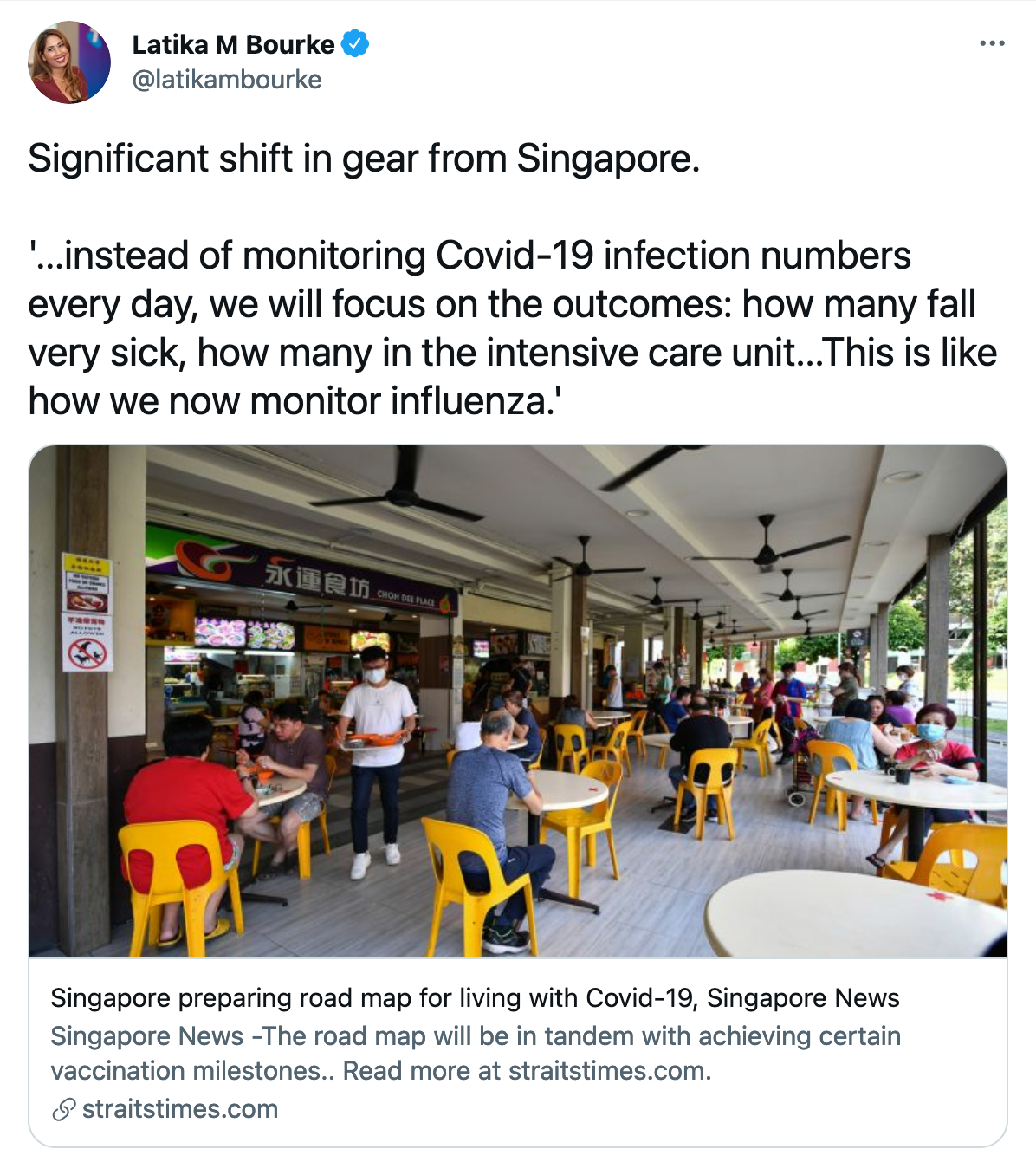 So what do the three Singapore Government Ministers suggest?
1 – A vaccine first strategy.  Singapore expects to have 2/3 of its adult population fully vaccinated by August.  This will be supplemented by regular boosters, much like with the flu
2 – Rather than Zero Covid, followed by somewhere like New Zealand, there's an acceptance that Covid is here to stay
As a result, there will no longer be a focus on daily case numbers, which is arguably not the most useful metric.  This comes as the UK sees an exponential rises in cases, but not in hospitalisations
3 – Testing will very much remain, especially at borders.  "We would still need rigorous testing at our borders to identify any person carrying the virus, especially variants of concern."
4 – However, there will be a shift away from PCR tests, which are expensive, slow and uncomfortable – "We cannot rely only on the polymerase chain reaction (PCR) test, which can be uncomfortable and takes many hours to produce results. "
Instead, there will be more rapid antigen tests and the development of newer expeirmental breath tests.
What does all this mean for the travel industry?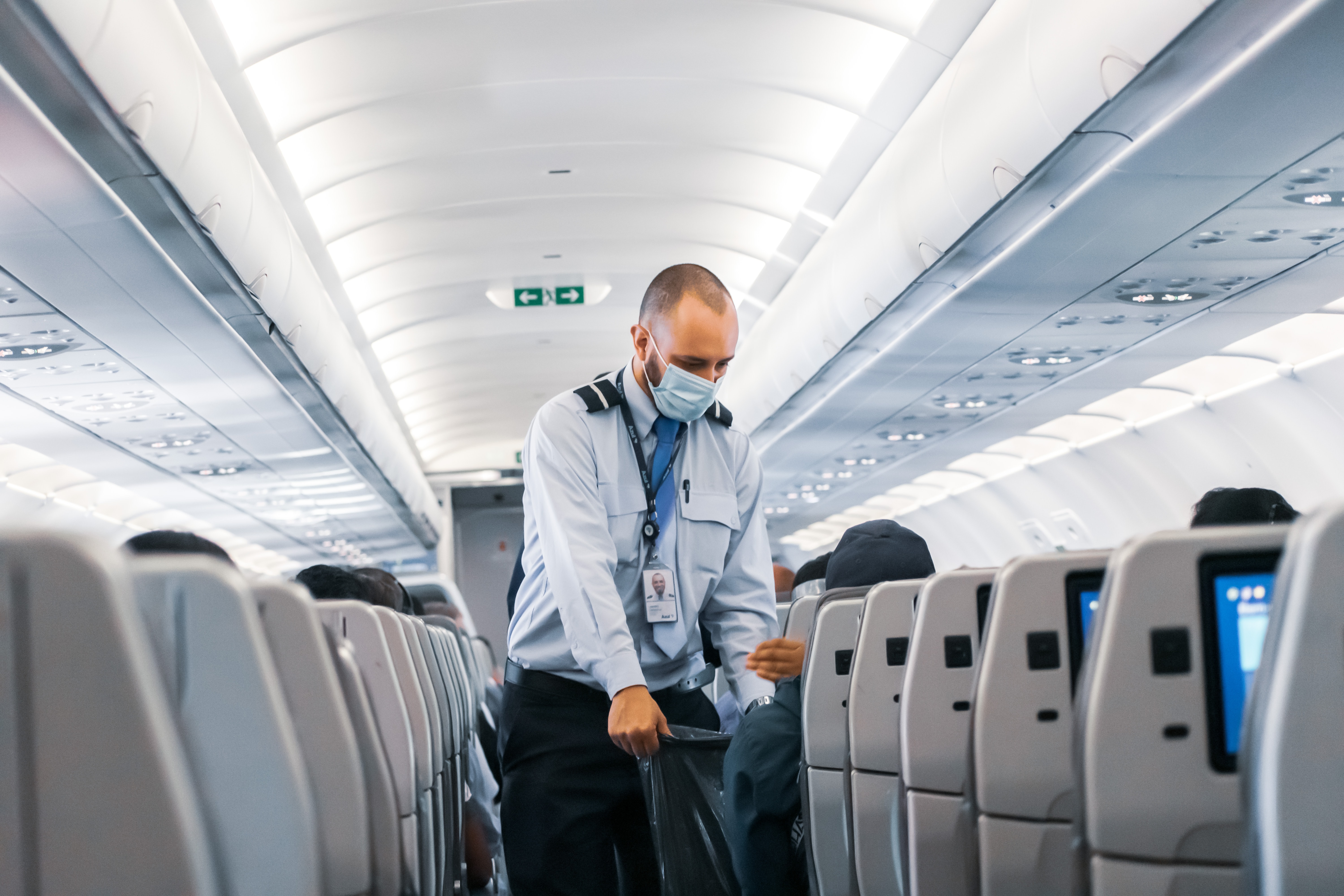 First of all, there will be on-going health checks in the medium to long term.  Just like security measures introduced after 9/11 these will not go away anytime soon.  For example, putting liquids in clear plastic bags in security was introduced in 2006.  Fifteen years later it's still a common travel experience.
Those health checks will include health passes as proof of vaccination status, and tests.  However, those tests will, as the Singapore Ministers say, in time become cheaper, faster and more consumer-friendly.
A contrast – Singapore and Australia
While Singapore seems to have abandoned Zero Covid, that still appears to be the policy in Australia where Prime Minster Scott Morrison warned that opening the borders could lead to "5000 cases a day."
Australia is currently facing an outbreak of the Delta variant.  Reports say that "scarily fleeting" encounters of just 5-10 seconds have been enough for there to be infections.
As a result, the Austalia-New Zealand travel bubble has now been put on hold
Unfortunately unlike Singapore, Australia's vaccine progress is slow, with less than 5% of the population fully vaccinated.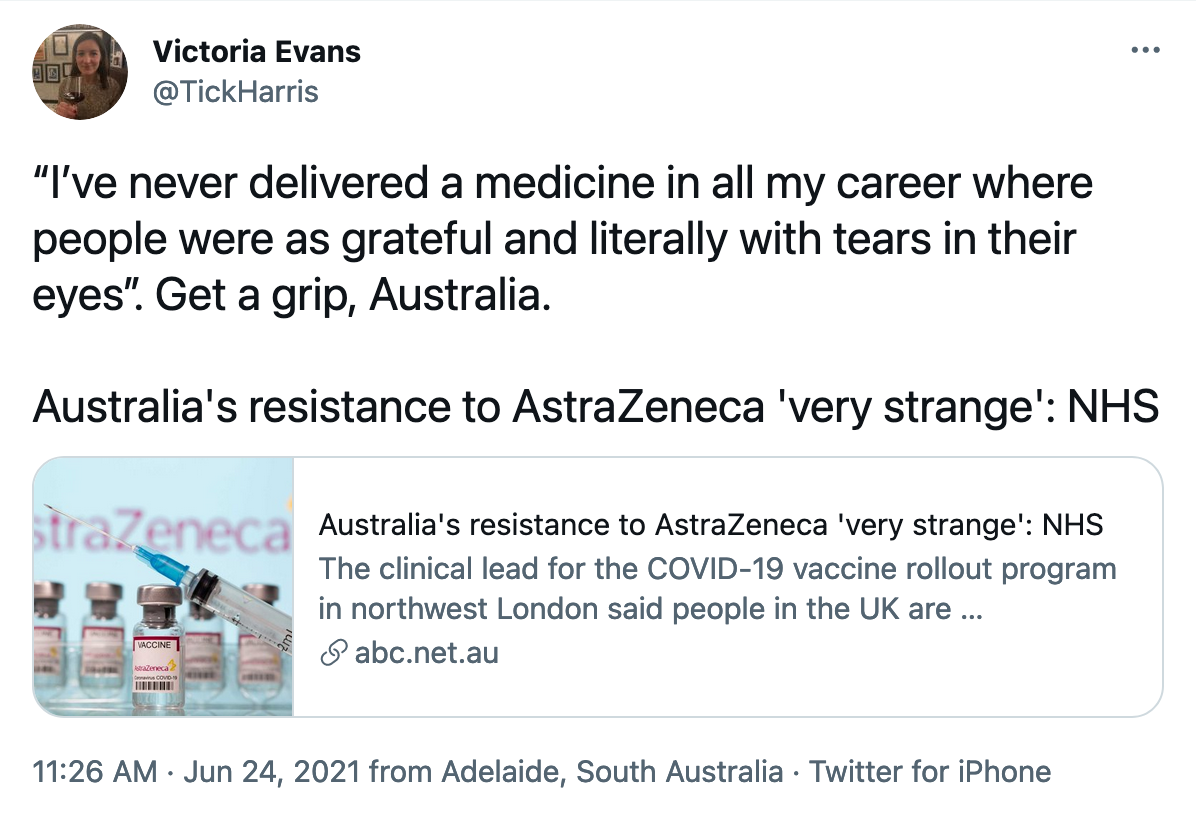 Much of this is due to vaccine hesitancy around the AstraZeneca vaccine, due to the very low risk of blood clots.
This even resulted in Australia's health mininster in May  telling people (before backtracking) that they could wait for supplies of the Pfizer-BioNTech or Moderna vaccines to arrive later in the year.
In fact, Public Health England statistics show that the AstraZeneca-Oxford vaccine is almost as good at stopping hospitalisations as Pfizer-BioNTech.
After two doses, the Pfizer-BioNTech vaccine is 96% effective in preventing hospitalisations, while the AstraZeneca-Oxford vaccine is comparable at 92%.
As a result, the negative messaging around the AstraZeneca vaccine has arguably cost lives, and left Australia in a worse place when it comes to fighting off the Delta variant, with almost no population immunity.  Many are now urging older Australians to get it, to prevent them becoming seriously ill.
Meanwhile, there are calls for the country to build 'Covid camps' for travellers, after Covid was found to spread between corridors in quarantine hotels.
In the most recent, Coronacast podcast by ABC, commentator Dr Norman Swan advocated the quick construction of these camps using pre-fabricated cabins, as the proposed solution was taking too long.