Health Safety Innovators: RwandAir
In this series, we're taking a closer look at the airlines that have been certified under the APEX Health Safety powered by SimpliFlying programme. We believe that health safety is about cooperation, not competition, so our goal is to share some of the most interesting and unique approaches to airline health safety.
The prospect of robots taking over might still seem years away, but intelligent machines are becoming a common fixture at many airports.
Robots have been serving multiple purposes at airports for a while now, even pre-COVID-19: For example, carrying luggage, delivering food or providing an autonomous wheelchair to transport passengers to their gates. However, while a seamless passenger journey is still a priority for airlines, the pandemic caused a major pivot in terms of how robots are deployed: to ensure passengers' health and safety. 
Various cleaning robots have been deployed at airports and within the aircraft cabin. The latter has been done by fellow diamond-level airline, Qatar Airways, which became the first to use Honeywell's UV Cabin System on board. However, RwandAir is using robots for something entirely different.
When I removed my mask, the robot came for me & asked me to adjust it. It picked me out of others. Ladies & Gentlemen, Kigali International Airport is ready for business. August 1 the airport will fully reopen. @RwandaCAA & @FlyRwandAir say all safety measures are in place. pic.twitter.com/Dx2QqaydD2

— Edmund Kagire (@kagire) July 17, 2020
Urumuri, meaning "light" in Rwandan, is one of five robots acquired through a partnership between the United Nations Development Program's Rwanda Accelerator Lab (AccLab) and the Rwandan Ministry of ICT and Innovation. Made by Belgian company Zorabots, Urumuri was stationed at Kigali International Airport in July 2020, before its full reopening on August 1. He's still there today. 
The robot's job is to screen passengers' temperatures at a rate of between 50 and 150 people per minute. Urumuri can also analyse whether someone is wearing a mask or not.  It is programmed to report any abnormalities to officers on duty. In the event someone isn't complying with mask rules, Urumuri can approach them and request them to mask up.
"Urumuri can also identify coughing and other signs of possible COVID-19 infection," adds Robert Gobac, RwandAir's manager, Medical and Occupational Health. "All the information is monitored and processed by Rwanda's Health Department, with whom we're always in contact."
But does his presence reassure or intimidate passengers? Gobac hopes it's the former, as Zorabots has a "humanoid" design, so its shape resembles a human body. "Passengers seem exceptionally curious about him," Gobac says.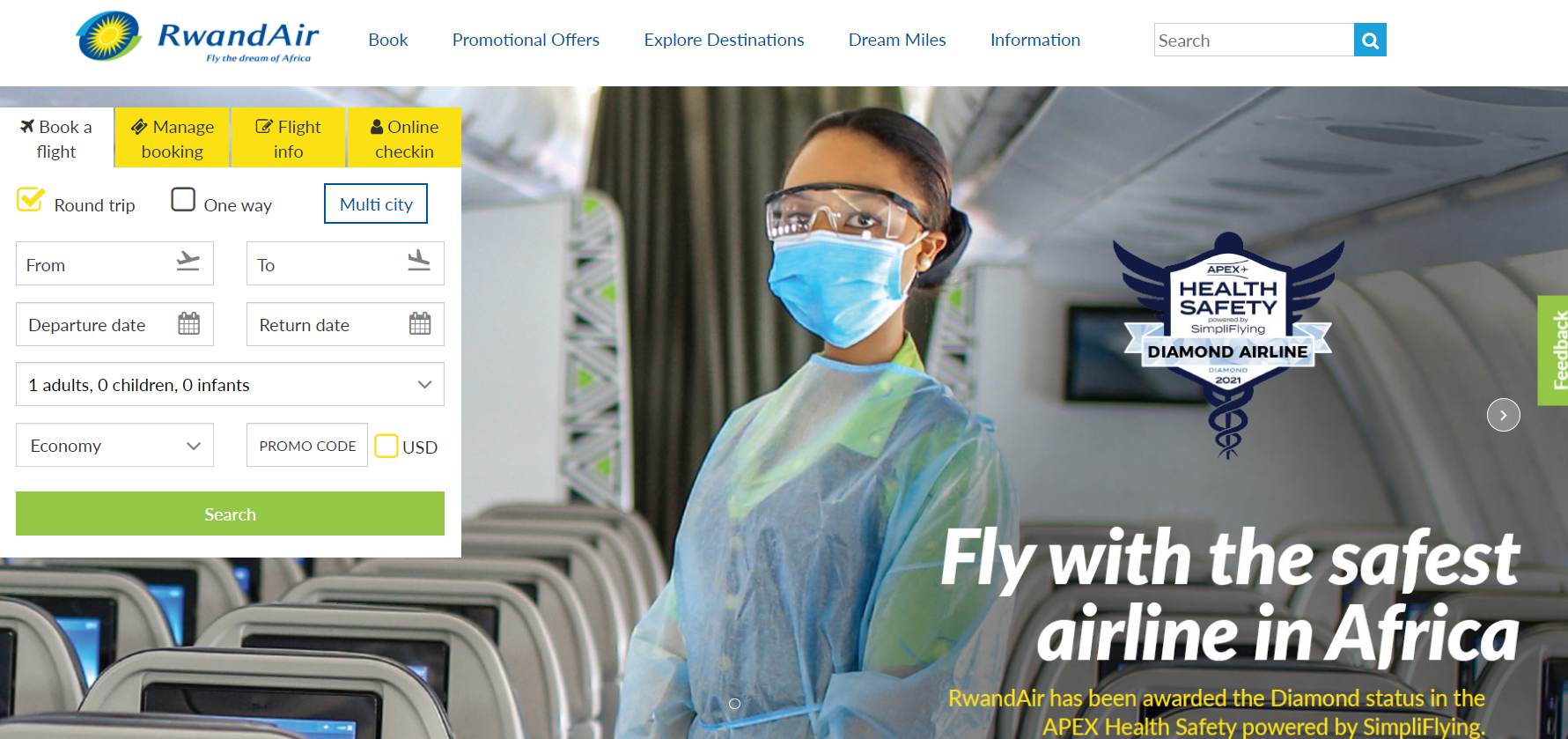 Having Urumuri at Kigali International Airport is just one of many impressive steps RwandAir has taken to prevent the transmission of COVID-19 and advance airline health safety. The carrier was also the first in Africa to vaccinate all its staff against the virus, as well as the first African airline to trial IATA's Travel Pass. 
Now, the airline has yet another string to its bow, becoming the first African airline to be certified as part of the APEX Health Safety powered by SimpliFlying program. Congratulations, RwandAir.