Is the vaccine roll-out behind schedule, and what does this mean for aviation?
As we start the New Year, it's worth looking at the vaccine roll-out in the major Western economies.   Unlike Israel, which has given 12%+ of its population a dose, the vaccination programme in Europe and North America has hit some problems.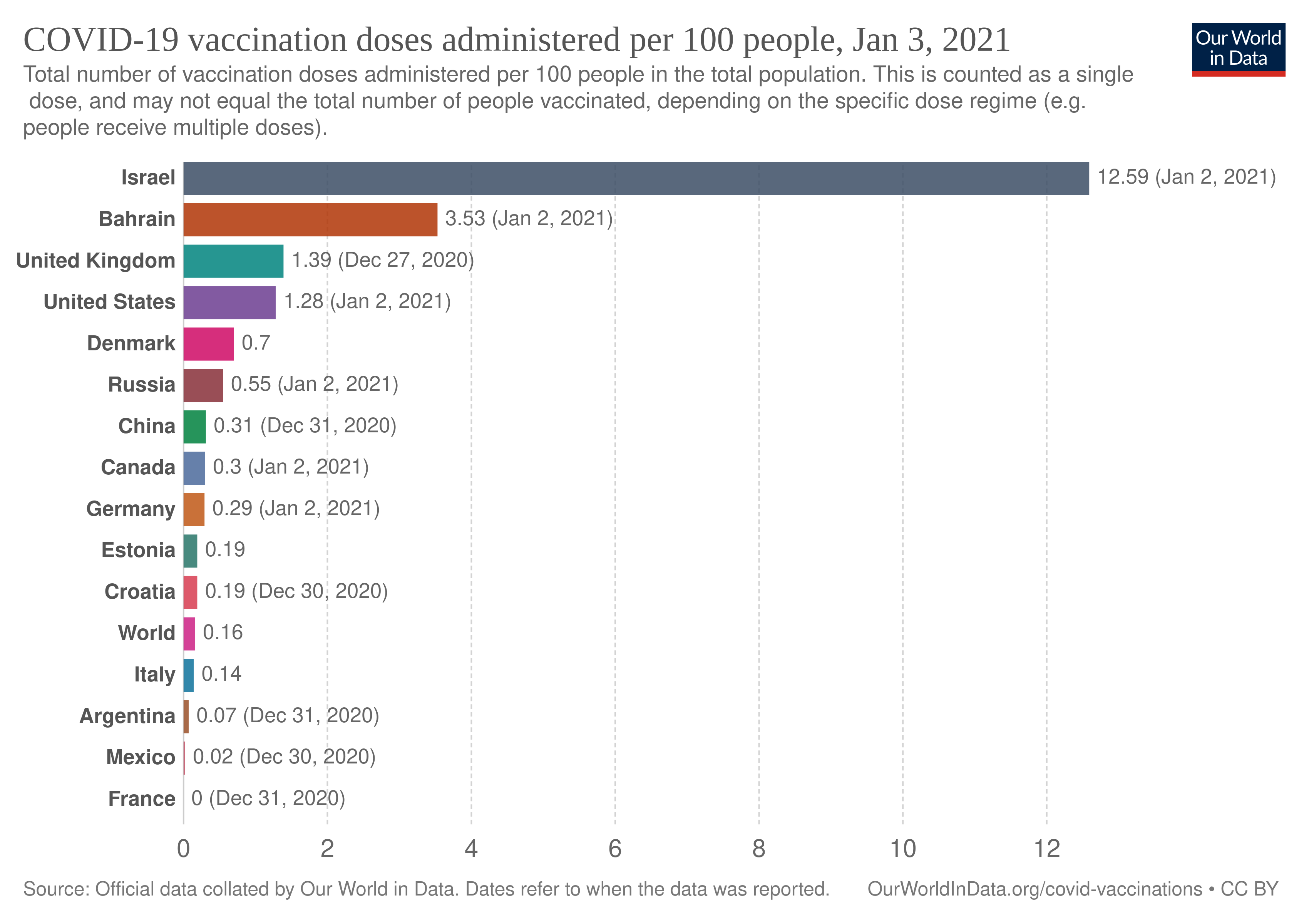 In Germany for example, newspaper 'Welt am Sonntag' ran a piece about health minister Jens Spahn being accused of overseeing a 'catastrophic vaccine start.'  In fact, according to Reuters, BioNTech's founders have warned about a possible block in the European vaccine supply due to a relatively low number of orders placed by the European Union, and late approval by the European Medicines Agency (EMA).
The EMA had also placed bets (and pre-orders) on the Sanofi vaccine, which now probably won't see the light of day until the end of 2021.  "At the moment it doesn't look good – a hole is appearing because there's a lack of other approved vaccines and we have to fill the gap with our own vaccine," BioNTech CEO Ugur Sahin told news weekly Spiegel.
In the USA, the Trump Administration had set a goal of 20 million vaccinations by the end of the year, when the actual number was 2.8 million.  Dr. Leana Wen, former Baltimore health commissioner, told CNN that at current rates, it would take ten years to reach 80% herd immunity in the US.
Meanwhile in the UK, there are questions about how the country will meet the two million shots a week target, given that the Govt is not using the normal flu vaccine network of doctors surgeries and pharmacies, which it is claimed could speed things up.  At the same time, the UK has decided to change its vaccine strategy, spacing out the time between the two doses from four to up to twelve weeks, the idea being that you need to give as many of the elderly and vulnerable as possible some level of protection through a first dose.
Although Pfizer/BioNTech has criticised the decision, the UK (as well as India) has also authorised AstraZeneca's vaccine, and here AstraZeneca's Indian partner, the Serum Institute, claims it is actually much more effective if there is a three month gap between doses.
Conclusions – So what does all this mean, particularly with an eye on travel and aviation?
1 – The figures produced by Goldman Sachs and others predicting 50% vaccine cover by April / May may well be too optimistic.  However, we would not expect it to slip by too much, for the following reasons:
2 – The new British strain of the virus is expected to become the dominant one. It increases the R rate by +0.4 or more, meaning the measures of last Spring (in Europe) of a lockdown followed by a partial reopening in the Northern hemisphere Summer won't work.
As former British Prime Minister Tony Blair told Times Radio –  "We need to get the entire country under a vaccination programme very, very fast because right now as a result of this new variant, we've got a choice between severe lockdown or vaccination…there isn't another choice."
3 – The public has also been told vaccines are their ticket to some semblance of normality. Expect enormous public and media pressure on policy makers, if there isn't a huge improvement in a month.
4 – Though no country has so far said it will follow the UK example of prioritising first doses, and delaying second ones, that could change if there continue to be bottle-necks. Indeed, an op-ed by a group of scientists in the Washington Post has already made that suggestion for the USA.
5 – Right now, the Pfizer/BioNTech, AstraZenca/Oxford and Moderna vaccines are the non Chinese / Russian ones in circulation. However we should see approval for the Johnson & Johnson vaccine (which could require only one dose), as well as ones by Novavax and German/Dutch pharma company CureVac in H1 2021.
6 – All this means that by the Northern Hemisphere summer, we may see 50% cover of people having received one, but not yet two doses.  That's not enough to receive an immunity passport, Israel for example will issue one two weeks after the second Pfizer/BioNTech or Moderna dose.
That in turn will mean extensive testing and other biosafety measures will be needed throughout the Summer vacation season.
This article concerned the major Western countries and vaccines. We'll be looking separately at the roll-out of the Chinese and Russian vaccines and what this might mean for travel and aviation.