More countries consider tougher travel restrictions with broad public support
In our recent report on COVID air travel trends, we talked about things getting tougher before they begin to ease, about the new strains changing everything and about travel bans being popular (for now).
Those three factors are behind Governments trying to reduce international travel to almost zero.
Yesterday in our newsletter we reported on Israel practically sealing itself off from the outside world by stopping all passenger air travel. There are already calls for this to be extended beyond January 30th.
Today we have news that more countries are looking to restrict travel as much as possible:
Canadian Prime Minister Justin Trudeau has told Canadians to "cancel all travel plans", and that "even one case of COVID-19 coming in from abroad is a case too many"
The language Trudeau used was telling – "the bad choices of a few won't be allowed to put others in danger." In this narrative going abroad is reckless, selfish, a 'bad choice', it is the new flight shaming.
At the same time, Canada is considering a 14 day hotel quarantine for all international arrivals.
Meanwhile Germany's interior minister Horst Seehofer has floated the idea of an Israeli style air travel ban in an interview with the country's largest tabloid, Bild, which would reduce flights to 'almost zero.'
In the UK, hotel quarantine restrictions will probably not be quite as draconian as feared, and will most likely only extend to arrivals from high risk areas. However, there are already calls for the Government to get even tougher.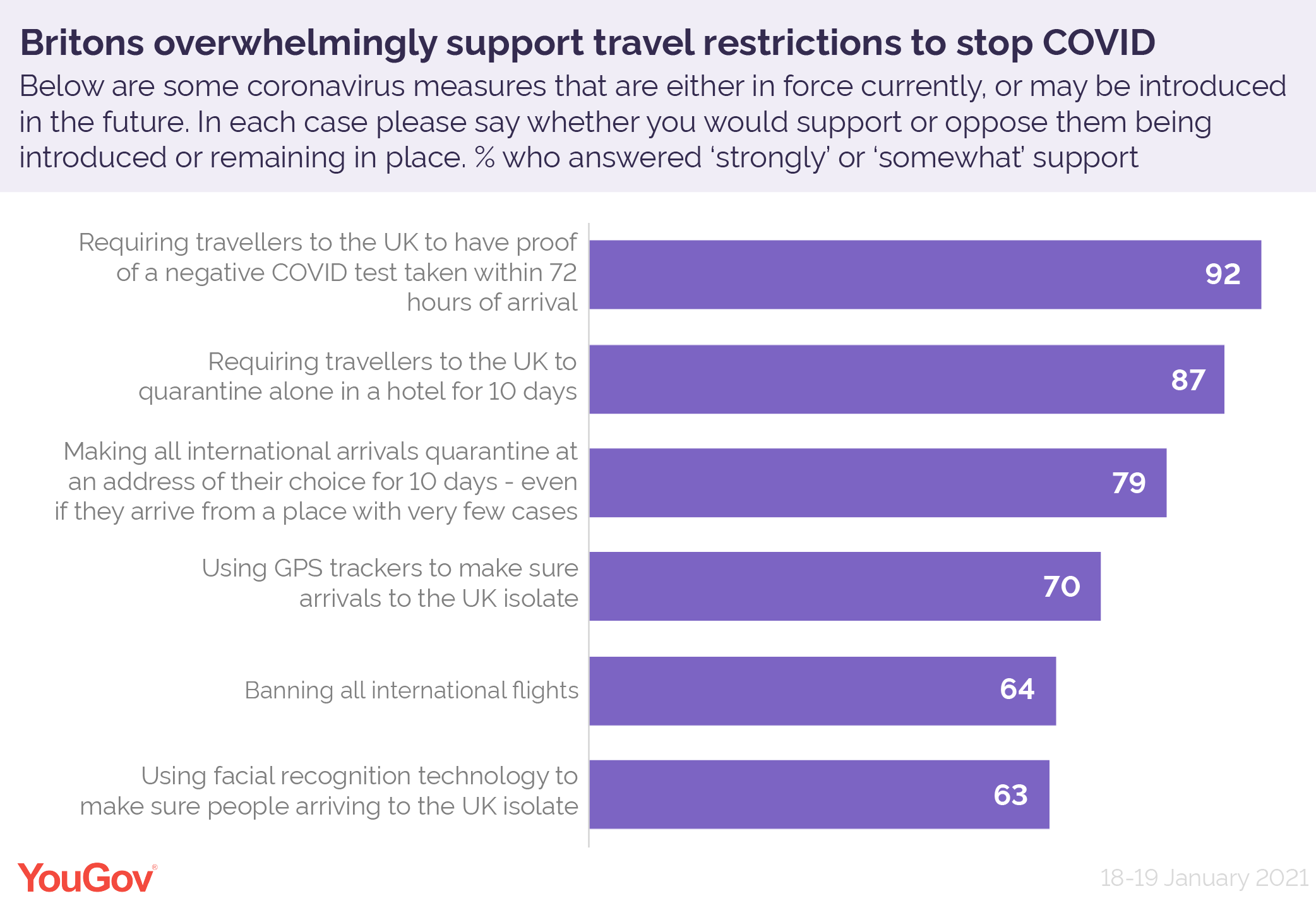 In fact, not only does 87% of the public support quarantines, according to YouGov, 64% want all international flights to be stopped completely (see above graphic).
There is of course also data that shows that Summer bookings are up in the hope that vaccine programmes will be well advanced by then, and so it's an open question of how long this public appetite for total shut-downs holds for.
However for now, the almost unchallenged perception is that travel spreads disease, and so travel needs to stop.
To combat this, the industry has to think not only short term but long term, as going forward even the slightest hint of new cases (or in future of a new pandemic) will cause the borders to close again.
This is a modified version of today's COVID AV-Daily newsletter, you can subscribe for free here