The new flight shaming and how the industry needs to respond
Over the past week, both Canada and the UK have introduced mandatory pre-departure tests for anyone entering the country, which rather than replace the already tough entry requirements (in Canada this includes two week quarantine for all), comes in addition to them.
If you work in the industry, you might think that these measures are too draconian and mark yet another body blow for aviation.
Wider public opinion however has a different view.  In fact, it's starting to become accepted that any kind of travel and flying during the pandemic is selfish and reckless.
This is flight shaming, something the industry has experienced before.  Over the past few years environmental groups have tried to make air travel socially unacceptable, with modest degrees of success in places like Scandinavia. The difference here is that while the environment is still an abstract concept for many, the pandemic affects just about everyone in a very direct and immediate way.
The industry needs to be aware of this fundamental shift in public opinion, and both engage and respond to it, as it has long-term implications.
Foreign travel is now a resignation issue
At the same time as Canada has further tightened COVID border controls, various politicians have been in hot water for leaving the country.
Liberal MP Kamal Khera resigned from her post as parliamentary secretary to the International Development Minister for going no further than Seattle. Given her resignation, you might imagine she would have been going on vacation, when in fact she attended a memorial for her dead Uncle and Father attended by less  than ten people.
Meanwhile MP Niki Ashton had to step down from her parliamentary post after traveling to Greece to see her sick grandmother, a visit the Greek authorities allowed for urgent family reasons.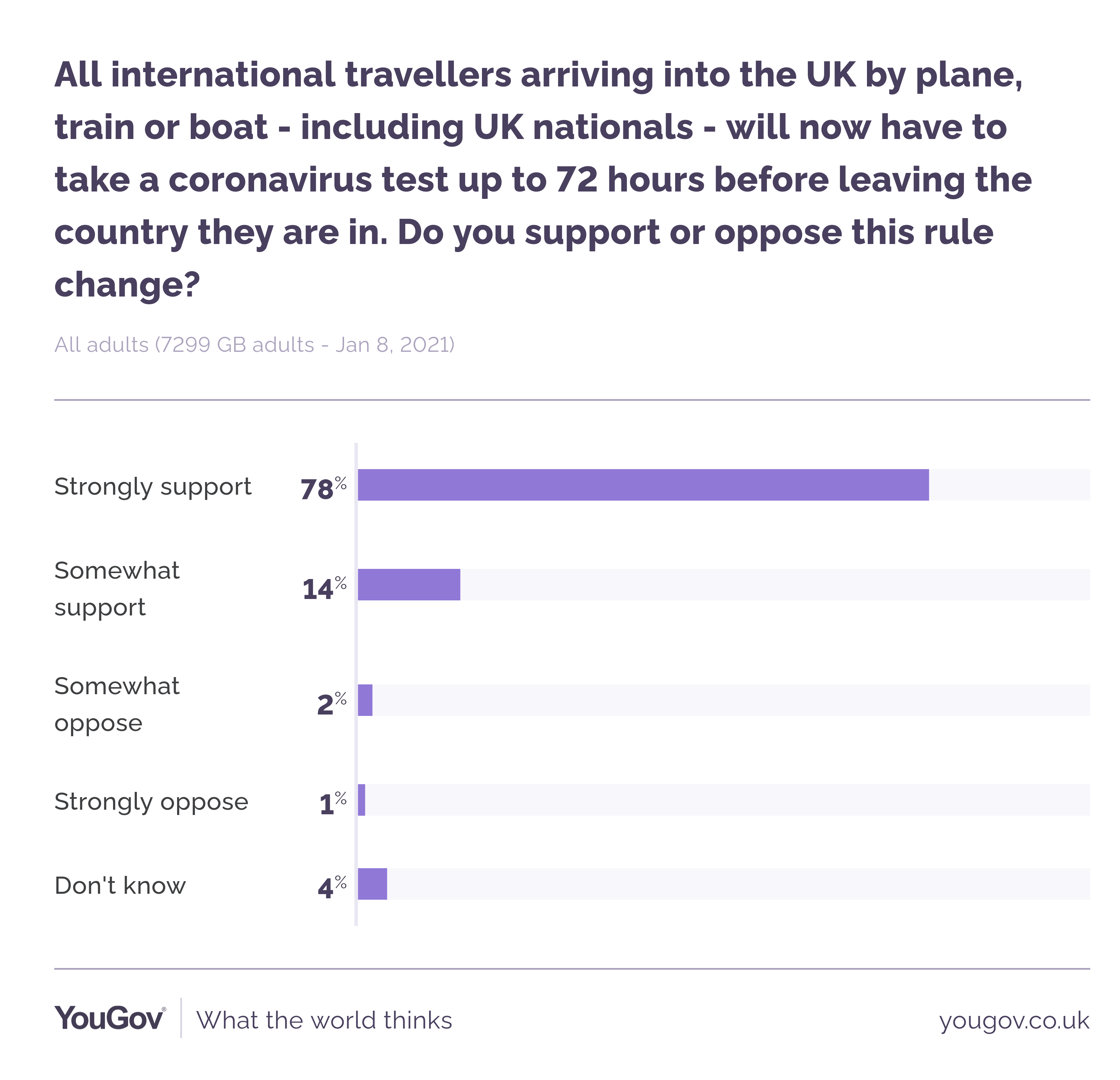 In the UK, the new pre-departure test that's needed to enter the country has been met with near universal approval, with 92% expressing support according to a YouGov poll, and 89% thinking it was introduced too late.
This follows weeks worth of noisy media and social media coverage that gave the impression that Britain's door is open to anyone, without any restrictions, a situation that may have (partially) been the case in April, but certainly isn't so anymore, with few countries on the official 'green' list.
A study published in the Lancet also casts doubt on how much difference border controls really make, if community transmission (as in the case in the UK) is already high.
However, with 1 in 30 people in London now having the virus, there are increasing calls for 'Zero COVID' – a Taiwan or New Zealand style strategy to largely stamp out COVID through measures that include borders that are largely sealed shut.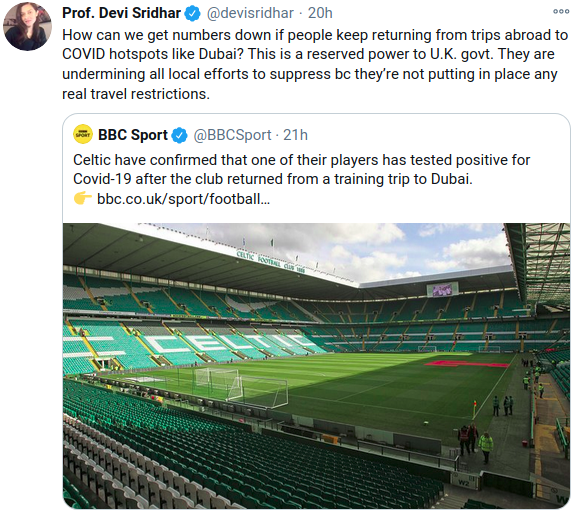 These calls are promoted by commentators such as Edinburgh University Professor and Scottish Government advisor, Devi Sridhar who is often on TV framing the debate of one of open borders or open societies – e.g. you can allow travel or you can ease lockdowns, but you can't have both.
Note that Professor Sridhar is an influential voice calling for continued travel restrictions, even into the Summer after lockdown restrictions have started to ease off.
The industry is losing this battle, here is what it needs to do
So how should the industry respond? In a recent post, we outlined three ways in which we need to turn around the (losing) public relations battle.
This includes:
1 – A shift in messaging where we accept the point that travel (and mobility) spreads infectious disease.  This should be uncontroversial, it's been the case throughout human history.
Clearly the industry is not responsible, but it should show good corporate citizenship in demonstrating responsibility, and a willingness to do its part.
2 – A commitment to build in immediate exposure notifications into the passenger ecosystem, so that potentially infected passengers can be located in hours (or even minutes), rather than them being in the community sometimes for weeks before being alerted.
3 – A testing programme that shows we take the spread of COVID seriously.  A recent CDC study confirms that antigen tests are not yet suitable as a primary line of COVID defence.  Using these as your primary test will result in too many infected travelers getting through.
Instead, we should consider multi-test regimes such as the one introduced by Delta on its ATL – FCO / AMS trials, combined with biosafety measures.  This kind of test programme (which was designed for Delta by the Mayo Clinic) is still preferable to wholesale travel bans
Add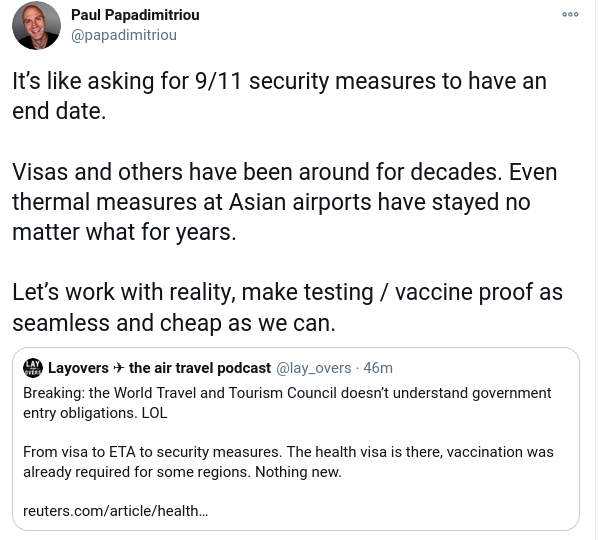 ed to that we'd add:
4 – A long term pandemics programme.  We are now in the age of pandemics.  Things won't go back to how they were, when the worst of COVID has passed hopefully in the Summer when we start seeing the impact of large numbers of vaccinations.  As aviation podcast host Paul Papadimitriou says, it's like asking when the 9/11 security measures are going to end
And so while people will want to travel again, there is already media coverage of the next pandemic, with even the WHO saying that the 'big one' is yet to come.
Just as airlines have a long term 'green' strategy, now they need to have a long term health strategy, which may include on-going screening and testing, so that when the next pandemic hits, we will be prepared.