Cathay Pacific
Aiways has come up with a brilliant initiative to allow prospective customers to experience their new cabins
online
. Dubbed "try before you fly", web surfers can choose between having a male or a female guide, and then choose between the First, Business or Economy class. The best part is that they can either choose to be "shown around" by the guide, or explore the photo-realistic interiors themselves.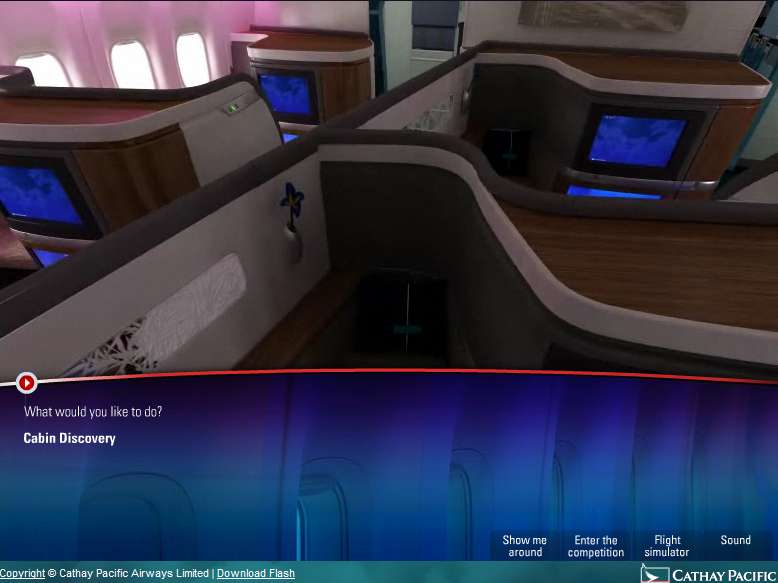 Try before you fly
Once a surfer is in a particular cabin, he or she can test out the different conveniences in the cabin with the click of a mouse – and these include common activities like working on a laptop and going to sleep. When doing the latter, the seats recline fully and cabin lights are dimmed. One can also walk around the plane and explore different cabins. When that's done, one can step into the flight simulator and choose to experience landing at one of the many international airports Cathay Pacific flies to – including New York JFK and Hong Kong. As if that's not enough, surfers can even enter a competition to win business class tickets to Hong Kong to try out their real flight simulator. How sweet is that?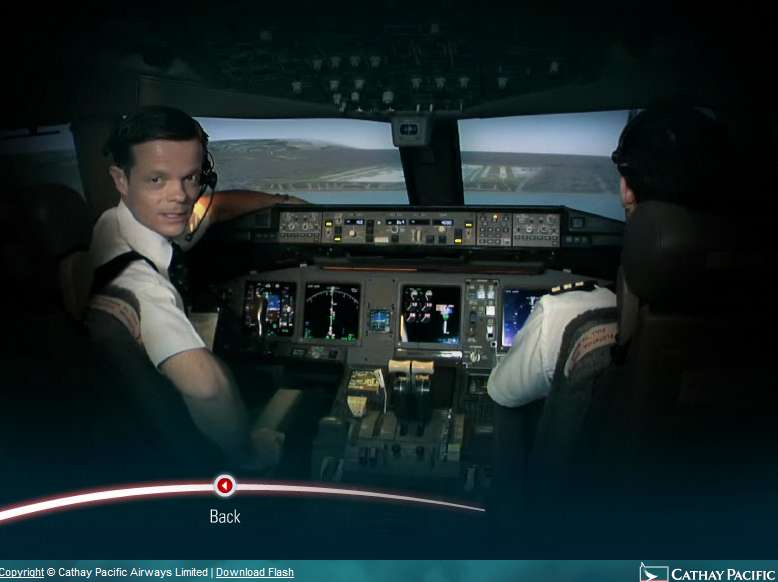 Pre-flight experience as a brand differentiator
A number of airlines offer beautiful visuals and descriptions of their cabins on their websites, but none get even close to the experience Cathay Pacific has put together. Trying out their cabins online is not only fun, but engaging too. The flight simulator is also very unique, as it's difficult to make out whether the pilots are photo-realistic 3D models, or if they are for real. This is a very cost effective way to allow masses of prospective customers to experience the product before they buy it and have fun while doing it. The best part is that there is nothing "salesy" about the whole process. This is brand awareness building in the purest form.
If you enjoyed this article,

feel free to share it with your friends.

You can also get free updates by email or RSS.

To learn more about airline branding, please download the free white paper, or join the airline branding Facebook group
Related articles
Shashank Nigam is the CEO of SimpliFlying and a globally sought-after consultant, speaker and thought-leader on airline branding and customer engagement strategy. He is also the youngest winner of the Global Brand Leadership Award and has addressed senior aviation executives globally, from Chile to Canada and from Sydney to San Francisco. Shashank's perspectives have found their way into major media outlets, including CNN Travel, CNBC, MSNBC, Bloomberg UTV, Mashable and in leading publications like Airline Business, ATW, Aviation Week, and others. Shashank studied Information Systems Management and Business Management at Singapore Management University and Carnegie Mellon University. Hailing from India, he splits his time between Singapore and Vancouver, among other cities.
Latest posts by Shashank Nigam (see all)