Yesterday, we released our exclusive infographic on
How Airlines across the world are dedicating resources to Social Media
. Quite unsurprisingly, given that we chose to address a previously unaddressed set of statistics about airlines in social media, the response was fantastic!
The infographic has, since yesterday, received direct 200+ hits and on the last 50 mentions on Twitter alone it has reached almost 30,000 people.
Incredible, right?
But, hold your breaths, because today we have something even more incredible for you. After putting together the infographic, we went one step ahead and asked ourselves: How do we get our message across to the most number of people given that we have some rather useful insights? And we asked ourselves again: How do we engage more of our audience? The answer was simple: Why not do a videographic too? This videographic is, quite simply, yesterday's infographic on steroids.
Why you should definitely view this videographic
Sometimes the finer details are missed when you look at something as large and data-heavy as an infographic.
A video, with voiceover and narration has much better recall value.
You don't have to do your analysis – we've analyzed the infographic for you in this video walkthrough.
Since sharing a video with your colleagues is just a little cooler than sharing a graphic
Because you want to thank us for yesterday's infographic while gaining a deeper understanding of the data.
Special thanks to our good friends over at EezeerDataLab for providing data about the number of tweets in their monthly Twitter reports.
So, without further ado, we present to you the first-ever videographic on airlines in social media. Enjoy!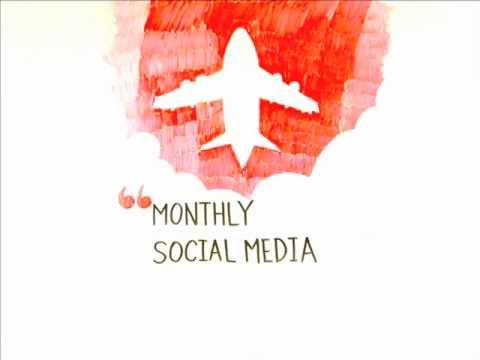 Loved the video? Want to award us for producing it? Wanted to see something else included?
Please leave all comments/suggestions/love/brickbats in the comments section below or tweet us, as always, @simpliflying
Shubhodeep Pal
Head of Operations and Innnovation
at
SimpliFlying
Shubhodeep Pal is the Head of Operations and Innovation at SimpliFlying and has been leading Product Development, Marketing and Business Development since December 2010 from the headquarters in Singapore. His writings have appeared extensively on SimpliFlying as well as revered industry outlets such as Tnooz, Airlinetrends and Loyalty360. He has considerable experience working in the social media sphere, having also conducted a workshop at the Ministry of Home Affairs, Singapore. He has written an introductory e-book for social media newbies and has previously interned at the Economist Intelligence Unit (EIU) as well. His wide range of interests include startups, programming, economics, geopolitics, film-direction/criticism and literature. His first collection of poems, Interruptions was released in 2009. He can be reached at shubhodeep@simpliflying.com.
Latest posts by Shubhodeep Pal (see all)