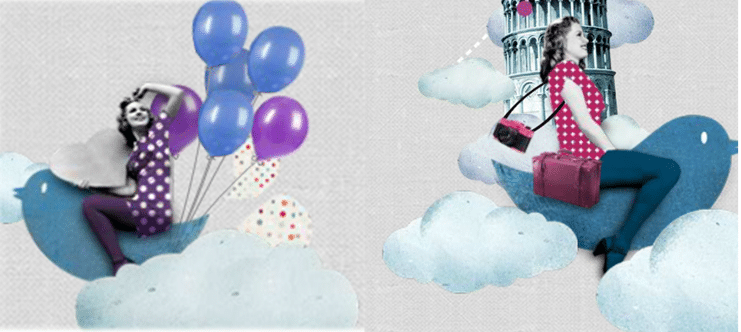 In times when users are being bombarded with information – from friends, contacts, brands, adverts, and various digital sources – creating relevant content that gets shared and interests users is an increasingly tough challenge. However, if we also add "user-generated" to the definition of "ideal content",  we get something close to a grail quest.
Text-based problems
As we've seen in our travel inspiration Top 10, one of the most commonly used methods to get users' attention and to inspire them to travel has been the use of images, sometimes sourced from user-submitted material.  Unfortunately, this solution is only effective on social networks that allow these images to be displayed prominently and shared. On text-based networks like Twitter, this presents a challenge.
Interestingly, one airline seems to have found the solution. Qatar Airways recently launched a Twitter-based initiative in which users created destination-related tweets and competed to win prizes.
Tweet a Meet
The campaign was a Twitter race wherein users tweeted about a Qatar Airways destination where they wanted to meet up with a friend. Each tweet needed to mention the Twitter handle of the friend they were partnering with, a hashtag with the name of the Qatar airways destination (eg. #Paris), the competition hash tag (#tweetameet) and, most importantly, relevant information about the city.
Some examples are presented below:
In order to take part in the competition, users had to register on a dedicated microsite, list a Twitter follower they wanted to meet and a Qatar Airways destination. Each tweet awarded the user a "Twitter-Mile" and the top-scoring teams would win return tickets to the destination they tweeted about.
The outcome
The competition has now ended and, even though the winners and number of participants have not yet been made public, the success of the campaign is evident. The airline managed to achieve two things: on the one hand it engaged users and prompted them to learn more about a destination, and on the other it turned these users into content creators who flooded Twitter with information about Qatar Airways' destinations.
Moreover, the smart inclusion of a tag with the name of a destination in each tweet ensured that these tweets would appear in all Twitter searches of the town's name. We also found that users often mentioned local businesses in their tweets prompting retweets from the more social-savvy ones, thereby amplifying the message.
We're rather impressed by how, through this campaign, Qatar Airways has managed to cleverly engage travelers both at the SimpliDream (or inspiration) phase of travel as well as at the SimpliPlan phase. Not only would people be motivated to travel by learning about the various different destinations that Qatar flies to, they would also be able to decide which destination to travel to based on the reviews and information available at their fingertips on Twitter.
SimpliBrilliant!
Marco Serusi
Engagement Executive
at
SimpliFlying
Marco is an Engagement Executive at SimpliFlying. He's Italian, but has lived in several countries since he was 18, earning an Air Transport degree in the UK, a pilot license in Florida and an MBA in Spain. He now lives in Valencia, Spain where he previously worked as a Marketing Director. You can talk to him in Italian, English or Spanish. You can also tweet him at @simplimarco, e-mail him at marco@simpliflying.com.
Latest posts by Marco Serusi (see all)