Editor's Note: Here's another guest post by Peter Claridge of Unmetric, an exclusive aviation partner of SimpliFlying. Unmetric is a social media benchmarking company that helps brands analyse how well they're doing on social media by including in-depth insights into numerous metrics as well as information on what kind of content "works" and how competitors are faring. Among Unmetric's list of illustrious clients are Toyota, Subway and Cisco.
Social Media has been a great channel for companies to exhibit a personality, seem more approachable and to reach out to present and potential customers. As shown in our past articles on SimpliFlying, airlines in the United States, such as Jet Blue, American Airlines and Delta are heavily invested in this medium. But how about the rest of the world? Unmetric took a look at how airlines in the Middle East fared on Facebook and Twitter for the month of April.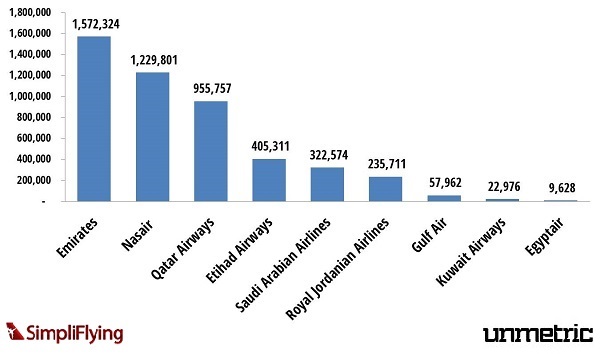 From the graph above we can see that Emirates has the highest number of fans on Facebook, standing at 1,572,324 fans for the month of April 2013. However, there is a bigger surprise when we look at the composition of the fans as only 12% of the fans come from UAE. The biggest chunk of fans comes from India, which has around 19% of the total fans. From the data below we can infer that Emirates caters to a worldwide audience on Social Media.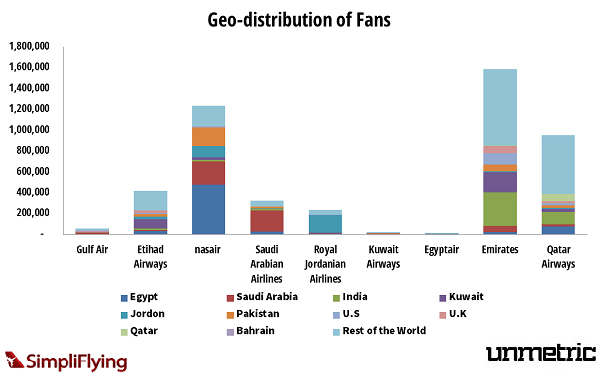 The story on Nasair is also a bit deceiving. For a company based in Saudi Arabia, 36% of the fans come from Egypt which seems quite odd given that this isn't where the company has its primary operations.
Engagement Vs Admin Posts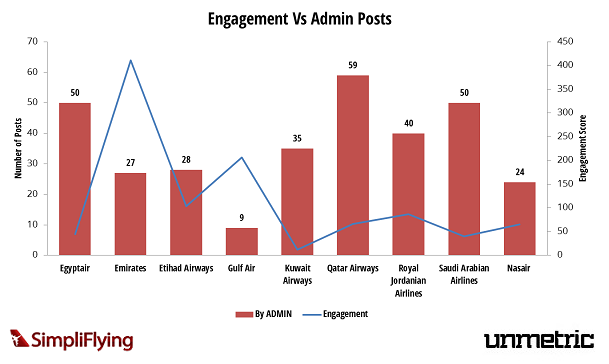 The highest engagement award goes to Emirates, with a huge engagement score of 411. This is double what the nearest competitor scored. Considering there were 27 posts for the month of April, less than one post a day, it just goes to show that fan engagement often comes down to quality over quantity. Of course, we can't rule out that Emirates promoted their posts, but if they did, it shows that the airline is committed to making social media an effective marketing channel. 
Airlines such as Egypt Airways or Qatar Airways were not able to see high engagement, despite prolific updates. In the case of Qatar Airlines, they have double the number of posts as Emirates, but its engagement score is just a third of the UAE airline. 
Emirates' content mainly consists of posts about itself and a little about aviation, which, given their sector leading engagement scores, is a strategy seems to be working really well for them. Gulf Air also stood out for receiving a formidable amount of engagement considering it only had 9 posts in April.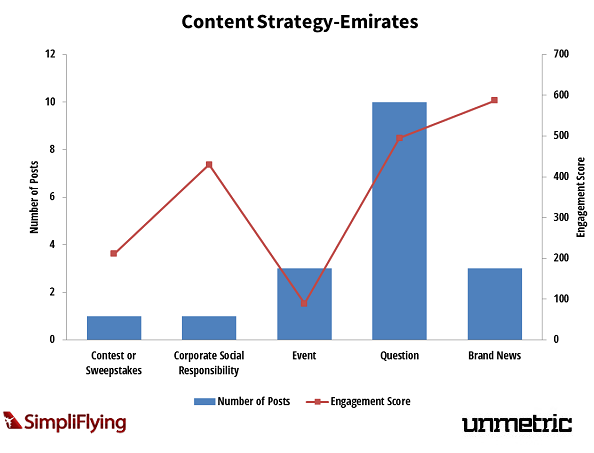 The content strategy of Emirates is a mixture of Contests, Corporate Social Responsibility, Events, Questions and Brand News. Out of these categories, Brand News receives the highest amount of engagement. Most posts were in the form of questions, but received lower engagement than Brand News, which is unusual considering other sectors see a huge amount of success from asking questions as part of their content. 
The posts below are the two posts that received the highest engagement in April.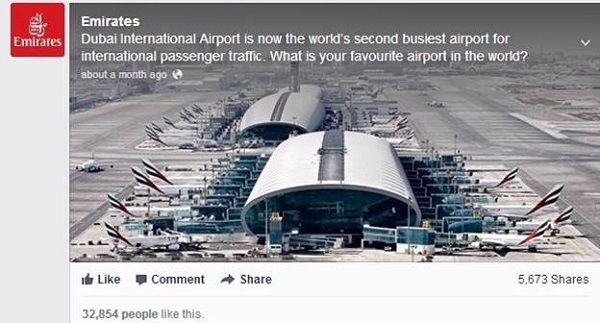 Engagement Score: 918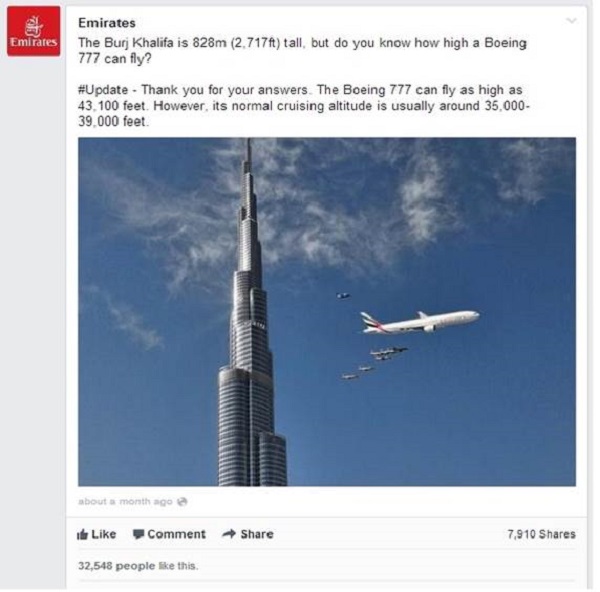 Engagement Score: 921 
Growth Rate of Fans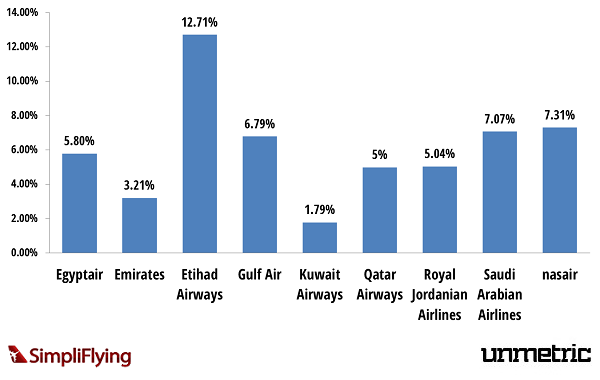 The growth rate is usually low for brands that have a large fan base such as Emirates, which saw growth rate of 3.21% in the period analyzed. Etihad Airways saw the highest growth rate of 12.71%, followed by Nasair (7.31%) and Saudi Arabian Airlines (7.07%). Nasair is the standout airline here, growing at 7.31%, despite having a large fan base compared to the other Middle East airlines. In the graph above, 5 airlines have higher growth rates than the sector average with Etihad Airways seeing more than twice the growth rate of the sector average.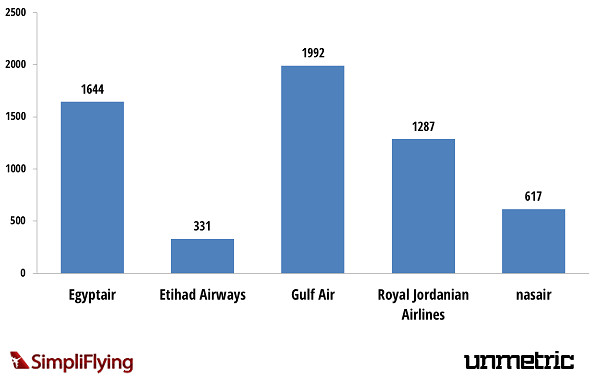 Etihad Airways seems to have the fastest fingers in the East on Facebook, with an Average Reply Time (ART) of 331 mins. Gulf Air seems to have the slowest with an average reply time of 1992 mins – that means customers are waiting an average of one and a half days to get a reply. 
Some airlines are choosing not to let their fans post on their Facebook Timeline or if they do, choosing not to reply to fans. This strategy is at odds to the global trend in the aviation sector where airlines are investing more and more resources in to social customer service. 
TWITTER
Number of Followers
Saudi Arabian Airlines holds the torch in this category. @SaudiAirlines has a total of 115,482 followers on Twitter for the month of April 2013, followed by @qatarairways and @nasair, which have 72,645 and 68,005 followers respectively.
Surprisingly, given Emirates' strong performance on Facebook, the airline is not currently active on this platform. 
Growth rate of followers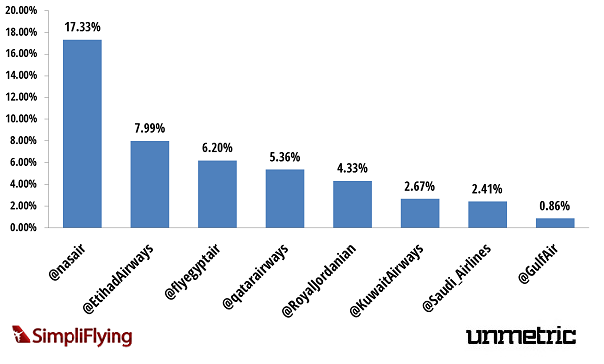 @nasair stands tall in this field with a growth rate of 17.33% which is high considering the fact they have the third largest follower base on Twitter. @Etihadairways places second with a growth rate of 7.99% and @flyegyptair places third with a growth rate of 6.20%.
Given the fact that @Etihadairways and @nasair have high growth rates on Facebook and Twitter, it could be inferred that they are investing heavily on their social media.
Average Response Time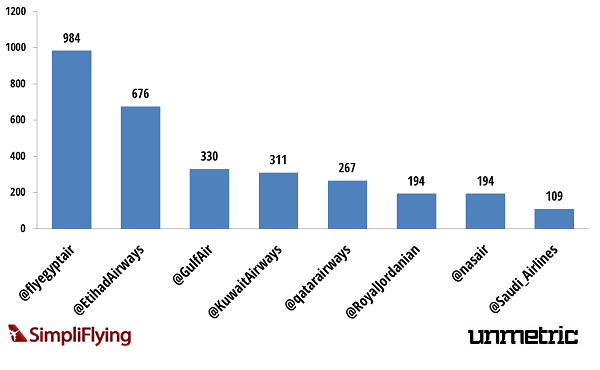 @SaudiAirlines is the fastest to respond, with a response time of a 109 mins. This is followed by @nasair and @Royaljordonian who are neck and neck at 194 mins. However, taking over two hours to respond to a customer, who could be waiting at a gate or at the check-in desk, is possibly less helpful than not replying at all. @SaudiAirlines also had the highest amount of one of the highest number of replies, hence it is quite commendable considering they have the fastest ART amongst the Middle East airlines. 
Tweets Per Day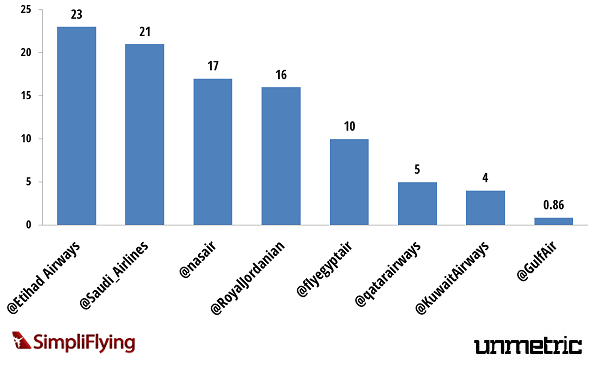 @EtihadAirways is on top of the table in this metric, they have totaled to 734 tweets in April 2013. This was averaged down to 23 tweets a day. This was followed by @SaudiAirlines which tweets 21 times a day. Most of Etihad Airways' tweets are hashtags or links which promote their services. 
Conclusion
Airlines such as Emirates have done very well on Facebook, but the data above shows that Emirates uses Facebook as a brand awareness tool and not one for customer interaction. While other airlines focus on Twitter and use it as a channel for customer interaction. 
Methodology
The Engagement Score calculation is based on the number of Likes, Comments, Shares and estimated impressions, so a page with a lower fan base can still have a better engagement score than a page with a huge fan base even if they don't get as many interactions.
All data has been compiled and analyzed from the Unmetric platform, for the period of April 2013. 
Find out more about how Unmetric can help your airline benchmark its social media prowess here. Or drop us a line directly at unmetric@simpliflying.com.
You can see previous posts by Unmetric here.