On 12 FEB, we were invited to present an introduction to our 'Masterclass for Airports' at ACI Europe Head Office in Brussels. The morning of the Digital Communications Workshop, hosted by Robert O'Meara of ACI Europe with 24 European airports in attendance, was filled with exciting insights from some of Europe's airports who are carving the way with social media. Others were there merely to soak up as much information as possible before taking their new insights forward into 2013.
One of the key personalities in Brussels was Paul O'Kane of Dublin Airport Authority, a free-speaking, self-professed 'lapsed journalist' who is now using that sensibility in the world of airport communications. Paul recalls his first encounters with Twitter using a PC as 'kind of pointless' – that was until he got a smartphone and realised its true potential.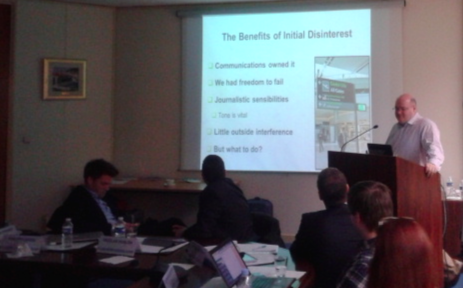 'Finding our feet' and the battle with Twitter….
Dublin airport handles around 75% of all passenger traffic into Ireland and following the recent Moodie awards, also has the title of 'Best Airport Twitter Feed' to add to its accolades. It's clear from meeting Paul why @DublinAirport has achieved so much, so quickly! 
"If something doesn't work, it's not necessarily your fault – just move on and try something else", says the straight talking Irishman. 
Dublin Airport was born on Twitter on 17th August 2010, after months of convincing Twitter management to hand over the official airport handles from squatters. Frustrated by the number of airport handles that have false residents (squatters), O'Kane recommends that airports should not be content with just any account name on social media, and have every right the fight for the official handle. A fight that took Dublin Airport four months! 

Soon after, on 21st October that year, @DublinAirport posted its first tweet, once strategy had been aligned and months had been spent reviewing the business goals they wanted to drive from social media activity. Like many airports in 2010, Dublin found their feet in a crisis. During the heavy snow of winter 2010, it became the way of communicating with the masses of passengers, needing regular updates and information. O'Kane shares more in his video interview with SimpliFlying below.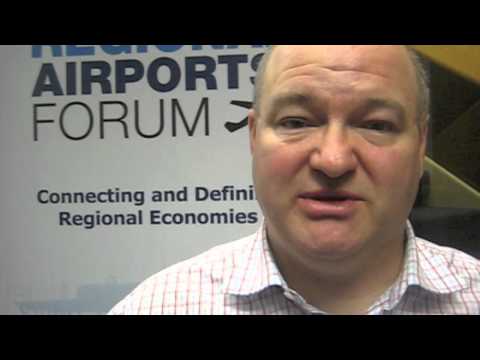 Thought leadership and the need for involvement at every level
Dublin's early efforts were not making any real waves. It wasn't until a light-bulb moment at a children's birthday party, where O'Kane spent most of the time on twitter sharing the latest updates from the Irish elections with all the eager parents. 
He realised in that moment that Twitter will replace traditional media, and there will no longer be a need to watch the 6 o'clock news.  "People in Ireland want to turn to us (Dublin Airport) about tourism. So, it's about telling stories – helping passengers, but mainly telling stories". 
"Tone is crucial. It's not about talking, but how you talk. And, if you don't have a strategy – it's just talking". 
Asked about the seniority of engagement required, O'Kane fundamentally agrees that someone of his level within the business has to be involved – it's far too important not to have involvement at the very top. 
With 18,000 likes on Facebook after just 6 months, and an engagement level of 32%, it's not surprising that DUB is already winning awards. The team is growing with 2 new members of staff for social customer service – a true sign of Dublin's commitment to their consumers. The presentation below outlines Dublin Airport's social media strategy, as shared in Brussels. 
Lessons from Dublin
Paul had this advice for the rest of airports on social media, "There are two types of aviation people in the world – those who've got social media, and those who are about to get it". 
At the beginning of the year we delivered our valuable airport social media outlook for 2013 videographic, outlining in less than 3 minutes how airports are positioning social media within overall airport marketing & communications, to drive and deliver business goals. 
This year, the quality of followers will be far more important than the quantity. Airport marketers will strive for creative ways to deliver more relevant engagement with passengers, as travellers continue to limit their friends on Facebook, removing irrelevant content from their newsfeeds and clicking 'unfollow' on airports that aren't adding any value to their life. This year will see some significant changes in how the airport brand and consumers use social media, which could prove to be a real wake-up call for many airports. 
The content you share reflects your competence and expertise, and reflects how in-touch you are with the industry, the community, thought leaders, influencers, and the airlines (who currently, or in the near future, could serve your market). Sharing good content shows you understand what's interesting and valuable to your passengers. 
Airports will need to think very carefully about the content they put out into the social media world, ensuring it is relevant and interesting to the connected traveller. 
Dublin Airport, and the work of Paul and his team should inspire a number of airports to craft a strategy focused on goals they want to achieve through social media. And if you feel the SimpliFlying team can help through consulting or in-house MasterClasses, please feel free to drop us a line at airports@simpliflying.com.