Is Cathay Pacific Business Class the best way to get from New York to Hong Kong?
….
Sleeping for 12 hours straight is uncommon in today's busy world. Doing that while blasting through the skies in a pressurized metal tube over Greenland is even more rare. But that was that was the best part of my flight from New York's Kennedy airport to Hong Kong, aboard Cathay Pacific's new business class last weekend.
It's the first time that I've recovered from my jet lag in just a day. And that's enough to convince me that this is probably the best way to travel from New York to Hong Kong. Let me share my personal experience, and you be the judge.
Keeping the promise
Before I boarded the flight from Kennedy airport, while browsing through the Financial Times, I saw a Cathay Pacific advertisement (see picture) for their new business class, which highlighted their cozy beds, as well as the new StudioCX entertainment systems.
True enough, those were two of the key highlights of my flight – I enjoyed uninterrupted sleep and watched a good selection of movies on the 15-inch widescreen when awake. The noise-canceling headphones that were included enhanced the whole experience. Moreover, the seats were almost exactly the same as the virtual demo on Cathay Pacific's website. Though, I had checked the movies listing on Cathay Pacific's website before the flight, they turned out to be different on board. In reality, the selection was better (with 100 movies!), so I didn't really mind that.
Top quality in-flight products
There are a few key items on every business traveler's mind when traveling long haul – privacy, comfort, space, and to a certain extent, exclusivity. Cathay Pacific's new Business Class comes up tops in privacy and comfort. The seat converts to a fully-flat bad in just the press of a button. And the bed is very comfortable indeed. The plush pillow and blanket ensure you're put to instant sleep.
The herring-bone seat configuration ensures complete privacy, as each seat is surrounded by a shell – perfect for the overworked among us who can't beat the urge to open up that sensitive document. There is an international power adapter and a USB port in the seat too. There is a sense of exclusivity as well, since the Business Class passengers alighted from the plane before everyone else, had bigger television screens, tables had table covers. The AgnusB amenity kit also contained a number of cosmetics, socks and eye shades. But I have to admit that the seat wasn't as wide as I've seen on Singapore Airlines' new Business Class. Nevertheless, it wasn't something I'd get too concerned about.
Professionalism is the key word in service
Cathay Pacific is among the famed Asian carriers like Singapore Airlines and Thai Airways that are renowned for their in-flight service. And indeed, the service was very professional on board this 16 hour flight too. It's always nice to be greeted by your name as you enter the aircraft or just as you're being served dinner. In my case, I had cut my thumb just before boarding and asked for a band-aid as I got seated. Though I had to wait a while (since the stewardesses were busy preparing the aircraft for departure), not only was I given three strips, but a couple of stewardess stopped by to ask me how I cut myself and if I needed anything else. That was sweet.
The rest of the service was pretty impeccable as well – champagne was served as we got seated, a hot four-course dinner was served when I woke up, not just when there was regular service, and there were smiles all around generally, even though it was a packed Business Class. For my specially requested Hindu-meal, I was served some delicious chicken tikka, chole (chick peas), daal (lentils), naan and basmati rice. That was indeed heavenly, at 38,000 feet (pun intended!).
Room for improvement?
Though this was one of my best flying experiences, there are a couple of things that can be improved. For example, the check-in counter had a huge British Airways logo on the wall, and one had to carefully scan the LCD screens to determine the Cathay Pacific counter (see picture). Also, downside of too much privacy (and a herring-bone configuration) is that you will be sitting alone even if you're travelling with someone you know. For this reason, some business travelers might prefer an Emirates-like seating arrangement where a divider can be pulled down if you're traveling with a companion.
Cathay Pacific brand analysis
let's do a quick brand evaluation on Cathay Pacific, based my flight experience, using relevant levers from the 6X airline branding model.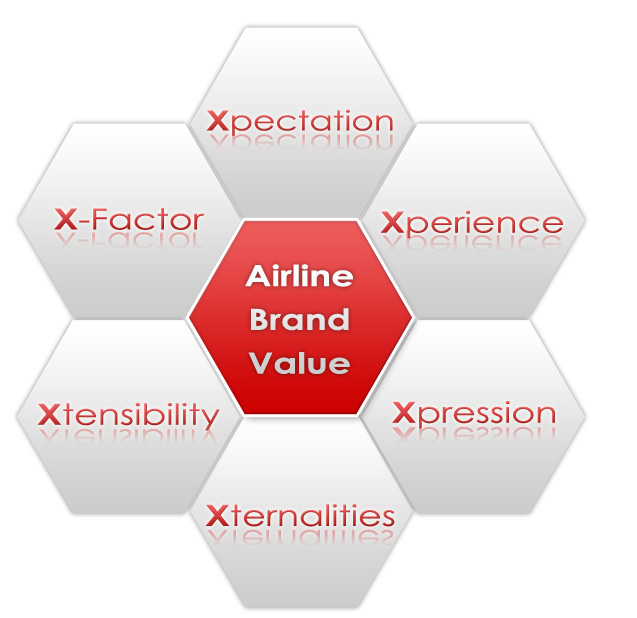 Brand eXpectation: The advertisement in FT sought to differentiate Cathay Pacific's Business Class product by emphasizing comfortable beds (that put you to sleep) and superior entertainment on their StudioCX system. This is distinct as compared to run-of-the-mill efforts by American carriers which claim they "know why you fly".  Score: 9/10
Brand eXperience: The in-flight experience was true to what was promised, which is often a rarity these days. Product quality was far better than most out there and service was professional and courteous. And the food tasted much better than the average airline fare. Score: 9/10
Brand eXpression: This relates to how well the company interacts with the customers pre and post-flight. I've had limited interactions with the Corp. Comms and Marketing folks at Cathay Pacific and they've not disappointed till date. I'm assuming they carry forth their open communication with other passengers on all issues as well. Score: 8/10
Brand X-Factor: This is something that puts an airline in a class of its own – something difficult to duplicate for competition. The band-aid incident resonated with me, and the extra attention I was given sets Cathay Pacific apart. Score: 9/10
A total score of 35/40 is very respectable, especially since we haven't taken into account Brand eXecution and Brand eXternalities – both of which Cathay Pacific is likely to ace. Hence, in my opinion, Cathay Pacific is indeed the best way to get from New York to Hong Kong, and beyond in the Far East.
I've given my verdict. What do you think? Have you had a different experience on Cathay Pacific? Where is the room for improvement? What can others learn from the airline? Let's discuss…
P.S: Special thanks to Nancy Tao from Cathay Pacific's San Francisco office, and Judy Kwan from Hong Kong office for assistance in this trip.

Related articles