Eleven things airports can do to get travelers to really LIKE them (Inspired by Seth Godin)
Let's face it – most of us hate being at airports. We want to get out of there as soon as possible, after landing. When in transit, we try to find a quiet spot with a strong wifi signal. And god-forbid, if there's a charge for wi-fi, we say words that shouldn't be uttered at airports, of course, under our breath. Seth Godin hates airports too! And he made it known very clearly in his latest blog post, ironically titled, "Eleven things organizations can learn from airports"
Seth Godin is a marketer I personally respect quite a bit. And he has listed eleven reasons in the latest blog post why he dislikes airports. I thought it would be fun to do a point-by-point rebuttal how airports can become better liked, with the use of technology and by engaging the connected traveler of today. Seth's points in blue italics, and our response following each one.
No one is in charge. The airport doesn't appear to have a CEO, and if it does, you never see her, hear about her or interact with her in any way. When the person at the top doesn't care, it filters down.
Airports need to stop being faceless entities. They need to add personality to the brand. They can do this by getting the CEO and senior executives to openly interact with the public, perhaps on Twitter or Facebook, like London Gatwick's CEO did a few days ago. Or they can follow the lead of Vancouver International Airport, where a video blogger lived at the airport for 80 days and 80 nights, constantly sharing stories of employees, travelers and more! All of this adds a personality to the airport brand, and people relate to that.
Problems persist because organizations defend their turf instead of embrace the problem. The TSA blames the facilities people, who blame someone else, and around and around. Only when the user's problem is the driver of behavior (as opposed to maintaining power or the status quo) things change.
Airports need to make their staff accountable. They can learn from the likes of Singapore Changi Airport – where while exiting the toilet, you see a photo of the cleaner on the screen and can rate him or her based on cleanliness. If you can't afford to install iPad-like screens in every single toilet, then follow Mumbai International Airport – they monitor tweets and Facebook updates with certain keywords like "dirty" or "spill" and respond in real-time!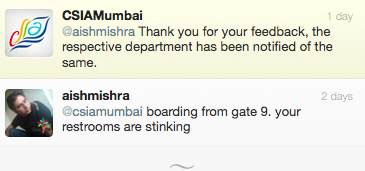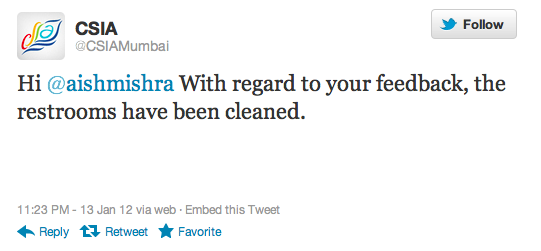 The food is aimed squarely at the (disappearing) middle of the market. People who like steamed meat and bags of chips never have a problem finding something to eat at an airport. Apparently, profit-maximizing vendors haven't realized that we're all a lot weirder than we used to be.
jetBlue's new Terminal 5 at JFK Airport ought to serve as a refreshing inspiration to airports worldwide on how good restaurants can be attracted. I personally know of travelers who check-in early just to have a full meal before boarding their flight.

Like colleges, airports see customers as powerless transients. Hey, you're going to be gone tomorrow, but they'll still be here.
Many airports have staff that are very passionate about what they do – from cleaners to route development executives. In fact, many work there just because it is an airport. Sure, the customer will be gone tomorrow, but that means that there will be another customer to help too. The airports are taking pride in their passenger numbers and need to radiate this pride in all roles throughout the airport. Certainly, a better job can be done at displaying this passion to the passengers.
By removing slack, airlines create failure. In order to increase profit, airlines work hard to get the maximum number of flights out of each plane, each day. As a result, there are no spares, no downtime and no resilience. By assuming that their customer base prefers to save money, not anxiety, they create an anxiety-filled system.
The anxiety-filled system can be tackled by creating elements that soothe nerves. Helsinki Airport already has a book-exchange for travelers, and will soon be installing art all over the terminals. Both these initiatives were crowd sourced through a program called Quality Hunters. At Amsterdam Schiphol, there are gardens with virtual chirping birds and even a museum, to take the stress away from airlines trying to maximize airplane utilization.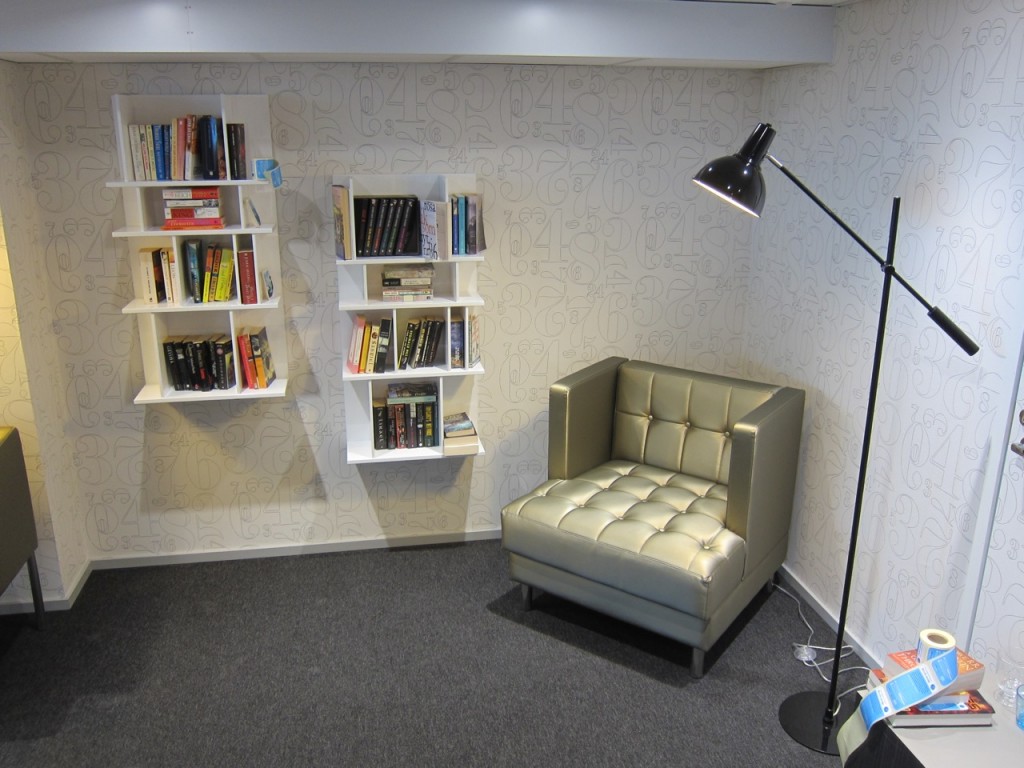 The TSA is ruled by superstition, not fact. They act without data and put on a quite serious but ultimately useless bit of theater. Ten years later, the theater is now becoming an entrenched status quo, one that gets ever worse.
Even this pain can be alleviated. We are currently working with a major airport to install Twitter screens that will automatically show, using hashtags, which security line is the shortest and which has the smoothest traffic flow. Same works for immigration queues as well. It's really simple – when people are waiting in long lines, they tend to whip out their mobile device and often start telling the world about it. We're just helping to put some structure to this using hashtags, and then sharing the information openly, for everyone's benefit. The TSA theatre cannot go away, but some pain associated with it can be reduced.
The ad hoc is forbidden. Imagine an airplane employee bringing in an extension cord and a power strip to deal with the daily occurrence of travelers hunched in the corner around a single outlet. Impossible. There is a bias toward permanent and improved, not quick and effective.
We've worked with Toronto Pearson Airport to change exactly this behavior. Now, there are customer service representatives, who monitor Tweets and Facebook updates, and go help the travelers out pro-actively, in real-time. Perhaps the next step should be airports behaving like Ritz-Carlton – giving every customer facing employee a monetary allowance to use based on his or her discretion, to help out a passenger. In fact, Heathrow Airport proactively helps out travelers who might be lost or looking for something, using Twitter!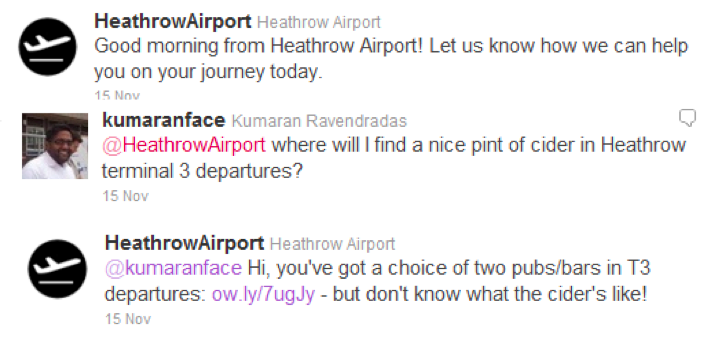 Everyone is treated the same. Effective organizations treat different people differently. While there's some window dressing at the edges (I'm thinking of slightly faster first class lines and slightly more convenient motorized cars for seniors), in general, airports insist that the one size they've chosen to offer fit all.
There are some airports, especially those outside North America, that have started to offer differentiated experiences. Doha International Airport has not a lounge, but a separate Premium Terminal for Business and First Class passengers. This allows Qatar Airways to streamline the offloading of passengers from a plane, and hence allows for faster turnaround times too. At Moscow's Shermyatovo Airport, you can skip long lines by checking-in via a Skype Video call. Simple, isn't it?
There are plenty of potential bad surprises, but no good ones. You can have a flight be cancelled, be strip searched or even go to the wrong airport. But all possibility for delight has been removed. It wouldn't take much to completely transform the experience from a chore to a delight.
This is where airlines like KLM, with their Surprises initiative, are so loved. KLM randomly surprised passengers traveling through Amsterdam Schiphol based on their social media status. In fact, during the latest holiday season, there was a flurry of airlines and airports surprising passengers, most of which were featured in our January 2013 marketing benchmark report.
They are sterile. Everyone who passes through leaves no trace, every morning starts anew. There are no connections between people, either fellow passengers or the staff. No one says, "welcome back," and that's honest, because no one feels particularly welcome.

 
When you land at Singapore Changi Airport, candies welcome you at immigration desks. Toronto Pearson has been singing Christmas carols, two years in a row, for passengers at the airport during the holiday season – and requests are taken via Facebook and Twitter. Such actions take away the sterile nature of airports. 
No one is having any fun. Most people who work at airports have precisely the same demeanor as people who work at a cemetery. The system has become so industrialized that personal expression is apparently forbidden.
Flash-mobs are the new in-thing at airports. From Dubai to Lisbon. From London to Kuala Lumpur – every major airport has either done a flash-mob or is planning to do one. Why do they work so well? Exactly because no one expects people working at airports to have fun. Flash-mobs go against the conventional thinking. That's why they work. Now, airports need to figure out how to take fun from a one-off event, to a continuous state of mind among employees.
http://www.youtube.com/watch?v=AikklTslT-o
 Dehumanizing everything at airports indeed doesn't increase profits. The examples above show that there are indeed airports around the world that have a spark to them. Hope this lights the fire of imagination among airports that still act sterile, and we see some sustainable change. Because we don't want the Seth Godins of the world hating airports, do we?
If you'd like to learn from 41 more of the best airport marketing initiatives, you should consider our in-house Airports MasterClass, focussed on the Connected Traveler. Alternatively, please feel free to get in touch with us to figure out how we can help your airport be much better Liked!
[push h="16″]