In my recent brand review of Qatar Airways' Business and First Class, I mentioned that the X-Factor in the whole experience was actually on the ground – their exclusive terminal for premium passengers in transit.
I experienced similar feelings last Friday, as I was given a private tour of JetBlue Airways' swanky new Terminal 5 (old TWA terminal) at JFK airport in New York. Given the large proportion of time travelers spend in terminals these days, especially for short-haul flights, what JetBlue has created at JFK can be a game-changer. And here are three reasons why I feel it can do wonders for the already well-loved airline brand that is JetBlue.
1. It didn't feel like a traditional US airport (at all!)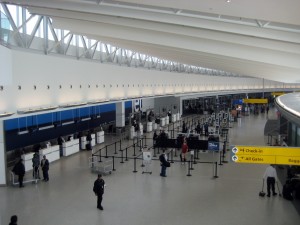 As  you walk in to T5, the first thing that strikes you the feeling of space – lots of it. That's created by the high ceilings and tons of natural light coming through the glass panes. Moreover, there's soft music playing at T5 (reminded my of Singapore Changi!). Counters are conveniently positioned for travelers coming by train or by taxi. It all looked very efficient, with short lines on a Friday evening. One of the reasons is the security checks.
T5 is the first terminal to be built in the US after 9/11, hence it is optimized for the security checks that have come since then. And that's why, you wouldn't feel the normal anxiety, with much shorter line. Moreover, the TSA agents' uniform color is the same blue as JetBlue's staff – and I think that helps put you at ease too, since you unconsciously perceive the agents as courteous by default.
But this was just the start of the very-different airport experience than those you must have been used to in the US.
2. Optimized to provide a great customer experience
Once you go through security, it just gets better. There are beautifully designed up-scale restaurants in the main concourse and a slew of shopping choices. There's even a gate-side spa! For the kids, there was a playground sponsored by FisherPrice. My favorite, though, was the fact that there's blazing-fast free wifi and bean-bag styled cushions right by the gates where you could snooze while waiting for your flight.
I was told that the view from the cushions is also the closest you can get to a runway in JFK – great for spotters like me.  But the most fascinating fact that I learnt on the tour was almost everything was psychologically optimized – like spaced-out horizontal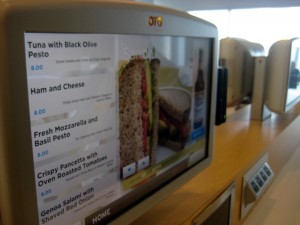 lines on the floor to create a "slow down" feeling that helps reduce anxiety, and restrooms on the left (for arriving passengers) and news stands on the right (for those departing).
But here's what would sweep most people off their feet. Right by the gates, I saw small TV screens. When I explored further, they turned out to be touch-screen menus from all the restaurants in the terminal. You just had to choose what to eat, swipe your credit card and wallah! Your food is delivered to you. And you never need to run again to catch the flight if you answered your craving for a last good meal for a few hours.
Everything was optimized to provide a great experience, even the shoe-shine specialists, who've been flown in from California!
3. JetBlue's customer service centers
In times when airlines like Ryanair have announced the elimination of all check-in counters and United has terminated its only customer service call center, JetBlue continues to impress. In both sections of the concourse, there were dedicated customer service centers and kiosks where passengers (and crew) could easily re-check in for cancelled flights or seek any other flight information.
Here's the X-factor – all counters are staffed by JetBlue's own, and not outsourced. That means that they not only uphold JetBlue's customer service standards, but also have the autonomy to best help the customer out. And trust me, in crunch situations (like these), it makes a ton of difference.
So what does this mean for the JetBlue brand?
I think once a passenger has traveled through T5, he wouldn't want to go back to any other airport terminals in New York City if given a choice. It's like I'd never switch back to Windows, now that I've tasted the Mac magic =)
And in the long term, T5's complimentary nature to JetBlue, the airline, will pay off in more ways than one. Don't you think?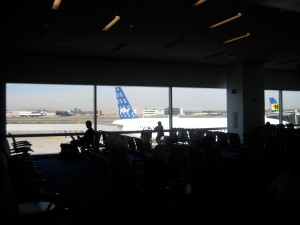 Special thanks to Morgan Johnston (see interview) who spent half a day so passionately showing me and the CEO of ACA Associates around JetBlue's HQ and then JFK. Personally, I felt like a child being given the private tour of a Hershey's factory – and I loved every bit of it!
P.S: If you're one of the 17 fellow aviation geeks who've read till here, I'd like to share with you something personal. I liked the relaxing cushions closest to the runway so much, that after bidding Morgan farewell, I went back there and was plane-spotting for over two hours, slumping in the cushions! You can view photos of the beautiful metal birds here.
So, what do you think? Is JetBlue's T5 a game changer? Would it be good for the brand? What should airlines that do not have the luxury of having their own Terminal do, to achieve the same effect on their brands? Let's discuss…
If you aren't following SimpliFlying on Twitter yet, you may do so here: http://twitter.com/simpliflying . Do subscribe to SimpliFlying by email or RSS, if you haven't already done so as well!