[Free Report] The State of Airport Marketing: 7 Key Trends & Case-Studies
After publishing a hugely successful State of Airline Marketing Report last month, which was downloaded over 1000 times, we're back with another free report, this time aimed at the good folks leading marketing at airports! [push h="14″]
Airport marketing is finally waking up to the immense opportunities in the age of the connected traveller. Airports are not just engaging travellers and providing customer service online, but also gaining real-time, location-specific customer intelligence, while driving revenues. Moreover, traditional, offline airport marketing campaigns themselves are becoming ever more creative and tuned-in to the needs of the Connected Travellers of today. [push h="14″]
Innovation across Marketing as well as Air Service Development
As such, airport marketing is fast shedding its traditional conservativeness. Marketers are seeking to fly higher and engage passengers with innovative campaigns, both online and offline. In this transformational age of airport marketing, apart from investing in experiential marketing campaigns that delight and surprise travellers, many airports around the world are equipping themselves with the tools and know-how to leverage the digital marketing revolution, experimenting with new social media platforms and launching mobile campaigns that link the online and the offline world. [push h="14″]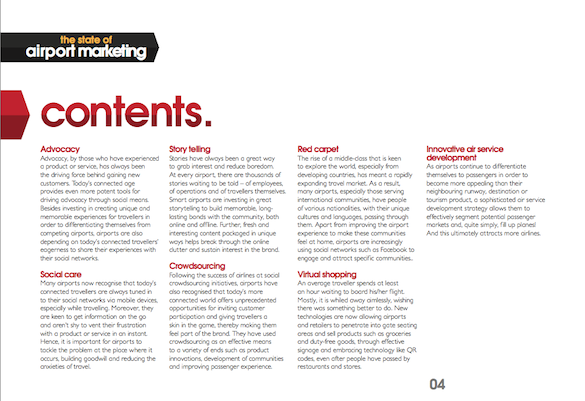 Importantly, airport marketing today is not only a function of communications. Instead, airports are increasingly competing to attract passengers from nearby airports as well as simultaneously improve their route network. This has led to a number of airports investing in innovative air service development initiatives, that seek to attract new passengers and, ultimately, new service. [push h="14″]
7 Key Trends with Accompanying Case-Studies
Our State of Airport Marketing 2013 report identifies the seven most important trends that define airport marketing today, and includes detailed case-studies with each trend that showcase how some of the best airports in the world are adopting a new approach to marketing their airports. If you can't wait anymore, you can download the report right away by clicking below. If you want the wait to be worthwhile, however, read on for some great advance praise for the report as well as an exciting product announcement below. [push h="14″]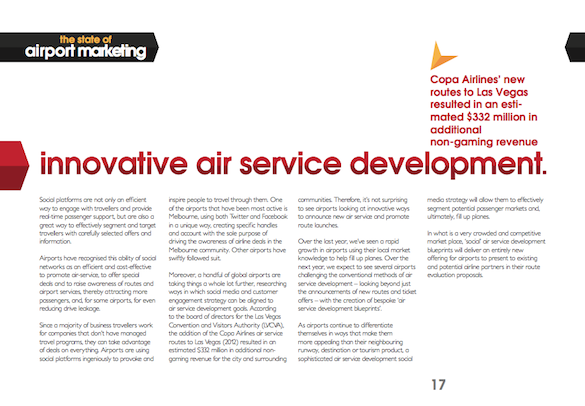 [push h="16″]
Testimonials
Here's some advance praise for our reports and upcoming premium Benchmark Reports.
"SimpliFlying's reports are simply a great way of keeping abreast of the trends and developments in aviation related social media and staying well informed. They provide a wealth of relevant and useful statistics for our business. The case studies are a great source of inspiration in what is a fast moving environment. " 

Mandie Armstrong
Digital Communications Manager
London Gatwick Airport
"Athens International Airport's  "ABCD"  Marketing Strategy is balanced among the three primary stakeholder groups : Airlines, Business partners and Consumers and it also focused on the "D" element, ie. the promotion of Destination Athens, interacting highly with the wider public. Athens International Airport, being the only airport worldwide that has been awarded 12 times during the last 9 years with the Routes Marketing Awards, is looking forward to Simpliflying Airport Marketing Reports; thus, we'll be able  to benchmark ourselves against the most innovative and forward-thinking players in the airport sector, exchange marketing  ideas  and communicate and promote to our stakeholder groups our "way of doing business" in the most creative way."

Marketing Team
Athens International Airport
[push h="16″]
Airport Marketing Benchmark Report
In such a fast-moving environment, it is important not just to be creative and innovative yourself but to be more striking than your immediate competition as well. However, given the speed at which things move in digital media, it is no easy task to stay on top of the latest trends, fads and innovations. (If you're from an airline, we already offer monthly Airline Benchmark Reports.)[push h="14″]
Produced by SimpliFlying, the premium quarterly airport marketing benchmark reports are the answer to this challenge. Each report will contain a selection of the most innovative marketing and advertising campaigns launched by airports around the world and assesses their impact. [push h="14″]
Click here to find out more about subscribing: [push h="14″]
"After successfully introducing the Airline Marketing Benchmarking reports, inspiring the aviation industry to move forward on engaging the connected traveler, now we are presented with the Airport Marketing Report. This couldn't have come on a better time, since airports around the world are accelerating on customer engagement, conversation strategies and smart use of social and mobile media. Airports will find these reports extremely valuable since through inspiration, the industry is guided, moving us all forward."

Eli Lejeune
Marketing Manager
Eindhoven Airport
For questions about the premium report and to subscribe to it, please contact Shubhodeep Pal at shubhodeep@simpliflying.com.