Three Years With SimpliFlying: Constant Newness, The Joy of Unpredictability & The Happiness of Growing
On the cold, fog-infested night of December 6, 2010, I took my first international flight (from India) to a destination other than Singapore. I was travelling to a "mystery" event — an event so shrouded in mystery that everyone on aviation forums knew what it entailed —  organised by Cathay Pacific in Hong Kong.
The Beginning
It was my first assignment for a fledgling company that had not yet confirmed its decision to hire me; yet, astonishingly, there I was, travelling to a new country, flying Business Class for the first time (my first brush with an airline lounge as well), put up at a plush hotel, and treated to a royal spread over the course of a spectacular event. My reports from the event, written while combating a cold-induced fever, would turn out to be the first of many articles on SimpliFlying (133 at last count). I was officially hired soon after, and Dec 1, 2010 was retroactively assigned as my joining date.
Back to the Future
About two weeks ago, at the cusp of December, I found myself back in Hong Kong. Almost exactly three years later, I was back to the place where I can claim, with some justification, I found my footing for the first time in my adult life. However, much had changed in these three years.
From a small company that had worked with fewer than 10 clients, SimpliFlying today boasts a client roster of over 40 well-known names in aviation. When I was in Hong Kong last, a number of people had heard of us as the new kids on the block, while some had difficulty placing the company. This time, I noted with some pride that the company was known to everyone I met as the biggest name in aviation marketing. Even hotel marketers had heard of us! Moreover, in 2010, I represented SimpliFlying as a Marketing Associate; this December I went as the Vice President, Products and Operations. And I went not to report on an event but to deliver a keynote at a well-known conference, where I also held two MasterClasses for senior travel marketing executives.
That's not all. By the time the year comes to a close, I will have visited 15 countries across Asia, Europe and the Middle East, most of them for work. In 2010, Hong Kong was the 3rd country I had ever visited. Today, the number of air miles lined up for me over just the next few weeks would have caused my 2010-eyes to glaze over in disbelief.
Growing Up
When I wrote a piece on completing one year at SimpliFlying, I reflected on the fact that many people did not know what I really did, nor did they quite understand what SimpliFlying did. I tried explaining it then, but I have a much better answer today. An answer that our entire team — tripled in size since I joined it — subscribes to, and would unanimously tell anyone who asks.
SimpliFlying today is the leading aviation marketing consultancy in the world. We believe in thinking differently about aviation marketing; we understand the intersection of marketing and aviation better than anyone else. Clinching proof of this lies in the fact that we have the largest client roster, the most success, and hence the most experience in the niche that we work in — to help airlines and airports understand how today's Connected Traveller behaves differently, and how they can tap into the "digisocial" revolution to recalibrate their marketing strategies, with an eye on this new landscape. We deliver consulting, training and speaking services globally.
Bragging Rights
Today we work with some of the biggest names in aviation including Airbus, Boeing, Turkish Airlines, LAN Airlines etc. It makes me proud to have been a constant part of the company's dual quest for success and excellence in these three years.
It will be apt here to reflect on a few personal successes as well. Working here has been unique in how the company has allowed me access to greater responsibility at every step of the journey, and reposed faith in my abilities, enabling me to gain precious experience that I could scarcely have gained elsewhere. Here's a quick Top 7 list of the "big" things I've been majorly involved with in the last couple of years:
The website, on which you're reading this article, was majorly revamped last year. I led the project on my own and delivered it within time, in about 5 weeks.

We launched two major State of the Industry Reports in 2013 — one each for airlines and airports. I wrote major portions of them, apart from helping with their delivery, design and marketing.

We partnered with Facebook to produce a whitepaper on loyalty for airlines. We also have an ongoing partnership with social media benchmarking company Unmetric, under which we publish regular analyses, which I manage.

The recently launched Airport Marketing Benchmark Report owes quite a bit of its provenance to my efforts.

I delivered keynotes at a number of conferences in 2013 on behalf of SimpliFlying. In preparation, I took a short course in public speaking at the Dale Carnegie Institute.

I also began delivering training workshops — or, as well call them, MasterClasses — for senior aviation executives.

I finally contributed directly to sales and learnt the art of closing deals!
Nothing has changed since I first started working at SimpliFlying — my work constantly excites and nourishes me still; I'm involved in creative decisions at the company; I get along even better with my boss now; and I still wouldn't give up the joy of having flexible work hours, and the choice of working from anywhere in the world. But when I look back at these three years I also find myself inhabiting a strange new land — wonderful and filled with exciting unknowns. I am in a position of much greater responsibility, and feel compelled much more to ensure the success of the company; I am often the official face of the company; I work with a much larger team (more on the team below) and have people report to me; I am expected to help bring in revenues; most importantly, the products we will be building over the next year will have a much larger impact on the company and its fortunes than I could have once imagined.
The Greatest Team Ever
Thrilling as my job might sound, none of this could hardly have come to fruition without my having the most talented and exciting people as team-mates. In Shashank, our CEO, I have found not just an enthusiastic guide and an inspirational speaker/storyteller, but also a person I can confide in; in Marco, who completed 2 years in the company recently, I've found geekiness (in the best way possible), a smart sense of humour and an exceedingly keen mind when it comes to everything social media; Guen, who is about to complete 2 years soon, was one of the first full-time interns for the company and is its PR ninja — exceptionally hardworking and ever reliable; David, who joined the company this year has brought tremendous energy to the team along with a go-getter attitude that each of us aspires to; Ravi, our latest hire, has been my best friend for over a decade, is one of the most enterprising people I know and is working on an exciting project that will be revealed later in 2014.
In my one-year anniversary piece, I ended with these lines: "Life is bliss! Quite obviously, I'm not looking for a job!". This is true today as well — I'd look mighty silly searching for a job when I find myself doing new things almost every day at SimpliFlying. Let me leave you with a photograph that might evoke just a faint bit of jealously — here's where I stayed last month when I was invited to speak at a private Airbus event in Sri Lanka: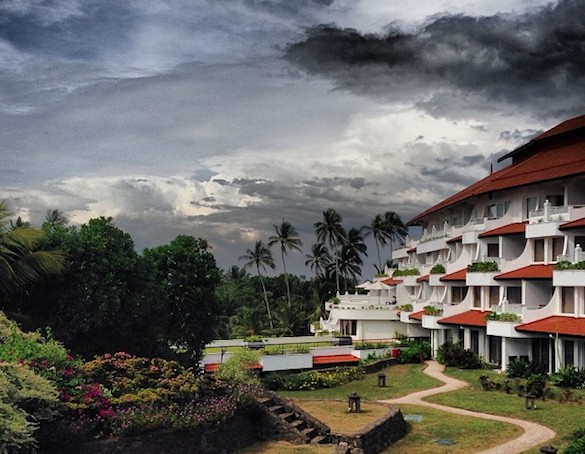 Something tells me you might fancy applying for a job here.