British Airways Visit Soon tugs on the heartstrings, with Tourism Australia #visitsoon
Imagine you have gone to watch a movie in the theatre. And it turns to be about your family! That's exactly what happened to Alec and Catherine, two elderly British couple whose daughter moved to Australia with her family a few years ago. As they sat in the packed theatre, they realised that the subject of movie they are watching is their own grand daughter, Esme Rowling.
Their reactions, captured aptly in a video, are priceless and heartwarming. The video features Esme enjoying her life in Sydney, swimming everyday, playing with her friends, but missing her grand parents as well. The film ends with Esme asking her grandparents to visit soon. And British Airways surprising them with actual tickets to fly to Sydney!
Focus on VFR, in partnership with Tourism Australia
With an estimated 40,000 Brits emigrating to Australia [.pdf] every year, it is only natural for the airline to focus on "ties that bind". There is significant VFR (visit friends & relatives) traffic between the UK and Australia. Add to that fact that Virgin Atlantic has announced its pull out from the continent, and Qantas is partnering with Emirates instead of British Airways. This leaves British Airways as the only airline to retain its flights to Australia from Heathrow as it has done in the past. And this campaign is an attempt to boost loads by reaching out to the VFR market.
British Airaways' partnership with Tourism Australia is also commendable, as the video ties in very well to the tagline that "Australia has everything…except you".
The airline has also created a dedicated landing page for the campaign, featuring not just the video, but also deals between London and Sydney, showing the lowest fares, and the ability to book tickets right away. We will be keen to see what sort of click-through rates they get on the pages.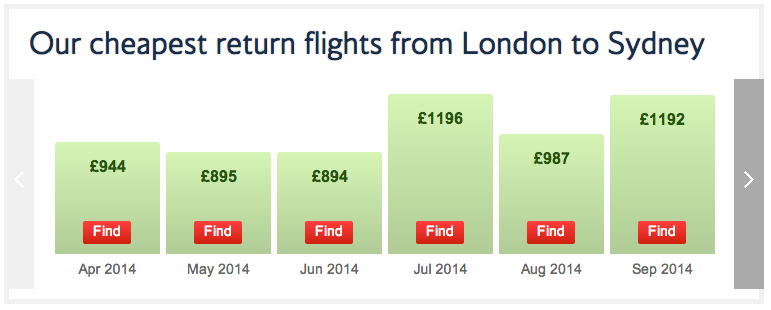 British Airways – the new masters of Surprise & Delight
A couple of years ago, KLM was in the news for surprising travellers for checking in on social media. Though, it wouldn't be wrong to suggest that British Airways, in partnership with OgilvyOne, has done a tremendous job of being possibly the best airline today when it comes to surprising and delighting travellers.
Last August, they melted our hearts with the Visit Mum campaign, targeted at expat Indians. That video has over a million views on YouTube today. In February, they followed it up with a mushy Valentine's Day campaign where a couple was whisked away for a romantic holiday in London. That has over two million views on YouTube. And now, by springing up a surprise on grandparents in London, British Airways have won our hearts again.
The partnership with OgilvyOne has produced some of the best emotive storytelling we have witnessed in airline marketing in recent times. And the surprise and delight factor adds an amount of anticipation, that has led to the campaigns being such major hits online. And they often bring a tear to the eye too. The British Airways Visit Soon campaign has us looking forward to what's in the pipeline.