When I was a kid growing up in Delhi, India, we seldom ate out. Mom always cooked at home – for lunch after we got back from school, for dinner, for parties. She packed lunches for my brother and I for school breaks, and even my dad, on a daily basis. And that was the case not just at my home, but almost every one of my school friends' moms did the same. So naturally, now that I'm no longer home with my mom as often as I want to be, I crave mom's cookings. It's a lingering feeling. And British Airways perfectly tapped this feeling in its latest campaign, which is featured below.
Get some tissue paper!
How many of you managed to watched the heart-rendering video with a straight face? I'm sure very few.
There are over four million Indian-nationals living in the US, and millions others around the world, who usually make an annual pilgrimage back to India. In the previous decades, the preferred options to get to India was on major European carriers like Lufthansa, Air France, KLM and British Airways. But with the onslaught from the Middle East carriers and other cheaper and more convenient alternatives like Jet Airways, the incumbents need to think differently about marketing to this segment. And British Airways' latest effort hits the right notes.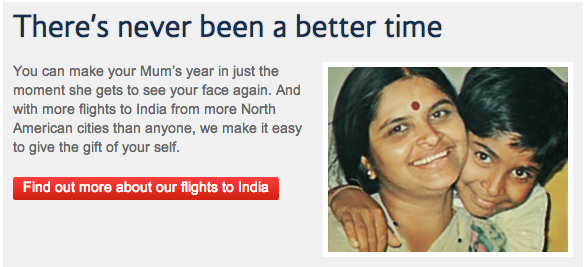 The story of an Indian mom sharing how she cooked for her son when he was a kid, before he left for the US at the age of seventeen is heart warming. To see her cook his favourite dish to be sent on a BA flight to the US simply swelled up emotions. And finally, seeing the surprise on her face when her son appears is magical. A very well executed campaign, with authentic touches, like showing how the mom shops, to even the actual handwritten recipe being featured on the website, shows the sensitivity of the campaign.
Emotional reactions online
Designed and developed by Ogilvy in New York, the campaign garnered over 75,000 views on Youtube in the first couple of days after being posted. And the immediate reaction from Indians around the world on Twitter and Facebook seemed to indicate that the message got home.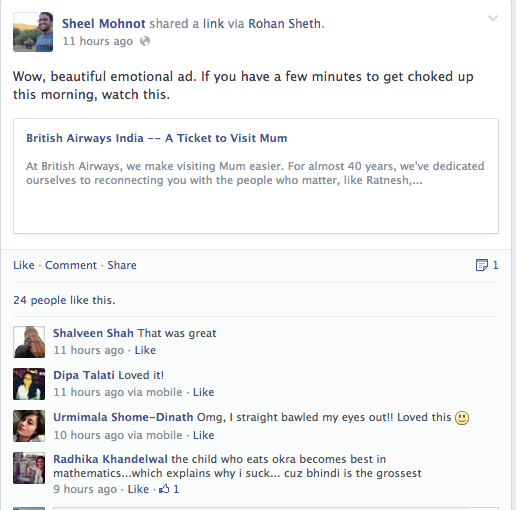 Thanks @British_Airways, You've made me all teary eyed! Amazing advertising & yes I'd love to #VisitMum soon! http://t.co/q9BeKwS717

— Sundara Pandian (@n1ranjan) July 31, 2013
Oye @British_Airways, your #VisitMum ad made my mom & dad swell up too. This has to be one of your all time classic campaigns.

— Vishal Mehra (@vishal1mehra) July 31, 2013
Don't watch this ad if you're wearing mascara or don't have a box of tissues. http://t.co/d54GmD6mJT #BAs brilliant copy of #VisitMum

— A Yusuf (@aboutabeer) July 31, 2013
To convert, marketers need to connect
The overwhelming response to the campaign from the core target market – overseas Indians – makes it clear that airlines need to think differently about marketing in today's world. The days are gone when glossy advertisements featuring models would get people to buy a ticket (like Malaysia Airlines' latest campaign).
Travellers today relate to authentic advertising, slick campaigns. And by saying, "It never really is about flying, is it?", British Airways makes an impact.
Well done British Airways and the Ogilvy NY team!