Are we done crying yet? The tear-jerking stories of VFR marketing
An unsuspecting person is going about his business, and an airline employee shows up with a free ticket. Cheesy music plays in the background and the airline reunites two friends/relatives while a "moving" story is told on video. – The end –
If this sounds familiar, it is because airlines over the past few years have started over-exploiting emotional reunions and similar videos, especially during the holiday season. Some are successful and well-executed initiatives like British Airways' "visit mum"; others are "me too" campaigns.
To better understand the reasons for this rise, we need to take a step back and look at the VFR (visiting friends and relatives) market that these videos are targeting.
A forgotten audience
In the days before deregulation and open skies agreements, airlines seldom faced serious competition on any given route. Fifth freedom rights — not to mention 6th, 7th, 8th, or 9th freedoms — were uncommon.  Passengers would usually choose to fly with the airline of the country of origin or its counterpart from the destination country.
As a result, airlines did not need to worry about passengers who had to fly to a specific destination and instead focused heavily on those who wanted to travel but did not have a destination in mind: Leisure travellers.  As a second target, airlines focused on travellers who had to fly on a regular basis and had potential for upgrades and considerable lifetime value: Business travellers.
This led to the development of two main content lines in aviation marketing — focusing respectively on destinations and service quality. The destination side was aimed primarily at convincing people to travel to new destinations that the airline served, while the service quality line was aimed at business passengers to drive upgrades and be the preferred choice for their travels.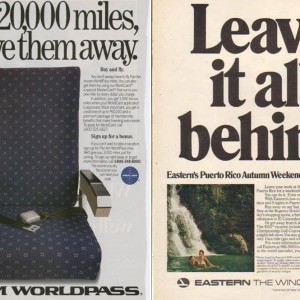 An unintended consequence of this model was that a third group of travellers was left unattended and untargeted. These were passengers who had to fly to a specific destination but only did so on a few occasions and therefore had a limited lifetime value: the VFR travellers.
A changing world
With the arrival of deregulation and open skies, competition gradually increased but the communication model hardly changed. This was due to a combination of inertia from existing models, the high cost of marketing to a specific audience, and the perception that the two existing content lines would also influence this market segment.
Over the past few years, however, two trends joined to create a new scenario. On one side, demand for VFR increased, fuelled by globalisation, deregulation and the overall proliferation of air travel. On the other, digital and social media allowed a reduction in the cost of marketing and increased targeting abilities.
Thanks to these changes, airlines found marketing to the VFR traveler more attractive and — in the process — also realized that VFR marketing not only touched strong emotions that could benefit the brand, but was also useful in promoting leisure travel to the same destinations.
Since the motivation for travel of VFR travellers originated from personal feelings towards people who lived in the destination, emotional adverts quickly became the preferred targeting tool for this audience.
The start of a hype
For some airlines, this kind of marketing made perfect sense, especially when combined with surprises and homecoming videos. British Airways, for example, is in the perfect position to target the large Indian population living in the UK as well as popular BA destinations such as in North America, and it did so with its "Visit Mum" initiative.
The surprise factor and emotions on destination focused videos had already been pioneered by airlines like LAN and its famous restaurant surprise in 2011.
Given the holiday-centric seasonality of VFR traffic, these kind of messages tended to be put out ahead of major holidays and airlines quickly realized that they impacted not only VFR traffic but had important side benefits for the brand and network awareness.
Unfortunately, this combination quickly led to airlines overusing this kind of campaigns causing users to become less and less sensitive to them. The results are mixed.
This Christmas season at least two airlines gave it a try.  JetBlue with a well-executed campaign focused on the Dominican Republic and Air Canada who surprised Canadians gathered  in a London pub.
Just a few weeks later, on 21st January, Qatar airways also jumped in with another video, one of many that we will see this year.
Losing focus
In Qatar Airways' video, the airline seemed to be too preoccupied with creating intense emotions and did not transmit any clear message. For example, aside from its logo and that of Manchester airport appearing briefly at the start and end of the video, the airline brand is only visible on a brief cameo by one of its planes.
And while it is true that experienced travellers may recognize DOH airport or the airline's seats, it seems that the airline missed the potential that the video might have had.
As with many videos that will come out this year, it is likely that, with the right ad or seeding spend, users will watch the video in large numbers. Unfortunately, however, many will be put off by the excessive drama added to this relatively mundane story and those who will watch till the end will likely not recall anything but the story of the two brothers. The airport, the airline, its network awareness, its bookings or any of the other potential targets will see no benefit as the user will likely never know they were ever part of the video.