How the New Facebook Reactions Feature Will Impact Airlines
This morning, Facebook users in Spain and Ireland woke up to a a new feature on their timelines called "reactions". Meanwhile, marketers woke up wondering how this would affect their brands — and how to make the best of this new opportunity.
Impact on Airlines
On the surface, the new feature is quite simple. Users can use emoticons to express love, laughter, happiness, surprise, sadness and anger when reacting to a post. They just need to hold the "like" button and choose the appropriate emoticon.
On the strategy side, however, complexity will increase and airlines will need to work on multiple fronts — from Crisis Management to Content Strategy.

Sentiment will become a key aspect of new content strategies as it will be easier to measure.
Negative feelings, previously hidden in comments, will become visible. At the same time, brands will have a better view of user reactions to content, and will be able to tweak future posts to obtain better results.
Happily for consumers, socially "ignorant" brands that had previously blocked comments (to prevent negative feedback) will be frustrated by the lack of an option to deactivate the new reactions feature.
The surfacing of negativity will also be good news for crisis management.
Brands will be able to gauge user sentiment in the brand re-activation process. And users will be able to express empathy in the face of tragedy.
On the advertising front, there is confusion. Some speculate that negative emoticons could be used to protest against unsolicited content such as ads and sponsored posts. At the same time, however, the feature may provide useful insights to both Facebook and its advertisers, allowing them to better target their content.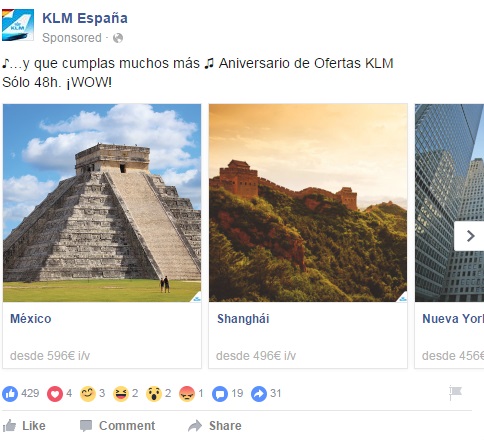 At the time of writing, less than 24 hours have passed from the initial roll-out and information is scarce. But we are already starting to see the first reaction by brands and use cases by consumers, pointing to a likely acceptance of the new feature.
An early success story
In the midst of this change, an airline has quietly managed to turn one of the most feared aspects of the new reaction system — the two negative emoticons — on its head.
LAN Airlines' Spanish page created a post asking users how would they feel if they could travel to South America for 3 months. In the description it listed all the emoticons and assigned new meanings to some of them. The red, angry face for example was described as "I can't wait to start" and the sad crying one as "it's so sad that this will end" and invited users to "react" to their post.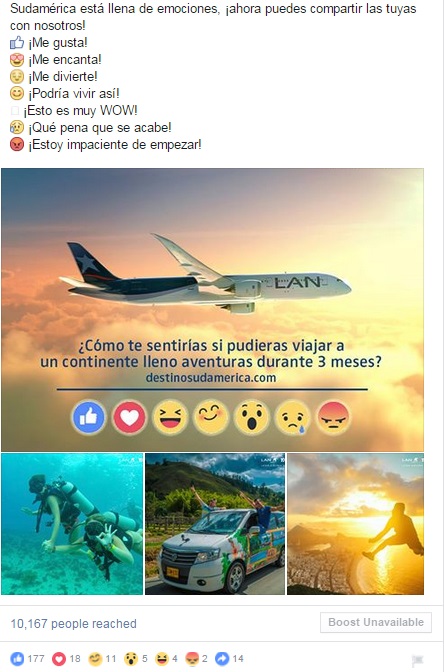 By doing so, the airline not only tapped into the main news of the day on Spain's Facebook accounts but also engaged users in a charming and positive manner.
Important note for page admins
Facebook justified the choice of Spain and Ireland as test countries saying that they have "largely national user bases without extensive international friend networks" and, for that reason, make better test groups.
While this statement makes sense on a user-to-user level, SimpliFlying has detected some issues in users-to-page interaction that are especially relevant to our industry.
It appears that users based in Spain and Ireland are able to react to posts anywhere on Facebook, including pages based elsewhere. The admins of these pages however do not receive notifications and cannot immediately see the reactions.
To work around the issue, SimpliFlying is advising its clients to access this information by opening post insights regularly.
This problem is especially relevant for airlines based in areas with strong ties to Spain or Ireland — such as Latin America and the United States — who are likely to have followers in these two countries.
SimpliFlying is currently working with all its clients to help them update their processes and strategies to tackle this new environment.
Please do not hesitate to contact us if you would like to learn more about how this change is likely to affect your airline's Facebook content and communications strategy.
Full disclosure: LAN airlines and the LATAM group are SimpliFlying clients.