Four years with SimpliFlying: a 300.000 km journey
Five people have a Skype call.  One is in Spain getting ready for lunch; one is India on an auto rickshaw; a third, also in India, just started his 2 months sabbatical and joins because he wants to; a fourth is taking the call from a gym in Singapore; and the fifth takes the call from Canada just after waking up. It's 6 am there.
All of this is considered normal and part of a routine company meeting.
Ten days earlier, the same people were all living together in an airBnB villa in Las Vegas and working on the SimpliFlying Lab. Just 24 hours later they had scattered around the world again. One in San Diego, one in LA, two in Taiwan, and one in Hong Kong. A day later, three of them were together again in the Philippines working on a client project. Today, they are all back in their respective "offices" in Canada, Spain, India and Singapore waiting to meet again in India in a few weeks time.
Those five people are Shashank, Shubhodeep, Guen and Ravi, and me — also known as the SimpliFlying team and seen here on a beach in Sri Lanka: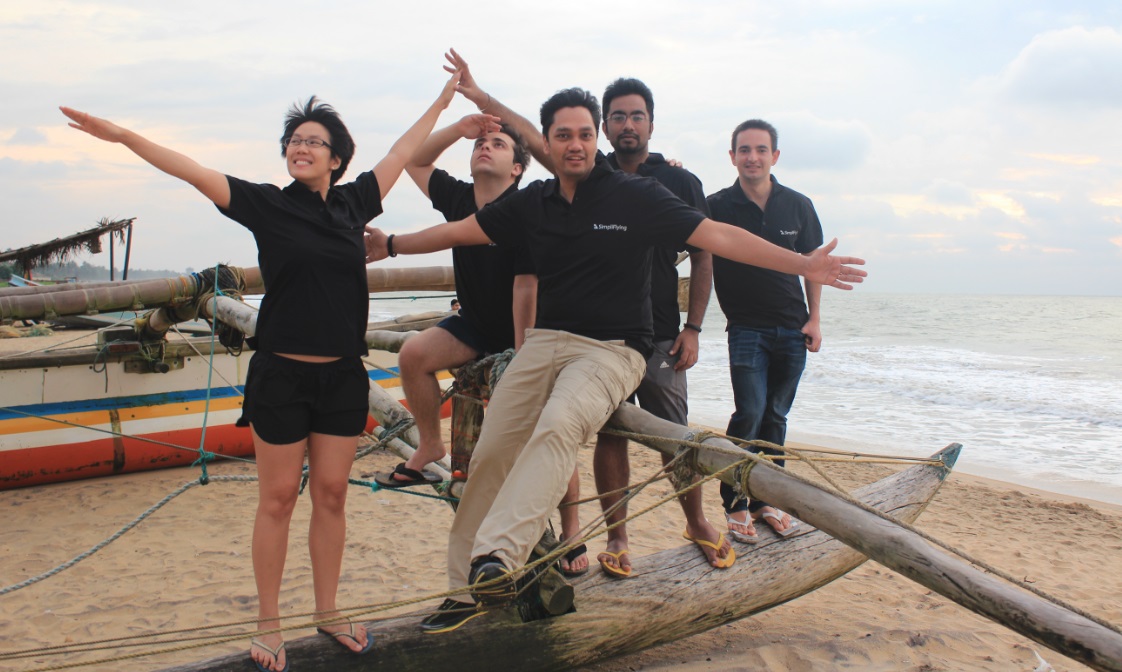 All of this is now normal, but it didn't use to be
Four years ago, I left a cozy office job as a marketing director to work for a company I had found on Twitter and would not have imagined how much my life was about to change. Back then, SimpliFlying was a two-person company and I was joining as an executive focused on research and support. Today, we are a larger company and I'm a senior consultant in charge of some of the company's most challenging projects.
Today, I'm part of a small family constantly on the move, whose office fits in their backpacks, who enjoy unlimited holidays and do this job more as a lifestyle choice than as a career move. We love what we do and that's why we do it. But don't get me wrong, it is also hard work.
Our clients hire us to show them the future and to help them improve. But each one of them has a different future and a different challenge that makes our job both interesting and difficult. Add to that the fact that we work remotely, in different time zones, and with clients all over the globe and you get an idea. That's why, in this company, attitude and skills are more important than CVs.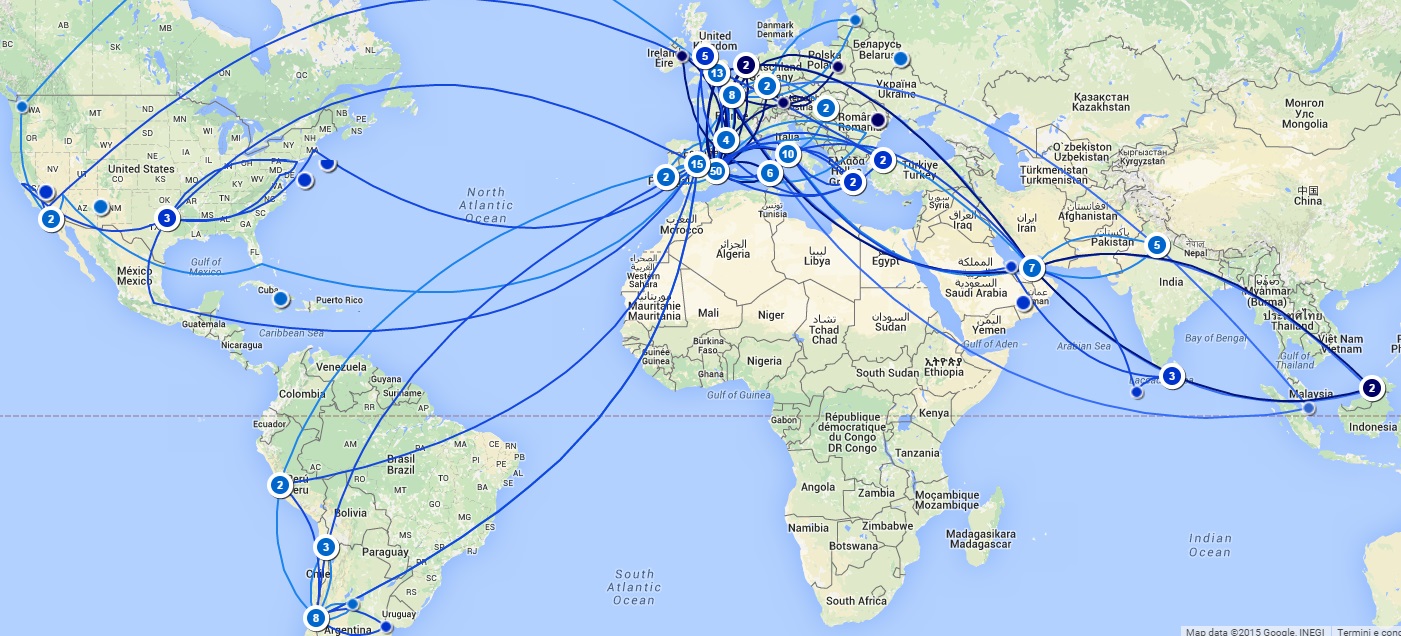 300.000 km later…
After four years in the company, and the over 300.000 km that the map above shows, I can truly say that I have grown both personally and professionally. I must also say I could not have done it alone. As with every journey, it is not the distance that makes it great but the company. And my journey was made possible by that lovely bunch of people that I mentioned at the beginning, and to whom I owe some thanks:
Shashank, our CEO, who not only founded the company but also guided and nurtured it through both good and bad times, while also finding time to get married, to become a dad, and to fulfil his daily babysitting duties back home in Canada.
Shubhodeep, often described as the wise one, who always finds a way to solve problems, listen to people and crack a good joke. Without him, I doubt we would be anywhere near where we are today.
Guen, our hard working and ever-smiling Singaporean colleague who always finds time to help out, have a chat, organize a project and just be there when she's needed.
Ravi, who started off as a young associate and has grown to become one of our greatest assets while also managing to integrate with the team, bringing logic and inserting appropriate jokes whenever needed.
And finally, a special mention to the two youngest contributors to our team calls who are always happy to join regardless of whether they were invited or not. I'm talking, of course about Sanaa, Shashank's daughter who never misses an occasion to add a "gaga" or "gugu" to the discussion and to Gogo, Ravi's dog who started off as a cute puppy and now enlivens team calls with occasional barks to stress key points.
So what do you do again?
As you can probably see by now, it has been a long and exciting journey that I hope will undoubtedly continue in the future. But it has also been very confusing for the hundreds of people who meet me outside a professional setting and invariably wonder what do I do for a living and if I am making it all up. To them I can only try to answer with what my business card has to say: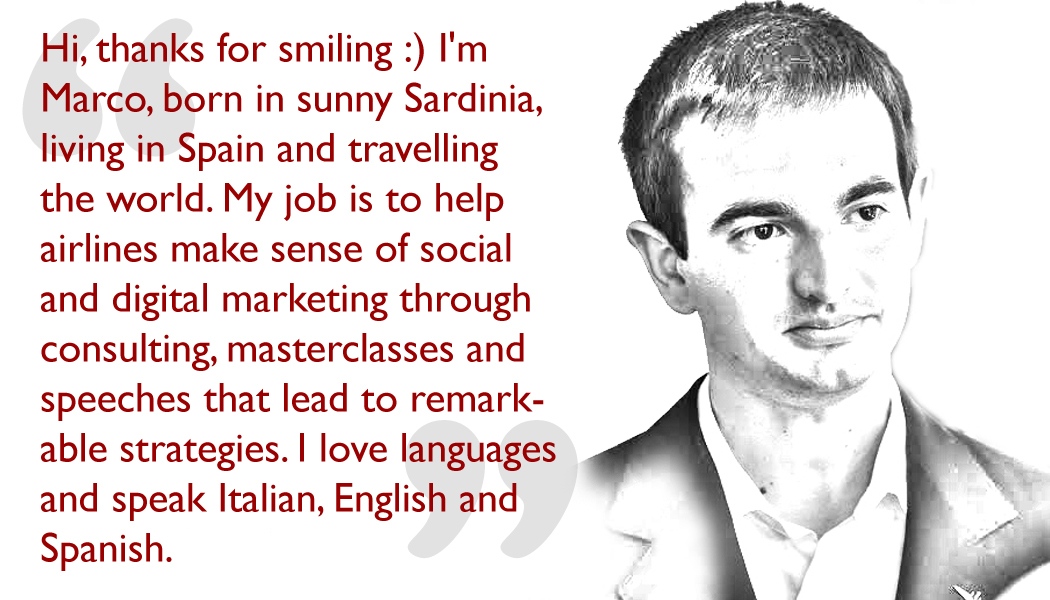 To their blank stares of disbelief, however, I can only say that my beloved grandma still firmly believes that I work for something or someone called "the internet" and still loves me just the same.
Thanks for smiling. 🙂