4 New Ways to Sanitise Air Travel
With the coronavirus pandemic still unfolding and its impact on commercial aviation becoming increasingly dramatic, airlines are considering how to reassure the flying public that flying with them is indeed a safe and sanitary experience.
After 9/11, airlines, airports and governments scrambled to find solutions and quickly implemented new measures to increase security, specifically related to the possibility of passengers carrying weapons on-board. TSA introduced new security checks, with passengers having to take off their shoes and belts, and with record speed, JetBlue was the first airline to install bulletproof cockpit doors on all of their aircraft. This same behaviour, to quickly find and implement new solutions, is now happening worldwide but with airlines looking for solutions focused on sanitation, cleanliness, hygiene and disinfection.
Will I get sick if I fly?
This question is increasingly being asked in the minds of both current and future passengers. It is therefore paramount that airlines are able to respond to this concern and provide and showcase solutions that can induce confidence in the flying public, and help them get rid of their newfound fear of flying.
Aviation is full of international standards that airlines must adhere too, but currently, there are no industry standards when it comes to aircraft interior sanitation efforts. So we have found 4 different methods made for the aviation industry, which can be used to ensure a clean and sanitary experience throughout the customer journey. Here they are:
1 GermFalcon – The UV Cabin Trolley
The name in and off itself is quite catchy! Like Dirk Singer, our Head of Sustainability at SimpliFlying said: "It gets straight to the point". The GermFalcon is essentially a trolley cart designed specifically for airlines, like the ones used to serve food and duty-free items with, but this cart has wings ( like a falcon), and a protective cage for the operator. It s equipped with Ultraviolet-C lamps and can be used to disinfect aircraft cabins, lavatories and galleys.
The team behind this invention is a potent Father & Son combo, consisting of Dr Arthur Kreitenberg and his son, Elliot "Mo" Kreitenberg. They claim that their patent-protected GermFalcon can kill 99% of bacteria on a narrowbody Boeing 737 or Airbus A 320 in only 3 minutes, and on top of that, it uses no chemicals, which also make this product interesting from a sustainability perspective. Check out their website for more information.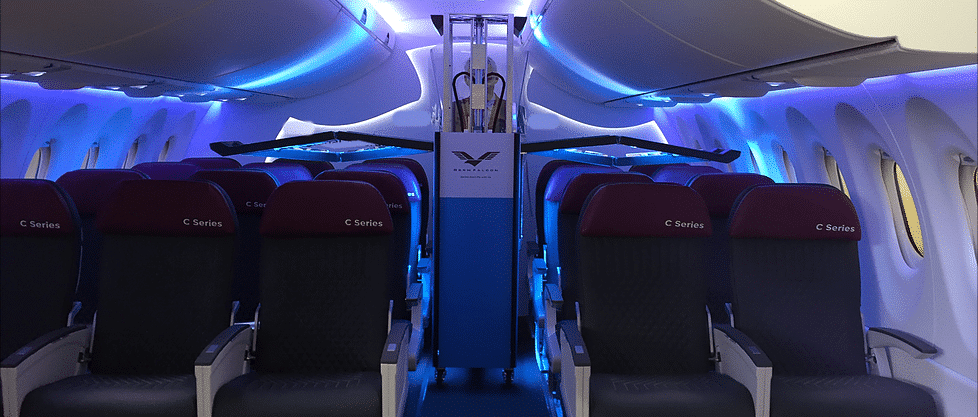 2 Elenium – The Touchless & Vital Signs Detector
Elenium Automation is well known for its quick check-in, bag drop and boarding kiosks, but lately, a new product has stolen the spotlight. In partnership with Amazon Web Services, Elenium offers a touchless kiosk, which can evaluate a person's vital signs and provide an early warning indication, to determine if a passenger is fit to fly or not. This includes heart rate, body temperature and respiration rate which are read and analysed using infrared, and thermal imaging, coupled with artificial intelligence, more specifically, machine learning. It allows passengers to nod or shake their head to answer questions as well as use their voice, and should something pop up that would indicate that they are not fit to fly, the process can be escalated with a video conference by an agent to do a further assessment. Etihad Airways is currently piloting this new kiosk at Abu Dhabi International Airport.
3 SaniTene – The seat-back hand-sanitiser dispenser
This solution is a bit more elaborate, as it requires the installation of a touch-free hand-sensing dispenser at each seat. The way it works is that each row of three seats are hooked up to one fluid reservoir containing proprietary, non-alcoholic eco-friendly hand wash that is non-flammable, and non-toxic. The company claims that it can also be installed in places line armrest, the overhead monuments and tray tables.
The founder of SaniTene, John Squicciarini, has said that all International Health Organisations unanimously have reported that the most responsible and effective way to avoid acquiring an infectious agent, is to have clean hands before eating, touching face, mouth and such, and while washing with soap and water is the preferred method, using hand sanitise and other cleaning solutions is the alternative method when soap and water are not available.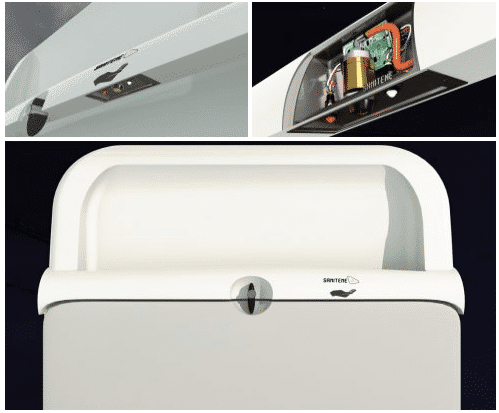 4 Boeing – The Anti-Microbe Seat
Boeing is working on a Next-Gen Anti-Microbe Seat which is a next-generation polymer coating that can be applied to armrests, tray tables and other surfaces to help prevent the spread of viruses within the cabin. The polymer works quickly, killing viruses and bacteria by disrupting the microbe's outer shell and dehydrating the area around the microbe.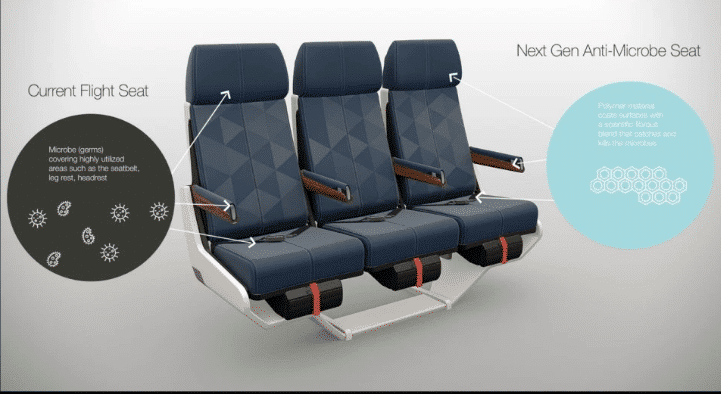 Honourable mentions
There are many more technologies, methods and companies out there trying to make air travel a more sanitary experience. Many of these have been in existence for a while, like electrostatic fogging, disinfectant tunnels and full-body scanners. But now, they get a lot more attention.
Take this example from United Airlines, where they showcase Electrostatic Fogging as a new breakthrough technology, where in actual fact, it has been around for a while.
Delta Air Lines has taken it a step further, and introduced a new standard, which they call, "Delta Clean".
One thing is for sure, air travel will not be the same as we knew it before the coronavirus hit us. So be prepared to see some of these new technologies and processes the next time you travel.

---

SimpliFlying has set up a Rapid Response Team to help airlines be ready for post-corona travel's realities. The team has been holding Board-level briefings to orient executives with the new touchpoints. We will be happy to do a 30-minute call with your executive team to run through the detailed post-corona customer journey map. In order the help the industry, these calls are free for airlines and airports. Get in touch to set up a call.