Building your brand during the pandemic, Delta shows it's possible
Is it possible to have a 'good' crisis? If you are an airline during the current global pandemic, the answer is clearly no. In the US, passenger numbers are at 1954 levels, airlines are haemorrhaging cash and thousands of employees are out of work.
Nevertheless, a few are doing much better than others in publicly managing the situation, keeping up a constant information flow, and even continuing to build the brand, notably Delta.
What does Delta get right, and what can others learn?
1 – Delta has a gold standard news hub
When it comes to airline newsrooms and media centres, I've long thought Delta's is the best. It's extremely comprehensive and user-friendly.
The press releases are good. I've written hundreds of these for clients over the years, so I have an idea of what will work when it comes to getting coverage. And then more recently I have seen things from the other side, through editing AMM.
As part of that, I regularly come across news announcements filled with claims all the way at the top like "most loved", "most innovative", "fantastic new initiative" etc where I know the release has been written to please someone internally.
Delta's releases, by contrast, are largely free of this kind of 'hype' style language.
At a time when I still see major airlines without an up to date image library, Delta's is extensive and high quality.
The media releases effectively link to other articles and pieces of content on the same subject. It's easy to find what you are looking for without going around the houses.
Quite simply, the easier you make life for journalists and bloggers, the better coverage you'll get, and right now that matters more than ever.
2 – Communication is extensive and consistent
That investment in a robust online media information portal (which in fact anyone can access, not just media) is now paying off, with almost two press releases or pieces of content being published a day.
This includes two pieces fronted by CEO Ed Bastian (a customer and an employee letter), a series of updates to the flying schedule and good corporate citizen initiatives, which we will come back to.
Those announcements, in turn, make the news. Take the most recent one about boarding now being done from the rear, to enhance social distancing. This has been picked up by A-List media such as USA Today. Rather than being a passive bystander, this shows Delta as being proactive.
3 – Delta has started thinking about the 3 Ss
As SimpliFlying CEO Shashank Nigam has said, the post-COVID-19 airline world will revolve around the 3 Ss – Safety, Sustainability and Sanitation.
With the announcement about 'Delta Clean', the airline showed it had started to think about that world.
Delta served notice that it would try and own 'clean' as a brand attribute. It also highlighted a competitive advantage Delta has versus LCCs – if your business model is dependent on a 30-minute turnaround, you won't be able to match the kind of cleaning commitments made by Delta.
4 – Being a good corporate citizen matters more than ever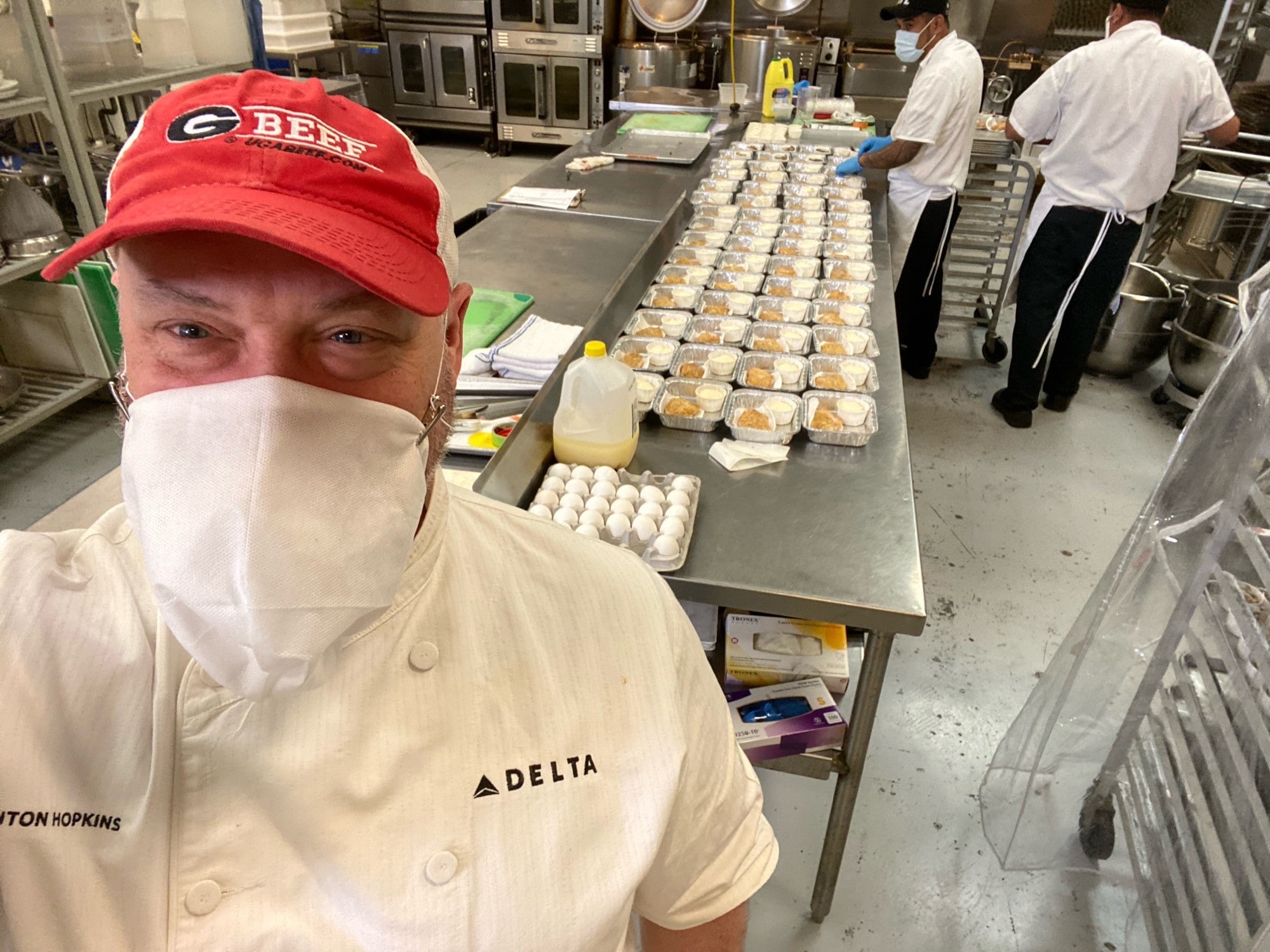 There has been an impressive number of CSR based announcements over the past few weeks. On March 27th, Delta announced free flights for medical volunteers to Georgia, Michigan and Louisiana, this was extended to New York on April 9th.
On April 2nd, the airline announced that its Delta Flight Products division would be making face shields for medical workers. Meanwhile on April 7th, Delta said that it would be donating 200,000 tonnes of food it can no longer use to those in need.
That matters for four reasons. First of all, it does a little bit to change the narrative of airlines being on a constant disaster footing. Secondly, the fact that there's a steady stream of these initiatives shows that it's not one-off tokenism.
Thirdly, Delta is actually managing to promote brand messages at a time of crisis. For instance, Delta can make face shields due to the very fact that it has its own Flight Products division. The underlying message is "only we can do that."
Finally, with airlines (especially in the US) having been criticised for squandering past profits on share buy-back programmes while now asking for bail-outs, it will be more important than ever for them to demonstrate that they are a good corporate citizen.
Clearly many airlines have some very pressing and immediate problems on their hands, such as in some instances actually managing to stay alive over the coming months.
However, what you do now will continue to define your brand in the months or years to come. Where possible, it's worth lifting your head above the parapet and looking at how you want to be perceived, once this is over.
---

SimpliFlying has set up a Rapid Response Team to help airlines be ready for post-corona travel's realities. The team has been holding Board-level briefings to orient executives with the new touchpoints. We will be happy to do a 30-minute call with your executive team to run through the detailed post-corona customer journey map. In order to help the industry, these calls are free for airlines and airports. Get in touch to set up a call.