The Rise of Sanitised Travel: The Touchless Airline Cabin
Since we released our latest report, "The Rise of Sanitised Travel", and accompanying infographic, we have received tremendous feedback. In the report, we have focused on how the day in the life of an airline passenger is going to change post-corona.
While we created this report on the premise of predicting and re-imagining the customer journey and the future of air travel, we are now seeing our predictions becoming a reality, making our report more of a guide and blueprint for the aviation industry.
Today, I will take a look at how the cabin environment will change from being high-touch to virtually touchless.
Here is an overview of the areas I will cover:
Seat-back pockets
In-flight entertainment screens (IFE)
The onboard dining experience
The Seat-Back Pocket
According to a study from Marketplace which analysed over 100 samples on 18 flights in 2018, the seat-back pocket is the second most contaminated area in the cabin, only topped by the headrest. The seat-pack pocket swabs tested positive for E.coli and indicated high levels of mould and other bacteria as well. That does not sound like a place you would want to put your phone, tablet, book or water bottle right?
It is therefore of no surprise that some of the realities we are seeing amongst airlines include near-empty seat-back pockets. Before-Corona you could expect to find a food and beverage menu, duty-free in-flight shopping catalogues, a sponsored magazine from the likes of Mercedes-Benz or SkyMall, a bottle of water, and of course the airline branded in-flight magazine (more on the in-flight magazine next week). But that is no longer the case, as airlines like Qatar and Air Canada are only keeping the safety card, and possibly, a multipurpose/sick bag for passengers.
Back in 2004, Ryanair decided to get rid of the seat-back pocket to speed up their turnaround time, as the cleaning of seat-back pockets took up a substantial amount of time and effort. Instead, Ryanair have stuck the safety card on the seat-back headrest, and flight attendants pass out menus. While the removal of the seat-back pocket is a much larger undertaking for airlines and not something we will see happen immediately, a better solution, and something that was already becoming increasingly popular before the coronavirus, is simply to make everything available digitally through the airline app.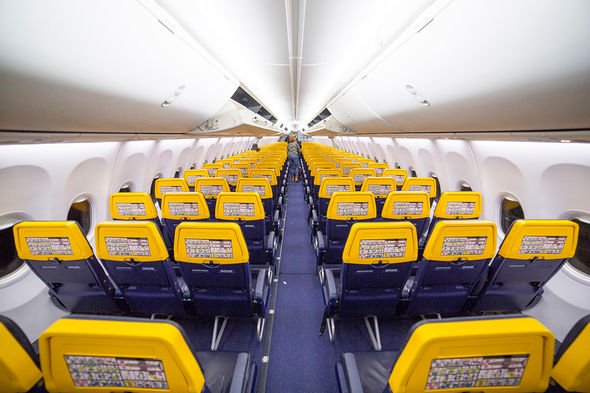 Ryanair seats with safety card stuck on the back of the headrest and no seat-back pockets (Source: Getty Images)
The In-Flight Entertainment System
On almost all long-haul flights and onboard many airlines flying domestic routes in the US, you will usually find a seat-back touchscreen jam-packed with entertainment and practical information, to keep you amused during your flight. Unfortunately, it does not take much imagination to figure out why a touchscreen touched by multiple passengers during a day, could pose a problem in this day and age with COVID-19 fears spreading far and wide.
With more and more airlines getting high-speed WiFi onboard their aircraft, and with passengers that often carry two or even three personal devices onboard, the adoption of BYOD (Bring Your Own Device) style entertainment is becoming the new normal. For airlines, this means they can save a lot of money on the installation of IFE systems, which not only are very costly to acquire and install but the additional weight they add to the aircraft also comes with a substantial fuel bill, which in turn can be saved. To replace the IFE system, airlines might just ensure that a USB and power-outlets are available at every seat and that some form of device holder or stand is available, so people can place their devices in a comfortable position and not have to hold them with their hands.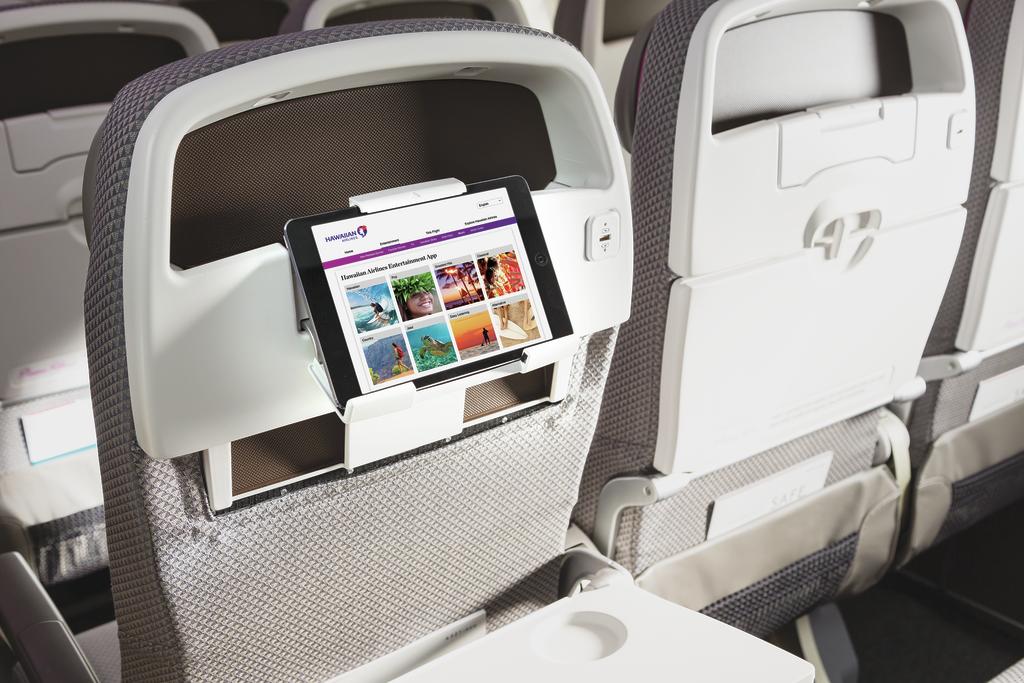 Hawaiian Airlines A321 BYOD (Source: Hawaiian Airlines)
The Onboard Dining Experience
Have you ever flown in business class, and perhaps had an onboard chef serve your meal, and drizzle some salt on your steak? Or in other ways handle your food with their hands? Before corona, having a chef add a slight touch of salt with his fingers, would have been seen as something exquisite and exclusive, but not now.
Now, pre-packed is the new black. Seeing a chef wearing gloves and a face-mask will be preferred over the personal touch.  All food items will be individually wrapped in plastic, and no longer will flight attendants pour you a cup of water from a large bottle, and then use the same bottle for the next passenger, as we have seen with the likes of Air Canada, who are only serving personal bottles of water to passengers.
As mentioned in another article we did last week, passengers might want to bring their own food from touchless vending machines at the gate, so they can be sure they no-one has interfered with it.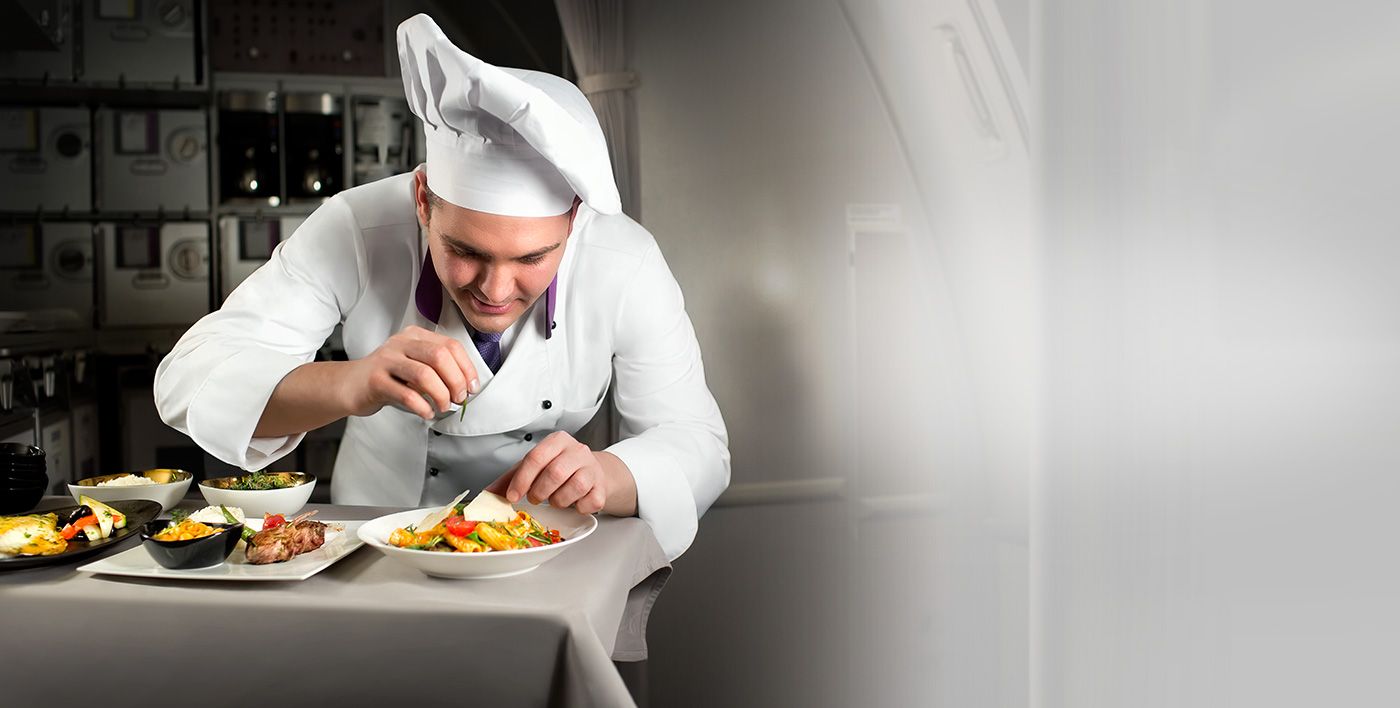 Onboard chef adding his last touch to a business class meal. Will this be a thing of the past? (Source: Turkish Airlines)
Will it last forever?
All in all, the onboard experience will evolve, and some of the things we are currently seeing and experiencing will not last forever, while some have come to stay for the long term.
One thing is for sure, airlines and passengers alike will have to adjust to the new reality, until more permanent solutions are found.
---

SimpliFlying has set up a Rapid Response Team to help airlines be ready for post-corona travel's realities. The team has been holding Board-level briefings to orient executives with the new touchpoints. We will be happy to do a 30-minute call with your executive team to run through the detailed post-corona customer journey map. In order to help the industry, these calls are free for airlines and airports. Get in touch to set up a call.