Toronto results suggest two COVID tests could be effective
Prelimimary results from the trials conducted at Toronto Pearson Airport, combined with a new pilot programme launched in Alberta, point to a two test regime being most effective in stopping COVID cases from being imported by air travel. 
In September, McMaster HealthLabs (MHL) launched an academic research study of arriving international passengers at Toronto Pearson Airport, where volunteers agreed to be tested for COVID.
The full results are due to be released in January 2021, but an interim results backgrounder shows that 1% of arriving passengers had COVID (a low number that could be explained by Canada having restrictive entry requirements).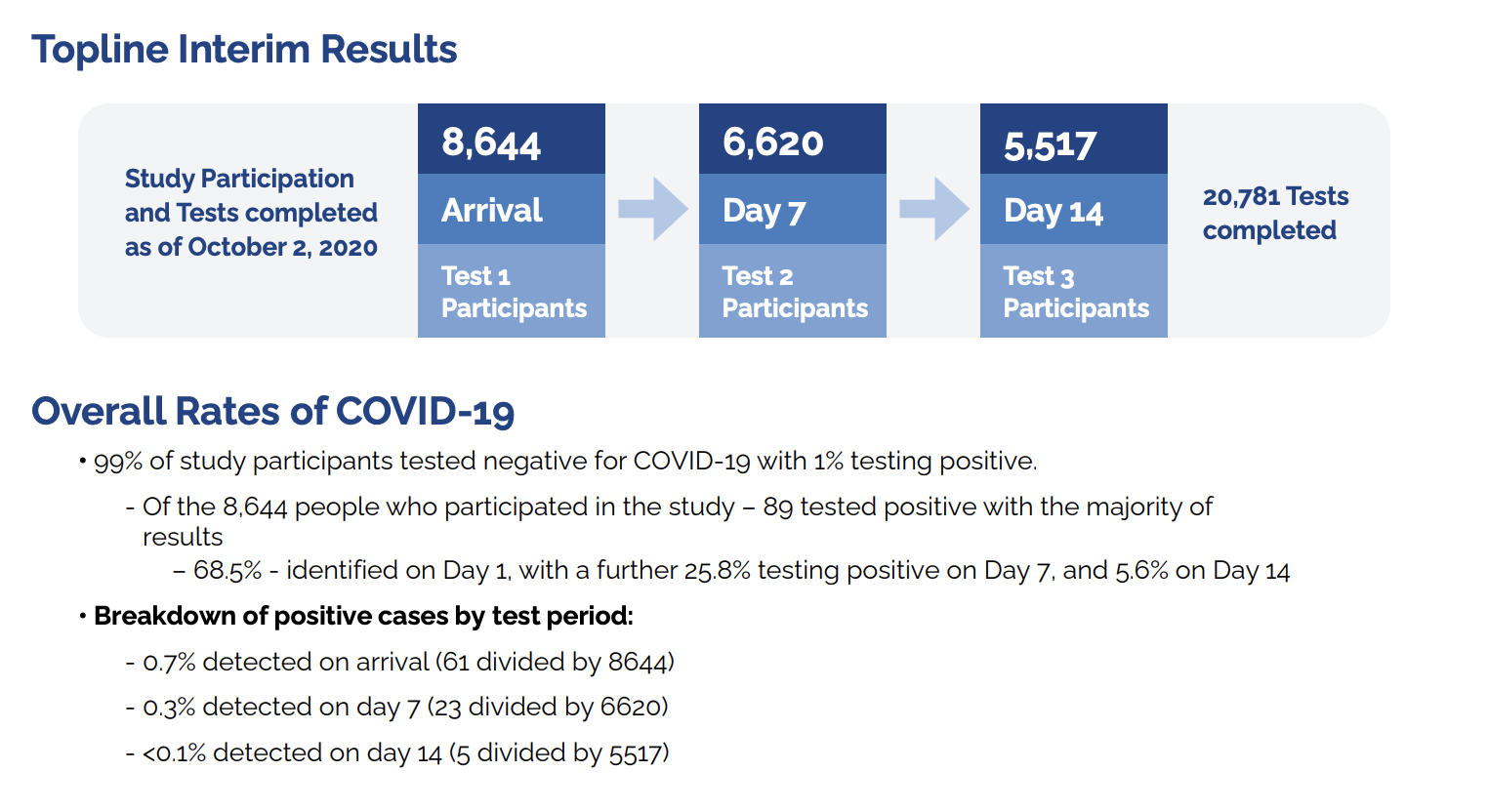 From the interim results backgrounder
0.7% were then detected on arrival, 0.3% were detected on day 7, and the remaining five cases (less than 0.1% of the total) on day fourteen.
What's missing so far from the results is where this 1% of COVID infected passengers flew in from.  That's an important piece of the puzzle, as an effective COVID travel regime needs to filter out passengers based on the level of risk and departure point.
Will a two test system as used in Jersey in Alberta work?

The system in Jersey
For example, the Channel Island of Jersey has a three tier system, involving two tests.  Everyone needs a test to enter, or is tested on arrival.  Jersey actually has a mobile lab just outside the airport, which handles both airport and ferry arrivals.
If you are from a 'green' country you can then go, provided you test negative, though you need to take a second test on day five.
If you are from an 'amber' country, you take that second day five test but those five days need to be spent in isolation.  Meanwhile, arrivals from 'red' countries have to isolate for the full fourteen days.  Jersey has seen no spike in COVID cases from people arriving by air.
It's also worth keeping an eye on what's happening in Calgary.  The Alberta COVID-19 Border Testing Pilot Program, is very similar to the system used in Jersey. If an individual tests negative, they may leave quarantine but must follow all required preventative measures, including daily check-ins and taking a second COVID-19 test on the sixth or seventh day, and staying in Alberta for the full 14 days.
Details of the Alberta program can be found here.
Testing+ – Testing needs to be supplemented with other measures
Overall these results support our recommendations in our Testing+ Whitepaper.  Namely that testing is important but on it's own, it's not enough. 
A test on departure for all needs to be complimented by a second test for some, by pre travel screening and authorizations, by temperature checks and other biosafety measures, and by an effective track and trace system.
You can download the whitepaper for free here.