Touchless Travel: 5 technologies set to make it big post-COVID-19
The next time you go to an airport, don't expect to touch anything other than your own mobile phone. From arriving at the airport to collecting your luggage, the future of air travel in the COVID-19 world and beyond will be automated, touchless and more convenient than it has ever been.
Touchless travel technologies will have a big role to play in kickstarting aviation. This was the key premise of our report, 'The Rise of Touchless Travel'. It identified multiple passenger touchpoints that will change as a result of the need to reassure both passengers as well as industry regulators, that air travel will become more convenient and cleaner since we will be touching fewer surfaces. The report is powered by an innovator in touchless technologies, Elenium Automation.
In conjunction with the report, we announced the Touchless Travel track for the SimpliFlying Launchpad, which aims to curate ready-to-deploy technologies that can help kickstart travel. After receiving over 30 applications and interviewing 12 shortlisted candidates, we are now pleased to announce the finalists for the touchless cohort that will be presenting to run a pilot for visionary airlines and airports globally.
Our Demo Day on Touchless Travel takes places this Thursday, July 16 and is open to all airlines and airports. Sign up here to be a Corporate Partner. Or get in touch with us directly to arrange 1-1 meetings with any of the technologies listed below.
No travellers want to touch airport kiosks anymore. Not only are they a botheration due to long line ups since lots of people touch each kiosk, but the risk of viruses spreading is also greater than touching your own device. Australia's Elenium Automation, which is a lead sponsor for the touchless Demo Day, build kiosks and terminals that measure your vital signs and connect you to a Doctor via video if needed. These terminals are being piloted by Etihad Airways at Abu Dhabi Airport right now. Biometric recognition also eliminates the need to scan boarding passes. With the use of Elenium's BagDNA, each bag is then uniquely recognised in three seconds without the need to use any form of bag tags.

What if you knew everyone entering the airport was pre-tested for COVID-19 and had to show proof that was verified by the health authorities? That's what APPI is aiming to do – create a blockchain-powered health passport for those working at the airport, and ultimately passengers too. Just like the traditional Yellow Fever card, the APPI status is verified by registered doctors and can be input using touchless systems like those powered by Elenium.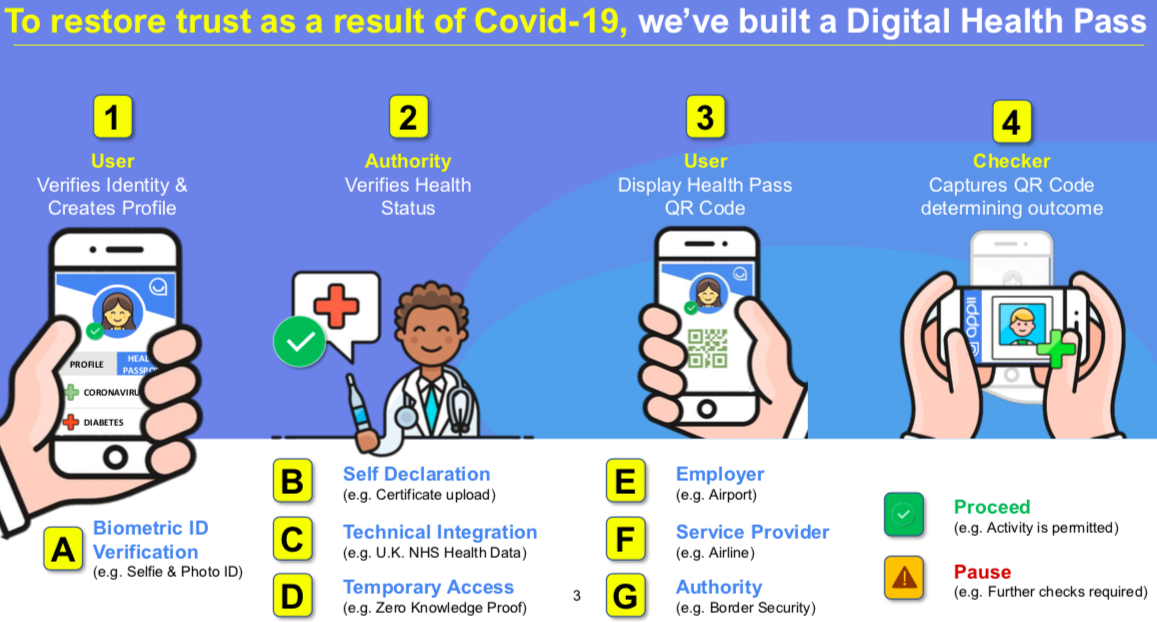 Nobody likes to print bag tags by themselves – not at home and not at the airport kiosks. In fact, paper bag tags today are possibly the only aspect of the check-in process that has not gone digital yet. eTag allows passengers to check-in and tag bags securely away from the airport for the first time, completing the digital transformation of the check-in process.
Post-COVID-19, eTag facilitates social distancing by reducing or even removing the check-in queues and the multiple human or machine interfaces. Passengers can now arrive at the airport with both their boarding pass and their bags tagged with the smart two-sided eTag, ready to be dropped off at departures – in a fraction of the time. No need to touch anything before going through security!
Yet another technology removing the need to touch screens at the airport or in-flight is powered by Levarti.  They have created a mobile departure control system (DCS) and real-time integration with core airline system data, which reduces reliance on fixed infrastructure, enabling agents to support passenger needs from any location in the airport. In-flight, Livarti digitises all cabin operations processes, from ancillary sales to administrative tasks, making crew much "smarter". In the process of doing so, the technology makes sure that we are touching fewer surfaces too!
After months or weeks of lockdowns around the globe, we are used to social distancing norms now. Airports need to enforce these too, but they are not very easy to implement. Bring in Wisefly – an indoor navigation app that now has a social distancing alert. If you inadvertently venture too close to someone else, both your phones will get a notification, asking you to keep your distance. The feature can be easily embedded inside an airline or airport app and the passengers don't need to install anything additional. Airports can also monitor crowded areas and send personnel to tackle the situation. Timely features to kickstart travel post-COVID-19 isn't it?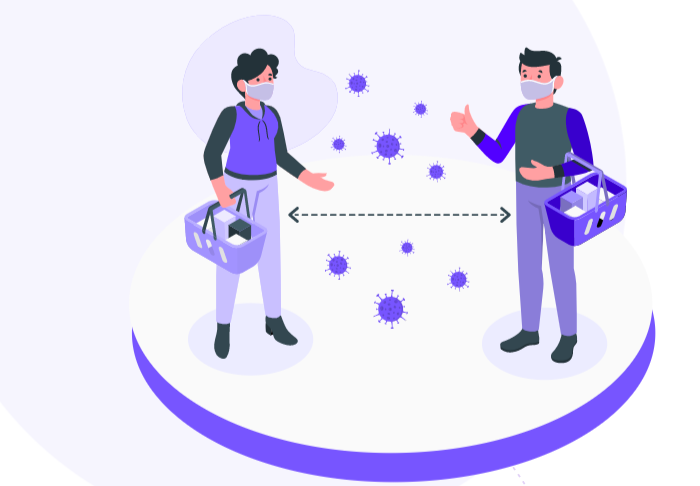 These are some of the most promising technologies that will ensure that travel becomes more convenient than it has ever been. One thing is for sure, air travel will not be the same as we knew it before the coronavirus hit us. So be prepared to see some of these new technologies and processes the next time you travel. Imagine how much more convenient the future of travel can become, via touchless technologies?
Meanwhile, to see these technologies in action, sign up here to be a Corporate Partner if you are an airline or an airport. Or get in touch with us directly to arrange 1-1 meetings with any of the startups listed above.