"Welcome onboard, this is your in-flight janitor speaking"
…is a sentence you might very well hear on your next flight. With Covid-19 changing how we live our lives, experience and travel the world, you can rest assured that your next flight also will look, feel, and perhaps even smell a bit different.
In speaking of travelling the world, it has now been a week since we released our latest report on "The Rise of Sanitised Travel", and in true SimpliFlying fashion, the report has already crossed borders and travelled the globe as it has been in covered by media outlets on 5 continents. From America to Australia and Armenia, to Brazil, Bangladesh and Bulgaria, we have been featured in over 25 publications including the Los Angeles Times, Sam Chui, PhocusWire, Stuff, The Sun, FlyerTalk, TravelDailyNews, Traveller, and many more.
Our report highlights 70 areas along the customer journey that is set to potentially change forever. One of them is the introduction of a new member of the flight crew, the in-flight janitor.
The role of the in-flight janitor
Post-9/11, we saw a vast increase of Air Marshall's on flights in the US, to ensure the safety and security on board for the passengers and the crew. And we are likely to see a similar move, this time on a global scale, with the introduction of an in-flight janitor.
The role of in-flight janitor will be to keep places like lavatories and other hi-touch areas clean, fog the cabin at regular intervals, and serve as a visual reminder to passengers that the airline is taking every step they can to ensure a sanitary in-flight experience. The introduction of clean, fresh and possibly air-purifying fragrances could also be seen to appeal to the sensation of a clean and sanitary environment.
Current examples
We have already seen full-service legacy carriers, like Emirates, employ crew who are specifically there to keep their First-Class showers spick and span. This type of service, although not only for premium passengers, could be rolled out across many airlines, regardless of travelling class.
We have also seen Thai Airways post pictures on their social media channels showcasing cabin crew supplying passengers with hand-sanitizer, masks and gloves.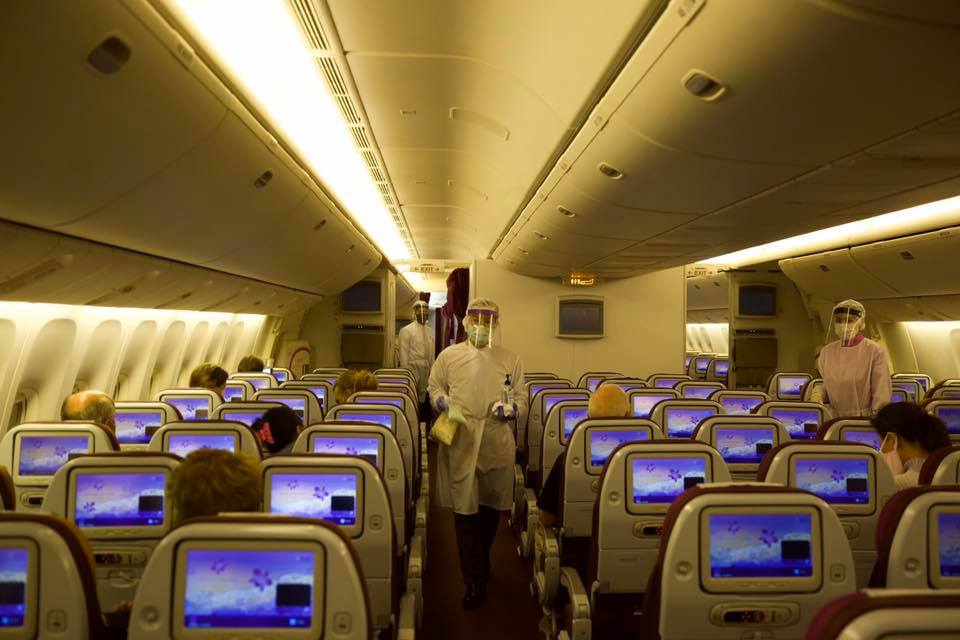 Thai Airways cabin crew with hand-sanitiser.
Regardless if airlines decide to add these janitorial tasks to the normal cabin crew's to-do list, which in many cases are restricted by union contracts, or if they decide to create a new role, perhaps even with a different uniform, such as the in-flight janitor or an onboard sanitation manager, airlines will have to think of ways they can reassure the flying public.
Airlines will have to go above and beyond what science dictates as being effective, and build trust and comfort in other visible ways.
Combing these two approaches will instil confidence in the flying public, that flying indeed is the safest mode of transport, and perhaps even could be one of the most sanitary ones too. The next flight you take will most likely be the cleanest flight you have ever taken.
---

SimpliFlying has set up a Rapid Response Team to help airlines be ready for post-corona travel's realities. The team has been holding Board-level briefings to orient executives with the new touchpoints. We will be happy to do a 30-minute call with your executive team to run through the detailed post-corona customer journey map. In order to help the industry, these calls are free for airlines and airports. Get in touch to set up a call.