Why Would You Buy Cookware From An Airline?
This is a guest post written by William Henn, the VP Airlines at airfree and one of the finalists of the SimpliFlying Launchpad.
The Amazon Question
Early last month, I was on a Zoom video call with some 20 airline and airport industry experts. This was in preparation for the Demo Day happening a week later as part of the SimpliFlying Launchpad. I'd present airfree, a startup that provides an inflight e-commerce platform for airlines.
Back to the Zoom VC. The group of industry experts were going to mentor the startups and provide their feedback. For exactly 300 seconds I presented, while everyone else stayed silent. Next, the mentors asked questions. Most were easy to answer: about our product, how it works, the technology behind it and security.
Then came the last question, "Why would anyone today buy something in an airline's store if they can get it probably cheaper and faster on Amazon?"
This is a legitimate question which we rarely hear. Making sure passengers buy more merchandise onboard is exactly the mission of the people we usually talk to at airlines.
Stay In Your Lane
"Every five years or so, a big telco thinks it can move up the stack and compete with the internet. This is a little like a municipal water company trying to get into the soft drinks business."
The Amazon Question reminds me of the above quote from tech analyst extraordinaire Benedict Evans. There are of course limitations to its application to airlines. Commercial airlines have been selling consumer goods for over 50 years. Yet this has mostly involved onboard duty-free sales.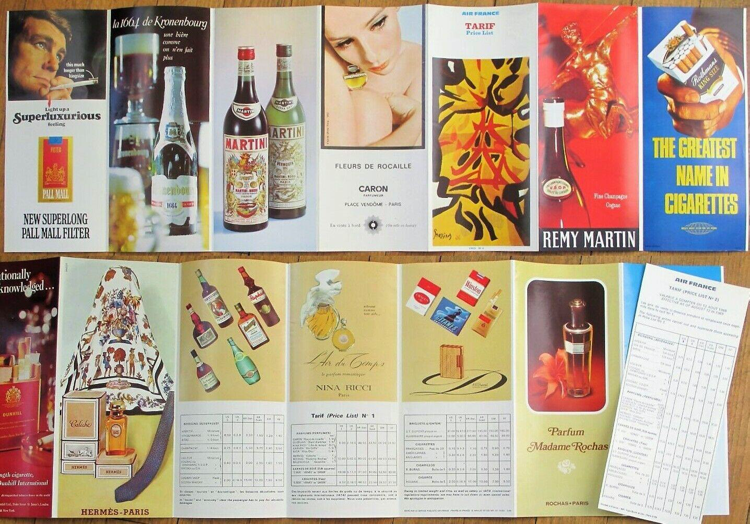 Air France 1969 Onboard Duty-Free Price List
Aside from the quaint brochure graphics and nostalgia-inducing prices, not much has changed in onboard shopping in these past 50 years. Lack of innovation, no personalization, and stale choice – all have contributed to the wane of inflight sales.
"Please Wake Me For The Duty-Free"
With continuous announcements of major airlines cancelling duty-free since 2013, it has been proclaimed as dead. Meanwhile, a week ago an investor paid Korean Airways (KAL) US$834 million for its inflight retail and catering business.
KAL is widely regarded as the largest airline duty-free operator in the world. It offers its passengers Please wake me up for the duty-free! stickers. And their A380s sacrifice 2 whole seat rows to house their duty-free shop.
Nevertheless, the numbers sing a different tune: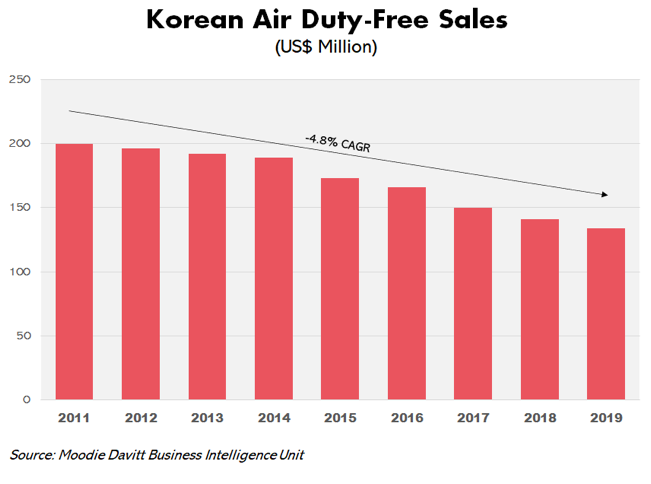 The decline is more dramatic if you factor in KAL's international traffic growth: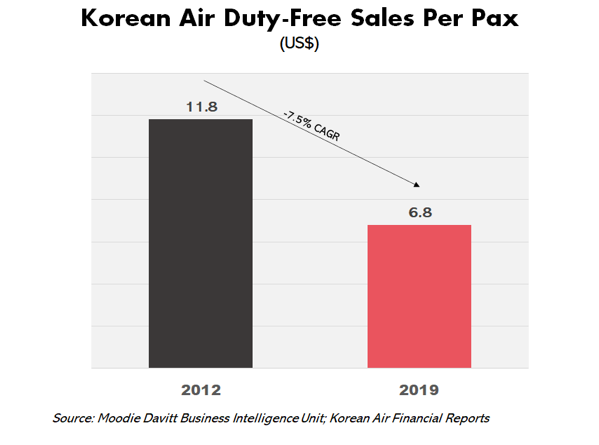 This makes last week's investment, in THIS environment, all that more remarkable. I do not think the buyer, Hahn & Co, has acquired a corpse. Korean Air is not going to keep on trying to solve the problem of limited product storage space by taking out seat rows. In fact, we have a pretty clear idea of what they intend to do because they state it on their website: "We are working to improve sales efficiency by actively operating a "pre-ordering system for airline's duty-free goods"."
This "pre-ordering system" is a website passengers access before their flight. They can order products which are then delivered on the plane during a future flight.
Airlines doubling down on e-commerce with pre-order websites
Unless you dispense with seat rows, there is very limited product storage space in an aircraft. This is why onboard shops usually carry less than 200 small-sized references.
If home delivery is available, customers can browse through a limitless product range. From sweets to televisions to, yes, cookware. AirBaltic has famously sold Mini Coopers and even real-estate onboard its flights!
Digitalization unlocks data that enables personalization and optimization. Airlines can build on their brand which should ultimately lead to securing profits and forging customer loyalty.
And now we have numbers to support these ideas:
For AirAsia, duty-free has been the largest growing ancillary revenue category for 2 years in a row, with more than 40% yearly growth. This boost is thanks to their preorder duty-free platform Ourshop.
Singapore Airlines via KrisShop is also experiencing high growth which translates into over US$30 million in operating profit growth compared with last year.
Malaysian Airlines observed a 55% increase in traffic since the launch of its enhanced e-retail site earlier last month.
This is not an Asian-only phenomenon: European airlines like Lufthansa, Virgin Atlantic or Finnair are all doubling down on e-commerce with pre-order websites.
When Your Audience Is Tied To a Seat
Yet pre-order websites do not profit from one of the airlines' greatest assets — their in-flight captive audience.
Is this as easy as offering passengers access to the preorder website, inflight? Nope.
Granting access inflight to a "normal" website is termed whitelisting. With today's inflight connectivity, whitelisting is not viable from an economic and user experience standpoint. Pages take minutes to load instead of 1 or 2 seconds like browsing on the ground. When you put a monetary value to these numbers – by assuming that 1 in every 10 browsing sessions will result in a purchase – the hypothetical cost in satellite bandwidth of purchase would be US$15.
The alternative to whitelisting is onboard hosting. This is what airfree's patent-pending technology does with proven results. Onboard hosting involves physically installing software on the servers in an aircraft.
With onboard hosting, airlines then can offer their passengers an identical experience onboard as on the ground. With at least 100 times less satellite bandwidth consumption and almost zero latency.
Additionally, the inflight marketplace may add convenience to passengers and their experience by offering products which are unique to where they are flying to, and the option of collecting them at their arrival airport. At airfree, we also have this covered through agreements with retailers in over 400 international airports.
When in 2019 Singapore Airlines tested whitelisting KrisShop inflight, it was a failure. Virtually impossible to go through with a purchase. The silver lining is that now KrisShop is our biggest advocate in the industry.
[…] inflight shopping is the next industry game-changer […] Currently, connectivity in the air is not as good as it is on the ground. But we are working with partner airfree to overcome this problem.
Chris Pok, KrisShop CEO, at the Trinity Forum 2019
Singapore Airlines, our launch customer, will debut airfree on their Thales equipped A350 fleet very soon.
We've Only Just Begun
E-commerce, both inflight and on-ground, is a fantastic opportunity for airlines to realize a new ancillary revenue stream. It is a digital solution that helps overcome some of the challenges brought about by the pandemic. Even more so for the long term. It is a crucial step for any airline that wants to grow beyond taking people from A to B.
Get in touch to find out more about how we can help you with this transformation.
---
The SimpliFlying Launchpad curates market-ready technologies and matches them with airports and airlines looking for urgent solutions on everything from sanitisation to contact tracing. Our upcoming track on MedTech in Aviation is in October! Submit your startup here or sign up to be a Corporate Partner if you are an airline or an airport.