With Christmas almost upon us, we've taken a look at what a selection of airlines and airports have done to celebrate the Festive season.
Air Canada – Together for the holidays
Air Canada is celebrating the holiday season with a new, short film with a message of togetherness.
Launched on December 5th across Canada, the animated spot stars a baby loon who gets separated from its family on the annual journey south for the winter.  A strong gust of wind pushes the protagonist out of its parents' path. However, landing in a Canadian winter cabin, the baby loon eats Christmas cake and makes a new friend – a wooden bird toy.
Santa then comes and takes both the bird and its toy friend south to be reunited with the rest of the family.
The spot features music from two Canadian artists: Where You Are by Tenille Townes, one of Canada's most critically acclaimed country singers and Les échardes by Charlotte Cardin, a four-time 2022 Juno Award winner. Their emotive songs and lyrics add the soundtrack to our story.
"It's been a tradition for us to use magic and wonder in our storytelling when it comes to our holiday ads, as it is one of the most celebrated and heartfelt times of the year," said Andy Shibata, Vice President, Brand, Air Canada.
"Air Canada takes great pride in being the airline that plays a role in uniting family and friends to help them celebrate these special times."
"Together for the Holidays", developed with FCB Canada launched in multiple forms. 
A combination of 90-second and 60-second versions will be shown in cinema, 60-second and 30-second versions on televisions across Canada, and 30-second and 15-second versions on social media and digital platforms.
easyJet Jolly Trolley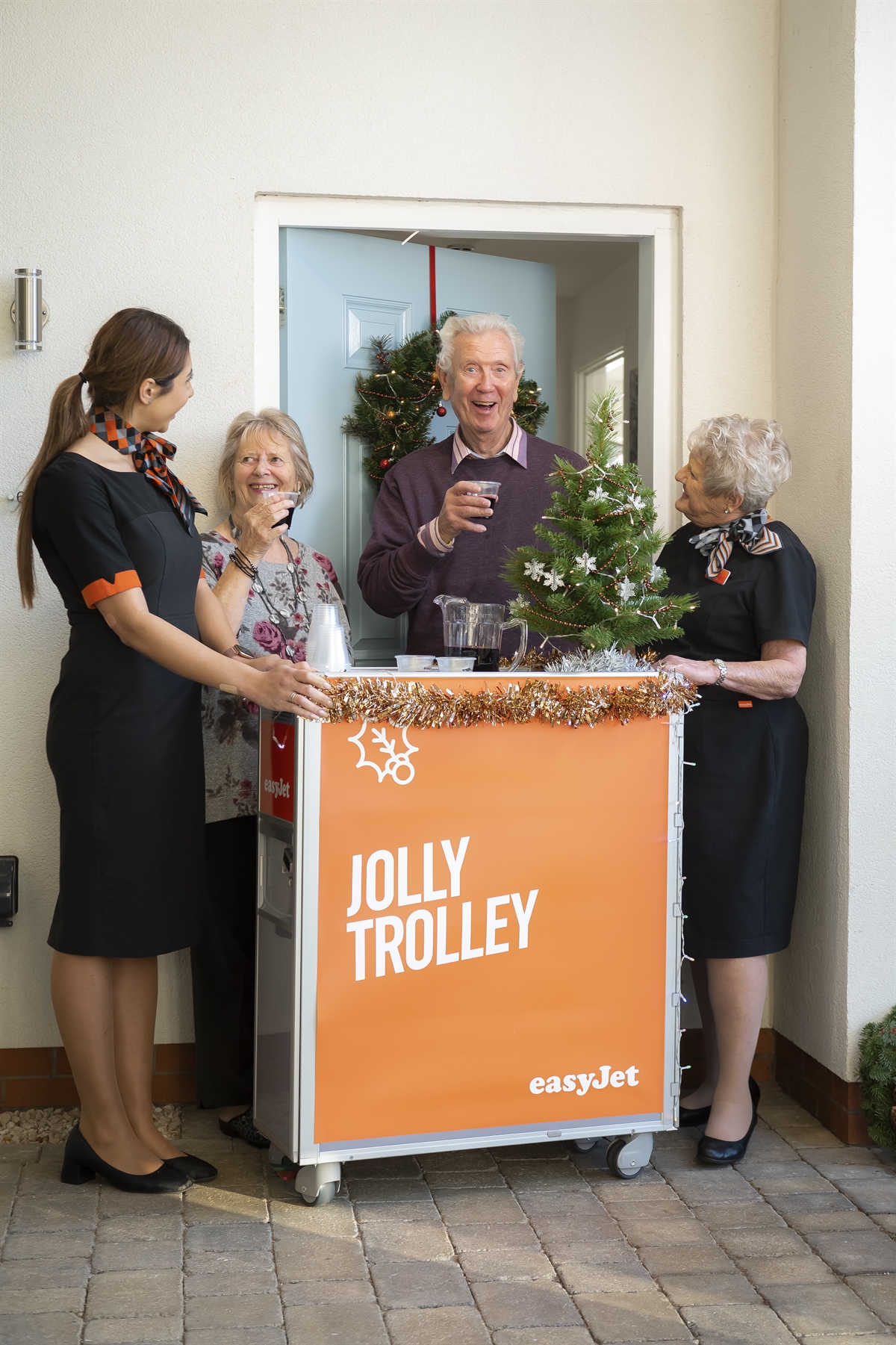 easyJet has launched a Christmas delivery service to retirement homes and villages across the UK.
The airline says that its 'Jolly Trolley' service will deliver mince pies, mulled wine and Christmas carol singing to retirement homes – all served by local easyJet cabin crew. The service will be rolled out in Bristol, Manchester and Glasgow in December, following an initial trial in the Luton area (near easyJet's HQ at London Luton Airport).
In the first trip of the UK Tour of the 'Jolly Trolley', easyJet cabin crew made a surprise trip to residents at Wixams Retirement Village in Bedfordshire.
Delivering mulled wine and mince pies to apartments and communal areas at the village, the crew also sang carols, which even saw some residents joining in and sharing their own talents.
Michael Brown, Director of Cabin Services at easyJet, said: "Our fantastic cabin crew are big part of the community in the cities we fly from all across the UK, from Luton to Liverpool, Gatwick to Glasgow, Bristol to Belfast and so many cities in between. 
"So, this Christmas, we wanted to take the opportunity to give back to communities we serve and bring the warm welcome and fabulous service our cabin crew are famous for directly to their doors, to share some extra special festive cheer."
Heathrow "Little Here To Helpers"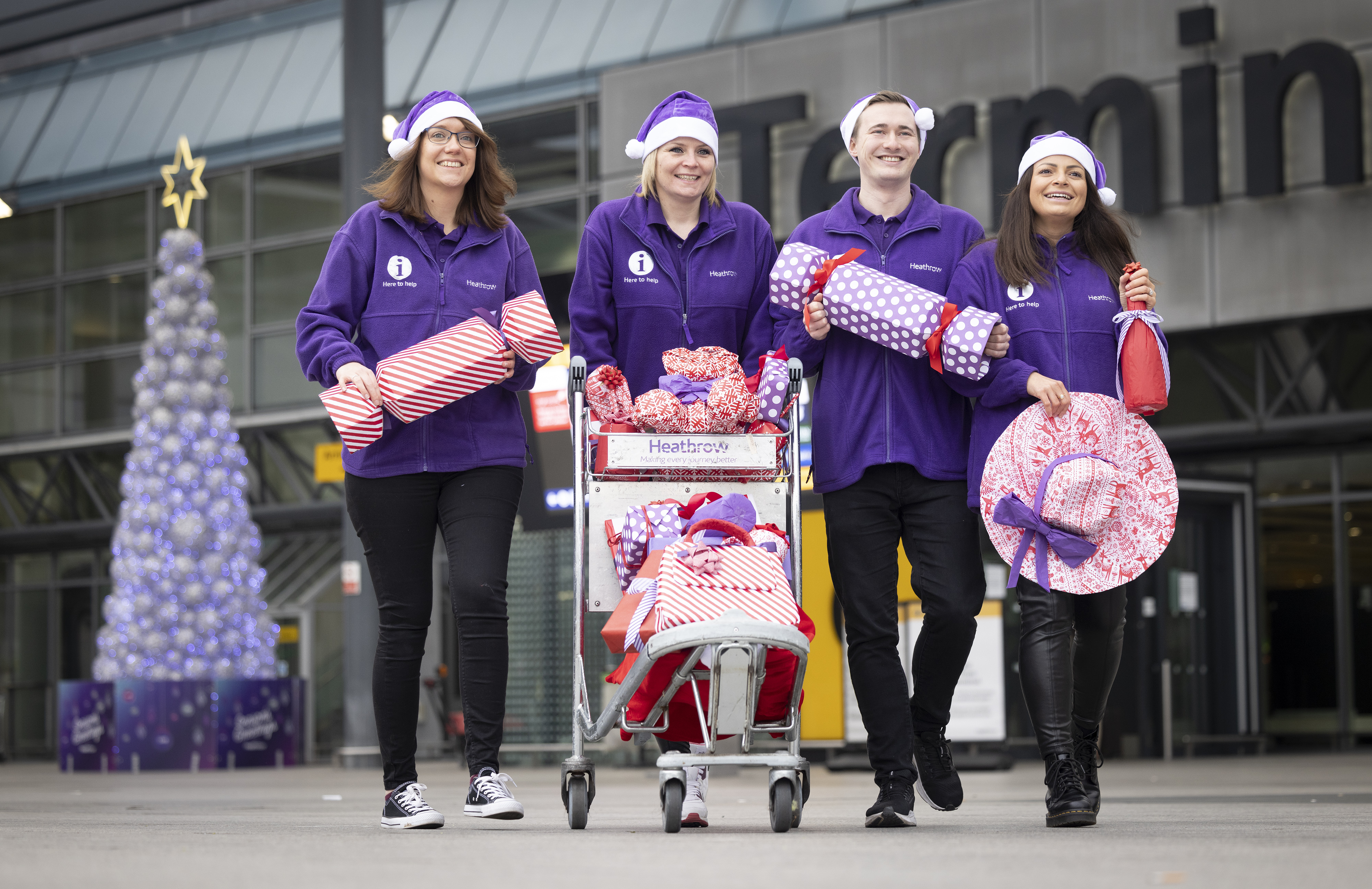 London's Heathrow Airport  has enlisted hundreds of 'Little Here to Helpers' to kick off the festive season for passengers by giving away 10,000 Christmas gifts. The presents will be given out across all four terminals in the run up to the new year.
All gifts will be from the airport's shops, bars and restaurants and include free flights and lounge access, with other Christmas presents including Chanel perfumes, Pret breakfasts and designer makeup from World Duty Free.
This comes as London Heathrow Airport says that this will be the biggest Christmas getaway in three years. Over three million passengers are expected to travel through Heathrow in the last two weeks of the month  – double that of the same period last year.
Heathrow has also launched an advent calendar on its website and app, containing offers for those travelling through the airport until 25th December. Behind the windows lie discounts from Heathrow shops, bonus points from Heathrow Rewards, exclusive World Duty Free promotions and deals on festive-inspired food and beverage menus.
Heathrow's Little Here to Helpers are staffed from the airport's Here to Help programme, which is now in its twelfth year.
Over 750 Heathrow colleagues from non-operational and office-based roles took to the airport this summer to contribute 10,000 hours' worth of additional customer support and help manage the pressures in the airport.
The Little Here To Helpers will be easily recognisable, donning purple Santa hats and located near one of the 25 Christmas trees spread across the terminals.
SWISS – Air Deer

The centrepiece of the SWISS Christmas campaign is an A320 neo, which has been given a red nose, in the style of Rudolph.  The airline is calling the aircraft "Air Deer."
Every flight taken with this aircraft in turn results in the airline staging a Christmas 'surprise.'
For example, on December 2nd passengers on a flight from Nice had a group of Christmas carol singers waiting for them at baggage claim in Zurich.
SWISS is encouraging people to go to a dedicated microsite to guess which flight will be next in line for a SWISS surprise.  If you get the answer right, you could win a CHF 200 (US $213) flight voucher.
SWISS has also put up videos of its previous Christmas campaigns online.  This included special flights to Lapland from 2017-2019.
Finally, SWISS is encouraging people at airports to take pictures of the special A320 and post it using the hashtag #LXAirDeer.  SWISS is then reposting the best images on its own social media channels.
WestJet – Christmas miracle
(SimpliFying CEO Shashank Nigam writes:)
WestJet's #ChristmasMiracle is out! This time, the airline launched Miracle Miles – surprising passengers on a flight by giving them $1 to donate to their favourite charity for every mile flown.
On this flight from Winnipeg to Calgary, the airline gave out over $90,000 to a multitude of charities. In total, across multiple flights, the airline gave an additional $150,000 to charities. The video would make most people emotional, and kudos to WestJet for running this campaign.
I've often said that it's hard for brands to "own" something in the lives of their customers. WestJet "owns" Christmas thanks to the repetition of its emotionally loaded campaigns every year.
Having said that, I felt the creative spark was missing in this year's campaign compared to the previous years. Last year, they creatively united families kept apart by the pandemic. The year before, the airline's Blue Santa travelled coast-to-coast in a single day (starting in Halifax, ending in Vancouver). We all know about the surprise gifts appearing on the belt back in 2013.
This year, the Miracle Miles giveaway seemed like something any other airline could have done. Or perhaps, I've just come to expect more out of WestJet. What do you think?
For those interested, here's a statistical analysis of WestJet's famous from 2013.