Airline marketing teams have had a slow year but things are changing. In the past week, multiple airline marketing campaigns have been launched globally. Some of the best airline marketing teams focus on aspects like the travellers' peace of mind. They also build a sense of comfort and familiarity. The standout ones are those that deliver these messages in creative and unexpected ways. Here are some of the best SimpliFlying's research team has loved.
Singapore Airlines offers an elevated experience
Singapore Airlines is welcoming us to an "elevated experience" in its latest airline marketing campaign. Elevated because the airline is taking measures to lift the anxieties of travel off our minds.
Specifically, Singapore Airlines is promoting peace of mind. The campaign highlights, "…meaningful digital innovations to the integration of robust health and safety measures at all touch-points, feel the weight of travel complications lift off your shoulders with these thoughtfully designed enhancements."
I learned in my previous conversations with the airline's executives that during the pandemic, they focused on reviewing the entire customer journey and refreshed all touchpoints for a post-pandemic reality. This included digital innovations like booking meals online to contactless kiosks at the airport. While people flying around weightlessly may seem spooky initially, an airline marketing campaign highlighting peace of mind is on-brand in this respect for Singapore Airlines.
Air Canada's people are ready for us
Air Canada has released an uplifting marketing video reflecting on how the entire airline is ready to welcome travellers back in the air. It's timely and authentic, with lots of smiling faces!
What stands out is that Air Canada showcased its own employees in the video. There are smiling pilots, baggage handlers, cabin crew and even back-office staff. They all seem happy and indeed ready to welcome us back onto one of Air Canada's aircraft. That's why the spot feels authentic – it's not used any models or tons of b-roll footage, but actual employees. We can all do with some warmth when we get back in the air, isn't it?
Saudia brings a sense of familiarity in the air
Among the Gulf carriers, Saudia often tries harder. Not a lot of us may have experienced the airline globally, but a lot of Saudis do fly their national airline. Hence, the airline's new marketing video is targeted towards locals taking back to the air. It's a culturally relevant campaign that aims to bring a sense of familiarity to those flying the airline.
Did you know Saudi Arabia has five regions with their own unique arts and culture? Saudia selected five unique patterns, one from each of these regions, to adorn on custom masks and amenity kits that are handed out to all passengers. The airline has also infused other elements from these regions throughout the customer journey to bring a sense of familiarity to travellers. The video, in Arabic, highlights these in a visually engaging manner. The world's most improved airline is now upping its marketing game as well.
Emirates' campaign is fit for TikTok
In a departure from classy shots of A380s or plush cabins, the new Emirates' "I want to fly the world" is catchy, snazzy and oh-so-relevant. Is it too cheesy? Perhaps. But the dancing flight attendants are bound to catch your attention in the airline's latest marketing campaign.
Who says airline marketing needs to be only "classy" and spark wanderlust? The new Emirates ad is made for the TikTok generation. Yet it does the job for those of us who are not even on TikTok. The audio track is hypnotic indeed and will likely stick in your head for some time once you've heard it. Kudos to the team for the creativity and thinking outside the box.
WestJet knows we want to escape
When you watch WestJet's latest marketing video, you may confuse it for a trailer from the latest Bond movie. You will need to turn up the sound for the full thrills too. It's so non-intuitive that you will not realise till the end that this is an airline marketing campaign.
WestJet worked with the advertising agency Rethink to create a hilarious campaign to announce that Canadians are turning to travel again and WestJet is ready to welcome them back. The message is "WestJetter saves the day." The best part is that the following is just the first of a number of spots the airline is planning to release. I'm looking forward to the same level of creativity oozing out of those videos too.
British Airways goes classic
When you're having lunch atop a skyscraper and an aeroplane flies overhead, what do you do? You look up! Like in this new ad by British Airways, which reimagines an iconic image.
To announce the reopening of borders between the US and the UK, British Airways and its agency Ogilvy London took the famous photograph "Lunch Atop a Skyscraper," originally shot by Charles Clyde Ebbets during the construction of Rockefeller Center in the 1930s, and reshot and recast it so that all the construction workers in the image appear to be looking up to the sky to a plane overhead. Photographer Adam Hinton was charged with matching the ad to the original image in painstaking detail.
I actually had fun comparing each of the workers in a before-and-after format. There's only one of them not looking up and seems more interested in his lunch than the British Airways Boeing 777 flying overhead!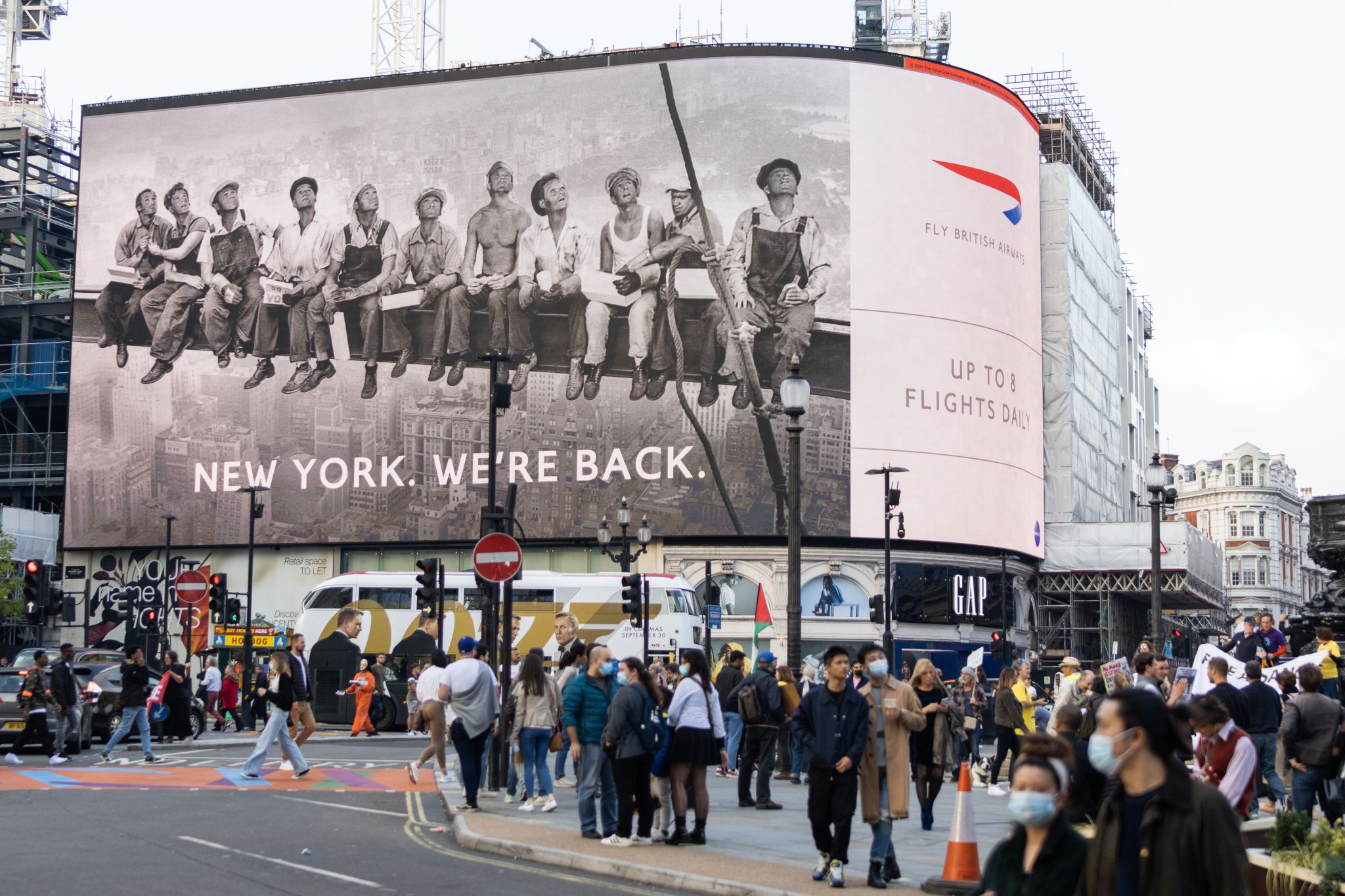 Airline marketing is making a comeback after a lull over the last 18 months. It's encouraging to see the creative teams and agencies putting out bold campaigns that don't just attract attention but also communicate key aspects of the brand in a light manner. Which of these is your favourite campaign?