The APEX Health Safety powered by SimpliFlying program was established over a year ago in response to passenger concerns about a safe and sanitary aircraft cabin environment during the COVID-19 pandemic. 
Since then, over 30 airlines globally have been certified through a rigorous, science-backed audit process. The program is regularly reviewed and updated based on the latest scientific research as well as practical insights from airline Chief Medical Officers. 
Pushing the envelope on health safety measures
While our overall airline audit has received a great response from the industry, there is more we can do to help airlines gradually reach pre-pandemic numbers. Hence, it is equally important to assess the health safety of other key passenger touchpoints in more depth. Our new airline lounge audit seeks to address this requirement to build further trust with customers, especially premium travellers.
SAUDIA's new AlFursan International Lounge Jeddah is the first to meet and exceed the certification requirements. SAUDIA's new lounge has set remarkable benchmarks with the highest hygiene standards through such measures as a holistic touchless experience (from the entrance to digital menus) and UV-disinfection robots, capable of temperature scanning.
Certification requires evidence-based responses to 60 questions across eight categories including areas such as Food Safety, Lounge Experience, Ancillaries, Testing & Tracing, and Contactless Amenities.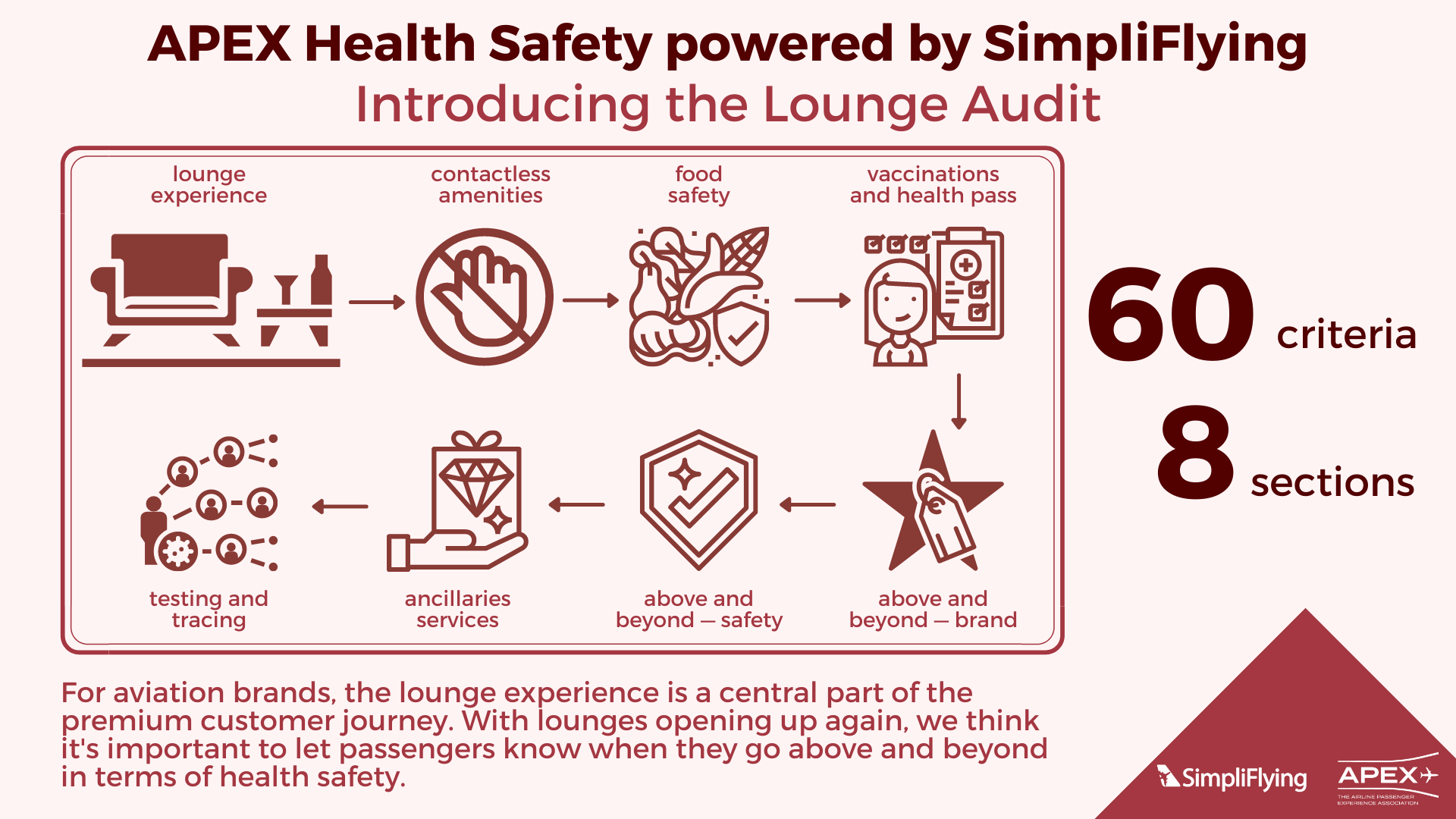 Apart from covering critical touchpoints and best practices in health safety, the lounge audit also aims to push the envelope by encouraging airlines to adopt cutting-edge technologies and go above and beyond regular practices.
"In the future, airlines will need to keep in mind the three Ss", says SimpliFlying CEO Shashank Nigam.  
"As before, there is safety. Meanwhile, sustainability is becoming ever more important.  And now thanks to the pandemic, the third 's', sanitation, is a constant passenger concern, and one that is not going away anytime soon.
"Having successfully audited airlines worldwide, we've now rolled out the APEX Health Safety Standard powered by SimpliFlying for their lounges. A lounge is a key piece of airline real estate as well as a place where passengers from different destinations mix, especially in transit.  
"As a result, it's important for airlines to show they provide health and safety peace of mind throughout the whole passenger journey."
Starting today, the APEX Health Safety powered by SimpliFlying Lounge Audit is available for all certified airlines and for the airlines and airports that are not currently part of the program. Please contact healthsafety@simpliflying.com for more information.