TikTok has seen huge growth over the past few years, and that's set to continue even further.
This year should see it becoming the third biggest social network behind Facebook and (Meta owned) Instagram.  As a result, many airlines have started thinking about how they can leverage TikTok, with the airline furthest ahead being European LCC Ryanair.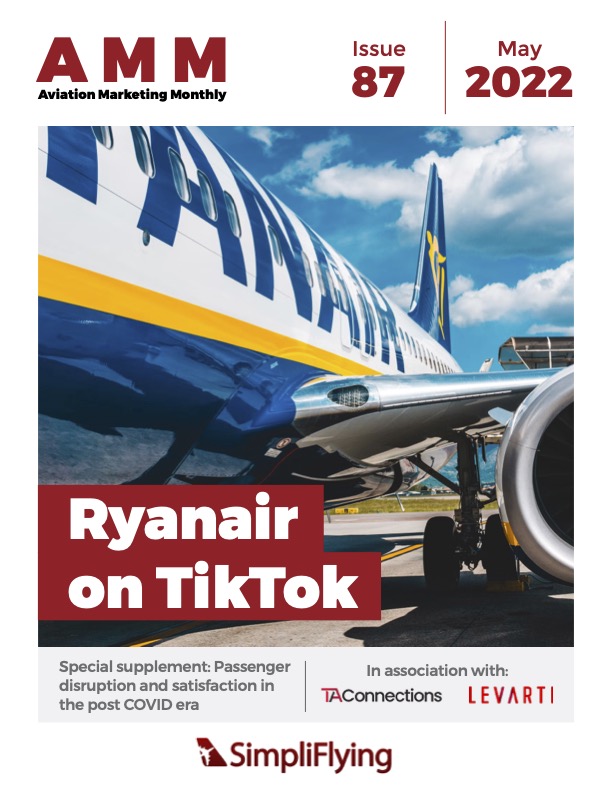 The signature of the Ryanair TikTok account is a 737 with moving eyes and lips in front, which other airlines have tried to copy.
 The Ryanair team clearly gets it. Their use of songs (especially trending audio, which means it's more likely to be picked up) and cultural references shows that they understand and consume TikTok on a personal level.
That's then reflected in the follower numbers (1.6 million), hundreds of thousands of views per video, and a cult status that's even seen TikTok users in North America and Asia-Pacific, demanding that Ryanair start flying over there.
Ryanair's use of TikTok is the cover story of the May issue of Aviation Marketing Monthly (AMM).
We paused AMM during the pandemic and brought out our regular Covid newsletter instead, but with the aviation industry slowly recovering, we're restarting it.
For anyone reading it for the first time, AMM is the world's only magazine devoted to airline and airport marketing.
It goes out to our subscriber list of 8000, is available online and occasionally we also produce printed magazines to coincide with events.
Post-pandemic we've expanded it to include a regular section on sustainability, which is the issue the industry will face over the coming decades and is as much of a communications challenge as a scientific one.
This compliments our brand new sustainability hub and podcast
Read AMM online here (there is an option to download the PDF)
Passenger disruption and satisfaction in the post COVID era
Our special supplement this month comes from Levarti and TA Connections.
This looks at how airlines can manage disruptions as we come out of the pandemic.
 This is a timely issue, in the UK for example there has been constant press coverage about Easter vacation airport chaos caused by staff shortages, Russia's invasion of Ukraine and residual Covid restrictions.
Levarti and TA Connections provide an integrated end-to-end solution for dealing with disruption from tools to seamlessly rebook passengers, to arranging vouchers and accommodation.
 You can find out more in the centre section of the magazine