Many airlines now have voluntary carbon offsetting schemes, where passengers are encouraged to pay X amount (depending on class travelled and distance) to offset the emissions from their flights.
If you look at the example of Compensaid, one of the schemes the Lufthansa-group supports, you are presented with a sliding scale. 
You can offset a certain % by buying Sustainable Aviation Fuel (SAF), and the rest by choosing offset programmes, generally renewable energy and reforestation projects.  The higher the % you allocate towards SAF, the faster you offset your flight but the more expensive the cost.
The Lufthansa Group has now gone one step further by offering so-called green fares from Scandinavia (Sweden, Denmark and Norway) on all group airlines. By doing so, the Lufthansa Group says that it is the first international aviation group to offer its customers a separate fare for CO2-neutral flying with SAF.
A press release from Brussels Airlines explains how this will work:
When booking Lufthansa Group airline flights from Scandinavia, the Green Fare is now displayed alongside the familiar fares (Light, Classic, Flex) as an additional fare option in the online booking screen directly after the flight selection.
The new offer is available in both Economy Class and Business Class for flights within Europe. In addition, starting in September, B2B travel partners in Scandinavia will also be able to take advantage of this new option. .
The green fare uses the split of 80% carbon offset projects and 20% SAF.  As an incentive, the Green fare also includes additional status miles and free rebooking options.
Brussels Airlines says that it has already had success in encouraging passengers to voluntarily offset their flights.
A May press release says that the airline had seen a preliminary conversion rate of nearly 7%, above its initial target of 5%.
The Lufthansa Group as a whole has a goal of halving net carbon emissions by 2030 compared to 2019 and flying CO2-neutral by 2050. This involves accelerated fleet modernisation, the continuous optimization of flight operations and the use of sustainable aviation fuels.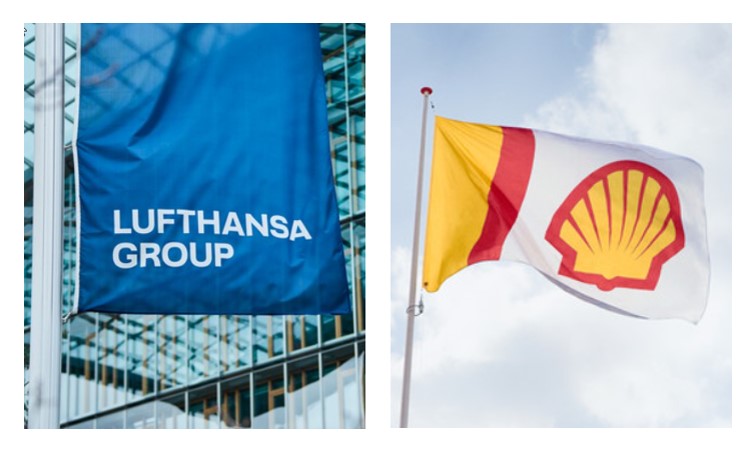 Shell and Lufthansa sign SAF agreement
At the same time as unveiling the green fares from Scandinavia, Lufthansa signed a memorandum of understanding (MOU) with Shell, for the energy giant to  supply Sustainable Aviation Fuel (SAF) in a volume of up to 1.8 million metric tons for the years 2024-2030.
As this is an MOU, for now this is non-binding.  However a Lufthansa press release has said, "the parties intend to agree on a contract."
The SAF announcement has already drawn scepticism from climate change activists. 
Stay Grounded – which as the name suggests, wants a large reduction in air travel – tweeted out:
"With such an annual flight volume from 2024-2030, the 1.8 tons of SAF that Lufthansa will (perhaps) be supplied with by Shell would cover only 2.5% of its fuel demand."
Our take-out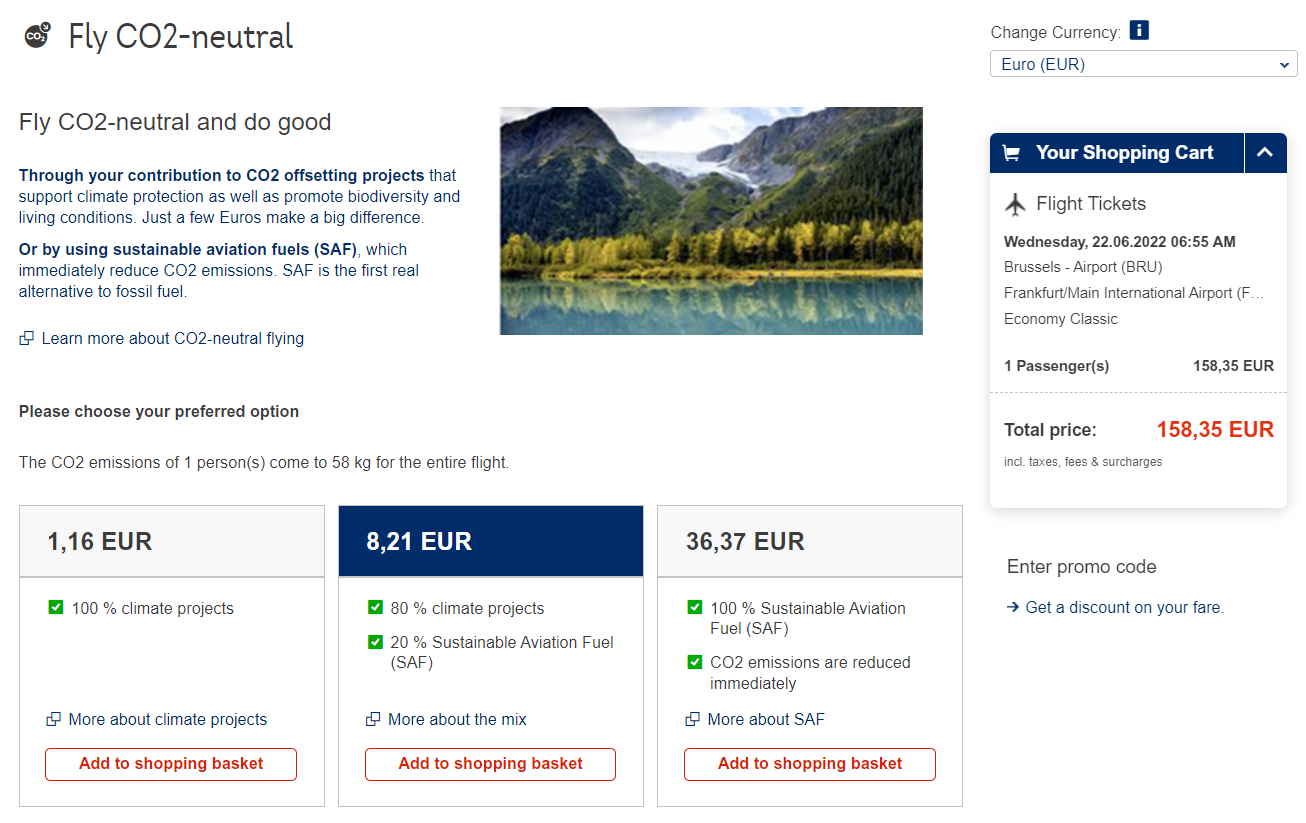 Actually, 2.5% is a good start, though this will need to be increased rapidly.  This comes as the ICCT (International Council on Clean Transportation) says Net Zero is possible – at a cost.
According to the ICCT- "In the most ambitious (Breakthrough) scenario….aviation CO2 is cut by more than 90% below 2019 levels in 2050; cumulative emissions are consistent with the 1.75ºC pathway under which aviation doesn't increase its share of a global carbon budget. SAFs account for the largest share of CO2 reduction potential, varying between 59% and 64% across scenarios."
(Listen to the Sustainability in the Air episode where SimpliFying CEO Shashank Nigam interviews ICCT Program Director Dan Rutherford).
And turning to voluntary carbon offsetting, the 7% uptake claimed by Brussels Airlines in May is impressive, given that the industry average is closer to 1%.
However, even if 7% are voluntarily offsetting their flights, that means 93% of passengers are not doing so.  Or, in the most optimistic scenario and in the most climate active region of the world (Western / Northern Europe), less than 1 in 12 journeys are being offset, with the average for other European airlines still being 1-2%.
We also doubt the wisdom of giving passengers a scale with wildly varying prices when it comes to offsetting (depending on how much SAF is used).  This assumes a certain level of knowledge about SAF and carbon offsetting, which we doubt many passengers have.  And the expensive SAF option could be offputting.
That's why there is some credence to the argument that airlines should automatically offset flights on behalf of passengers.
This is being done by JetBlue and easyJet among others.  In its recent sustainability initiatives, Saudia similarly offset (to a factor of 190%) all journeys on a series of flights from Saudia Arabia to Europe.
As reported by Simple Flying last year, easyJet's Sophie Dekker was clear – "We think it's our responsibility as a major airline to compensate for the carbon that we're generating. And we think it's the cost of doing business nowadays."
And in fact, easyJet has seen clear business benefits thanks to its automatic offsetting policy.
easyJet included a figure in its Q4 2019 results, about how passengers felt more positively about the airline once they were aware of carbon offsetting, with an 11% increase in customers saying they will choose easyJet the next time they fly.
Eleven percent is a significant number, and that 11% will tell friends and family about their experience.  This comes as the most recent Nielsen Global Trust in Advertising Study (conducted among 40,000 consumers worldwide) shows that word of mouth continues to be the most powerful form of 'advertising.'
Read our report on how sustainability can build airline brands
Images via the Lufthansa Group and Brussels Airlines