It's Earth Day, 2022. Today, we announce the launch of Sustainability In the Air, a single source of truth for sustainable aviation. To enable that, we are launching a hub featuring sustainable aviation research and news from around the world. We are also launching the world's first podcast on sustainable aviation, with the goal to lead the conversation on an area that currently feels like a Wild West from the outside. But why now? Because it's about time.
Re-building trust in travel
When I started SimpliFlying in 2008 to help build trust in travel, airlines needed to be on social media. Customer service had to be delivered via Twitter and revenues had to be driven via Facebook. SimpliFlying took lead and we became global leaders through our work on digital strategy with over 70 airlines.
A couple of years ago, when COVID hit, airlines needed to build up their health and safety credentials to foster trust among travellers. Once again, SimpliFlying took lead. First with the launch of the Rise of Sanitised Travel, then the APEX Health Safety powered by SimpliFlying certification and finally with Fit2Fly, a platform for COVID testing for travellers.
Today and in the future, to build trust, airlines will need to focus on taking credible measures towards sustainability and communicate about them effectively too. Once again, SimpliFlying will take lead to help build trust in airline brands through our cutting edge work.
Why is sustainability key to a sustainable future for airlines?
While airlines only contribute to less than 3% of global emissions today, research indicates that this number could rise as air travel grows. Because the aviation industry is highly visible and high profile, many see flying as a luxury that should be heavily taxed or significantly reduced.
After two years of dramatically reduced travel due to the pandemic, environmental campaigners will start using two arguments: "Do you want to go through all that again?"; and "Was it so bad when you couldn't fly as many times a year?"
In many ways, the pandemic froze sustainability initiatives in the airline space – understandably, since airlines stopped flying for months on end. But now, sustainability is back on the agenda, and it will be even more acute than before. This is why airlines must show visible progress toward becoming more environmentally responsible. Yet, it's a chaotic field with lots of moving parts.
Introducing the Sustainability in the Air podcast
The realm of sustainable aviation is going through a phase of rapid development – from new technologies to SAF. Airline, airport and travel executives often struggle to make sense of what seems to be a wild-West scenario. It's about time someone took the leadership to help make sense and guide the industry toward best practices for getting to net zero. It's about time we embarked on creating a sustainable future for the industry.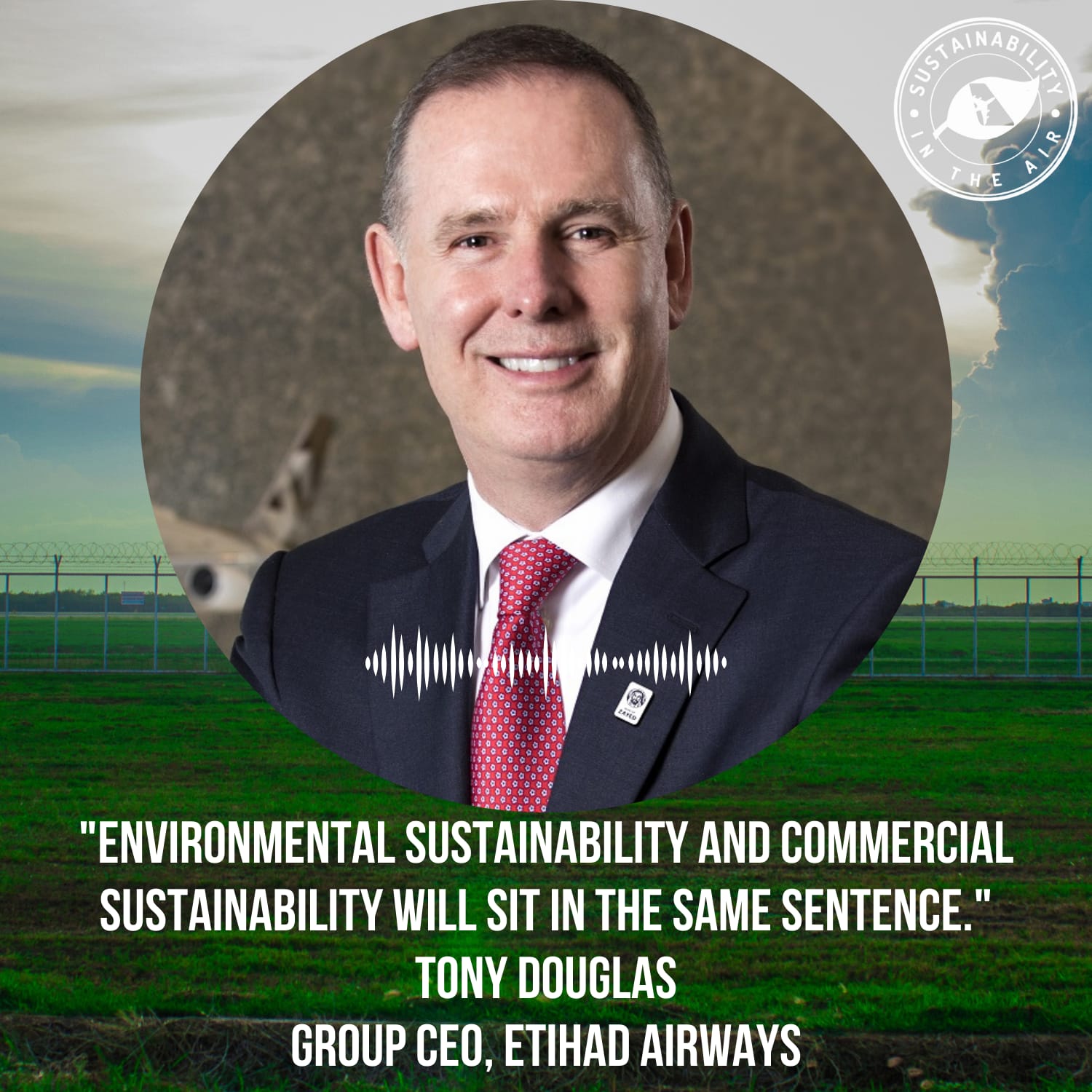 In each episode of The Sustainability in the Air podcast, I will sit down with airline or technology C-level executives to discuss best practices for helping airlines, airports and travel companies create a sustainable future for the industry. There will be a new episode released every Thursday and the first season will feature 10 interviews. The inaugural episode is Live today, featuring Tony Douglas, the Group CEO of Etihad Airways Group.
Do tune in, because we will plant a tree for each listen and plant 50 for each review left on your favourite podcasting platform! 
To celebrate the new podcast, we've partnered with our season sponsor CarbonClick to fund the planting of one tree for every new listener and 50 trees for each listener review. All funds will go to the Maputo Bay Reforestation Initiative in southern Mozambique. The project supports local communities to plant and manage mangrove forests, in response to the large-scale loss of mangroves in Mozambique. The vision for this project is to bring back the vitality of the forests that fringe the rivers and coastline of Maputo Bay.
You can find "Sustainability in the Air" on your favourite podcast platform and subscribe today!