The social network Twitter has seen a lot of upheaval since it was acquired by billionnaire and SpaceX / Tesla owner Elon Musk last month.  Recently the disruption and major changes have even led to questions of whether it will survive.
With Twitter having such a crucial role in most airlines and airports' communications and customer service functions, what should you be doing now?
Bearing in mind that the situation is changing every day, we'll first of all summarise things as they stand at time of writing (November 18th).  We'll then provide some guidelines that we think airlines and airports active on Twitter should be following.
Most Twitter employees have been fired or have left
Soon after taking over, Elon Musk let around 50% of Twitter staff go.  Some departments saw huge cuts, for example the communications team was cut from 80+ right down to two people.  This matters, Twitter is as much a communications business with a lot of PR-related content issues worldwide as it is a technology business.
As a result, Twitter will no longer be able to effectively reply to media queries.  As an aside, this mirrors Musk's approach at Tesla, which also has no PR department and generally does not respond to press queries.
Following that, there were a series of high profile resignations, including Twitter head of safety Yoel Roth, along with chief privacy officer Damien Kieran and chief compliance officer Marianne Fogarty.
Musk then sent an email to all remaining staff, telling them to commit to "hardcore" work by 5pm PST on Thursday 17 November, or take three months severance pay.  It appears most chose the latter route, and many staff who did agree, were ones on work visas, who are of course tied to their employer.  Following that, Twitter closed its offices for the day.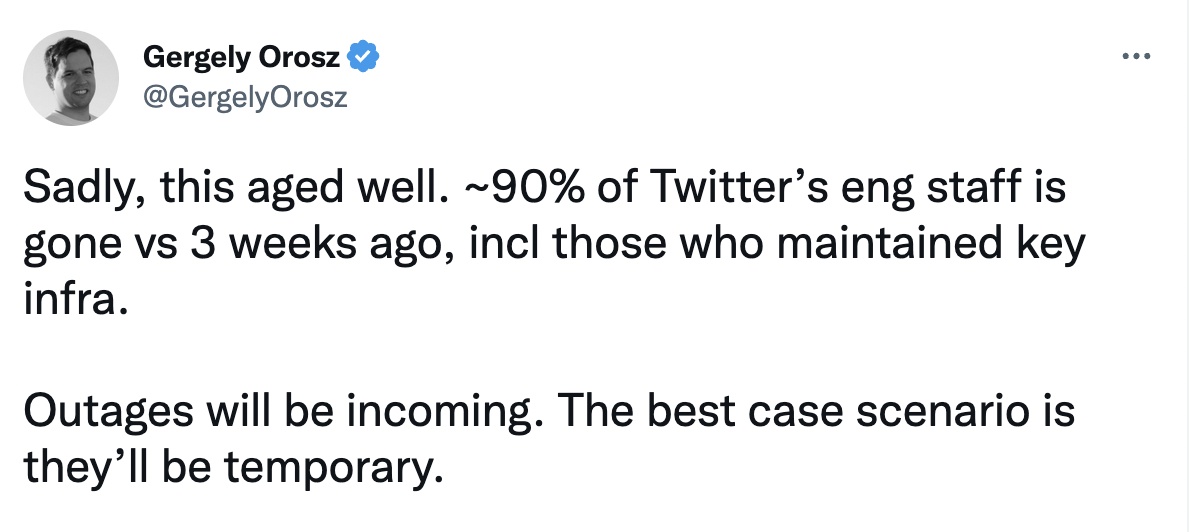 That inevitably led to a lot of speculation that the network, now missing most of its staff including in critical areas, might go down.  This comes as the New York Times reported tonight that some core teams are down to zero.
We agree with commentators who say that's unlikely, and that a more realistic scenario is that we start seeing failures here and there.  It's like having a car, but no one to repair it.  It will run for a while, before things start failing and breaking.
The latest that we've heard is that Musk sent out an email on Friday morning (PST), saying  "Anyone who can actually write software, please report to the 10th floor at 2pm today. Before doing so, please email me a bullet point summary of what your code commits have achieved in the past 6 months". This was followed up by another enail, encouraging staff to fly to San Francisco.
Journalist Zoe Schiffer who broke the news, remarked, "I am having a difficult time believing this is real and I am looking at the emails." 
The key thing to look out for is the World Cup, which starts on Sunday. This will be one of the most active days on Twitter, will anything go wrong?  Almost certainly there will be minimal to no content moderation due to the lack of staff.  The traffic Twitter will get will also apparently "test every system."  Who will be there to fix things?
The blue tick fiasco – a lesson for airlines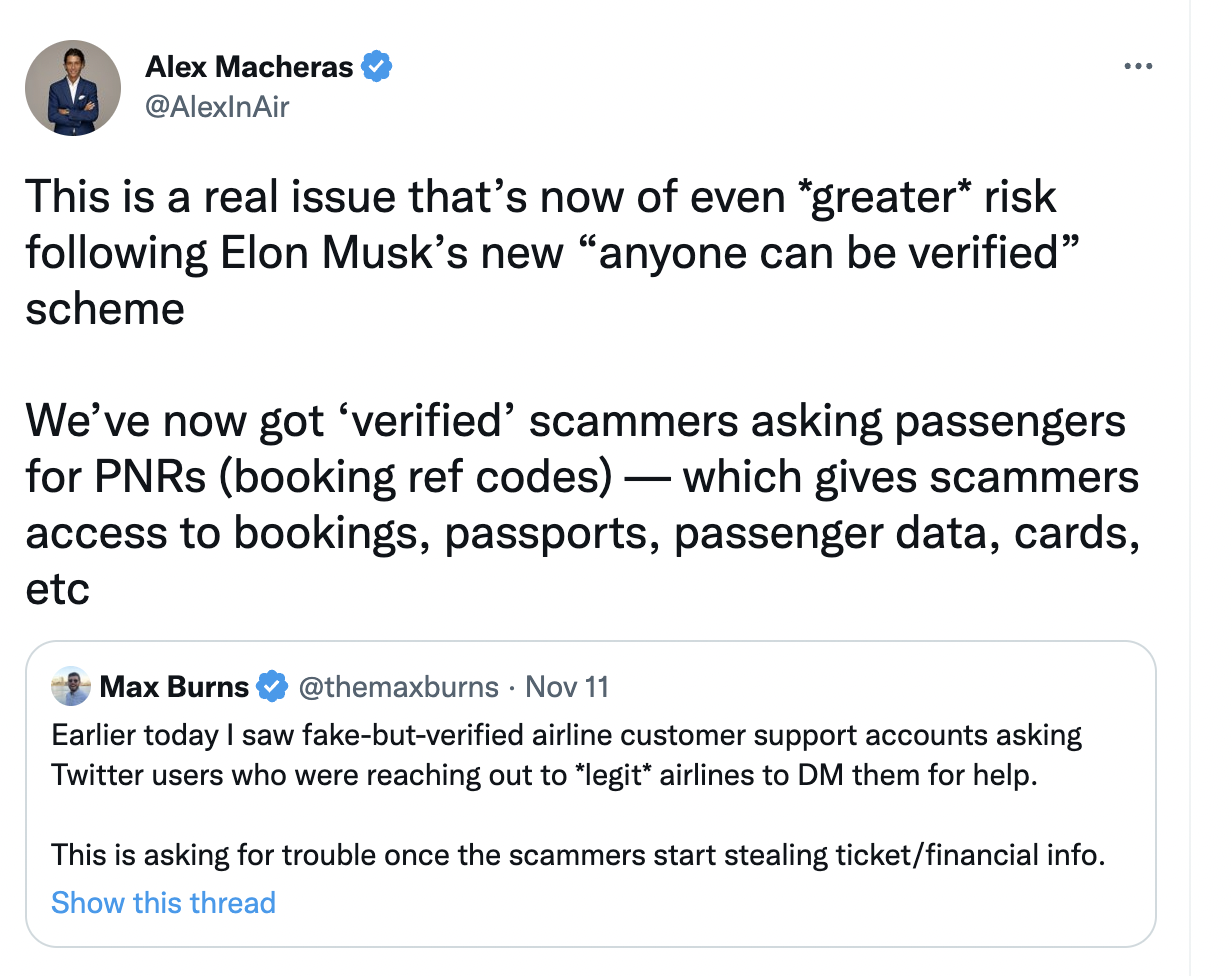 Soon after taking over, Musk decided to revamp the blue tick verification system, saying that this created a 'lords and peasants' type regime. Instead he wanted this replaced by an $8 monthly subscription charge, basically an extension of the existing Twitter blue system.  Of course, verification is important to airline customer services departments as the consumer knows they are talking to a real brand.
Following that, there were reports that fake airline accounts were being set up, asking passengers to DM their booking information. This is a recipe for fraud and could very much hurt airline brand reputations.  Musk has temporarily withdrawn his $8 plan, with a view to relauncing it later, but the damage was done.
It's also worth noting that a fake, but 'verified' Eli Lilly account tweeted out that insulin would now be free. Shortly afterwards the stock price of the pharmaceutical giant dropped.  As a result, the potential for harm to your reputation is high, with possible financial consequences.
In the New York Times, the recently departed head of safety Yoel Roth questioned whether Musk's plan even involved keeping brands happy –"His ability to make decisions unilaterally about the site's future is constrained by a marketing industry he neither controls nor has managed to win over."
What should you be doing?  Five steps for aviation brands to take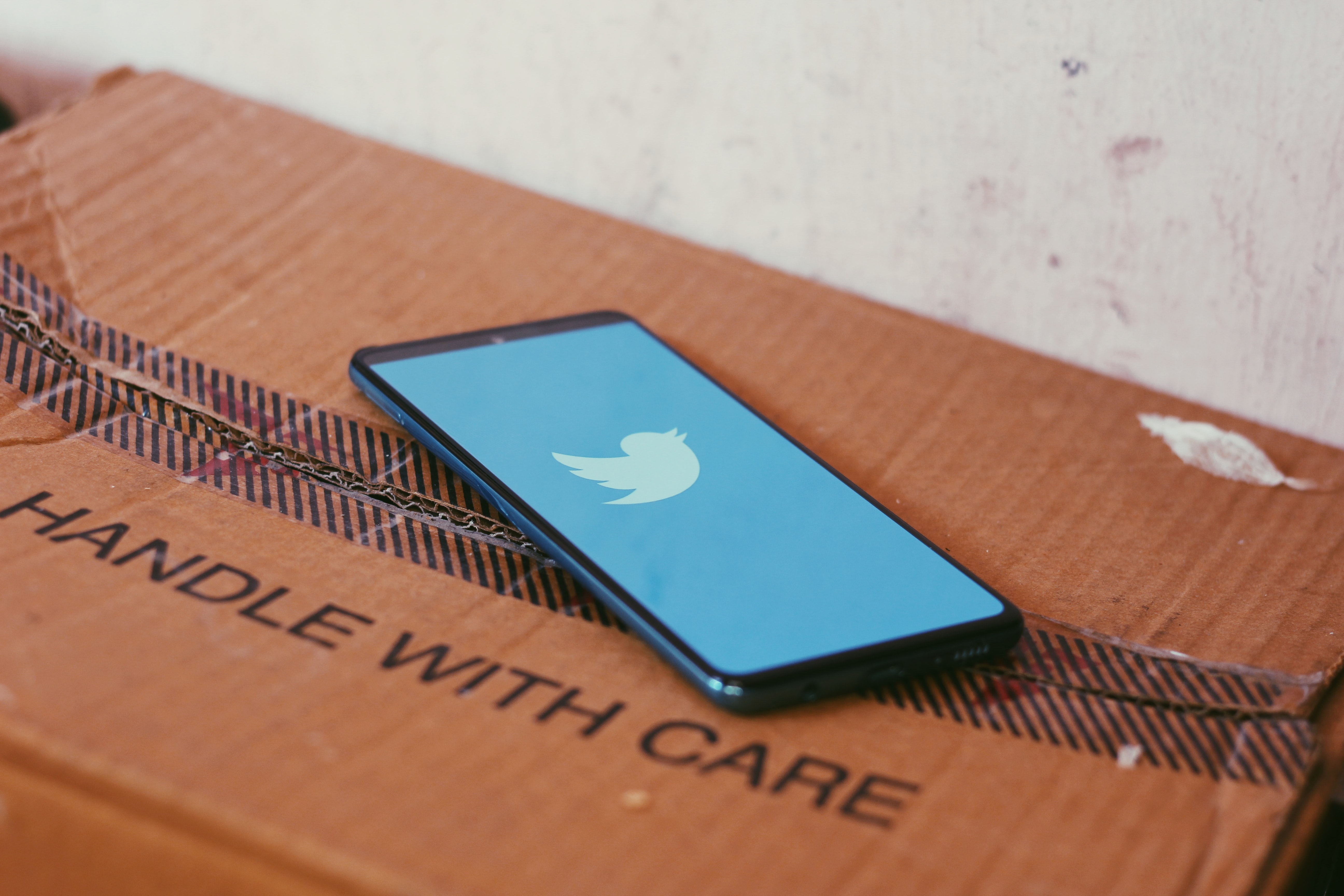 With all this in mind, this is what we think aviation brands should now be doing:
1 – If you haven't already done so, pause all Twitter advertising
As it is questionable whether very much of the moderation team is left, your promoted tweet could be running under inflamatory content.  With all the changes and disruption that has been going on, we recommend for now diverting your online spend to other networks
2 – Keep your Twitter feeds going, but pin a safety tweet to your feed
People are still tuning in, in fact Musk claims that user numbers are higher than ever (which could be that people are attracted by the controversy and spectacle).  However, it would be wise to pin a tweet to the top of your feed about safety – for example, about how you will never ask for personal credit card details, and that customers should be wary of fake accounts that do.  We would also recommend requesting your complete Twitter archive
3 – Make sure your other social networks are active
Make passengers aware of Facebook and other social networks as an alternative to Twitter for service announcements and customer services queries.  Do you have WhatsApp enabled as a customer services channel?  Now would be a good time to do so if not
4 – Monitor Twitter alternatives
Some users are migrating to Mastodon, which looks and feels a little bit like Twitter.  However, we agree with the assesment that Mastodon is not really user friendly enough to appeal to the mass of non tech users.  But, you should register your domain here if you've not already done so, in case it does take off.
There also appear to be other networks on the horizon, one in beta is "Post."  It's worth monitoring them to see if these develop and become popular.
5 – Adopt a cautious wait and see approach
Twitter has been an invaluable tool for airports and airlines over the past decade.  Though things don't look too good for the social network right now, we don't know what the landscape will be like in the next month or even week.  Musk has talked about bringing in a new CEO, s/he might right the ship.  Or, he may even get bored of it and sell it on at a loss.  Or perhaps Musk's plan will actually work. But for now, follow the other steps we've suggested