Imagine if you had not just a plane seat, but the whole plane to yourself. What would you do with it? Creative, marketing and digital agencies Turkey, it is time to put your creative caps on!
Estonian air is offering a chance of a lifetime by giving you an opportunity to think out of the box and help to create a world record this September.
All you have to do is fill up a whole plane from Istanbul to Tallinn and back. You can be a 2-person agency or a global leader, there is no fee to enter and it is a perfect opportunity to showcase your creative prowess and skills around the world.
This once in a lifetime opportunity offers you a chance to be as adventurous as you like (without compromising safety). Get one of your clients to organize a corporate retreat @35,000 feet by "buying out" the whole plane at once, or convince a stand-up comedian to host the world's highest comedy show and sell tickets to his show through Twitter and Facebook. Or, even auction the seats on a Groupon-like platform. Feel free to think wild, this is YOUR plane to fill, after all.
To sweeten the pie a bit more, the winning agency also will get a part of the spoils through revenue share!
Excited? Read on to find out more.
Brief: Create a World Record Breaking initiative that fills up an entire plane from Istanbul to Tallin, Estonia on Sept 9, 2012 and back on Sept 11, 2012.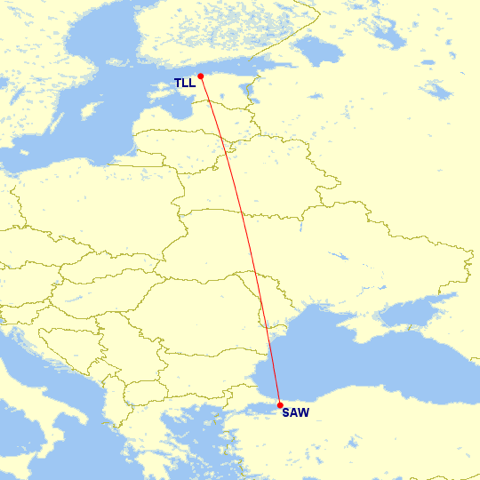 What we provide you:
85 seats on an Estonian Air flight from Istanbul Sabiha Gökçen (SAW) to Tallinn, departing late afternoon, arriving in Tallinn that same evening on 9 September 2012.
85 seats on an Estonian Air flight from Tallinn to Istanbul Sabiha Gökçen (SAW), departing in the evening, arriving at night on 11 September 2012.
Discounted rates at Four star Radisson Blue Hotel Olümpia for 9-11.09.2012 in Tallinn at 75.- EUR per room per night. Buffet breakfast, health center, WIFI, parking – all included.
Free Tallinn City tour for all passengers on the 10th Sept morning
25% revenue share for the agency from the total price the flight is sold at
What you need to do to qualify:
Submit a presentation of maximum 15 slides or a 10 mins video to worldrecord@simpliflying.com by August 30, 2012 explaining your concept and how you will work to achieve the feat
Estonian Air and SimpliFlying will judge the entries based on the following criteria
Innovativeness of concept
Revenue potential
Ability to deliver
Submit any questions you may have to the comments box below and they will be discussed openly.
The top three agencies shortlisted will be contacted by email by Sept 3, 2012 and a winner decided that day.
All the best from the Estonian Air and SimpliFlying teams!