During the APEX EXPO in December 2021, SimpliFlying's CEO Shashank Nigam interviewed Aeromexico's Chief Customer and Digital Officer and EVP, Andres Castañeda, about the carrier's health safety and sustainability plans. 
"We've been talking to our customers a lot about how their perception has changed and their behaviour has changed after the pandemic," Castañeda explained. "We understood that health and safety measures were at the very top of their priorities."
This is one of the reasons why Aeromexico not only underwent the APEX Health Safety powered by SimpliFlying audit, receiving a Platinum-level certification in February 2021, but also took up a position on the program's Board of Directors. 
The carrier brought a unique perspective, since Mexico was one of the only countries to see a real bounce-back in terms of domestic travel after the early days of the virus. "At the peak of the pandemic, we were operating at 5% of our usual capacity, but last month we had more passengers than pre-COVID-19, so there's definitely been a strong recovery in our domestic market. The trans-border market between Mexico and the US is recovering strongly as well," Castañeda said. 
While the carrier fully believes that health safety measures will continue to be a priority for passengers, he added that as it looks to the future it will also focus heavily on sustainability. Castañeda feels this is the only way to responsibly achieve the aviation industry's strong ambitions for growth.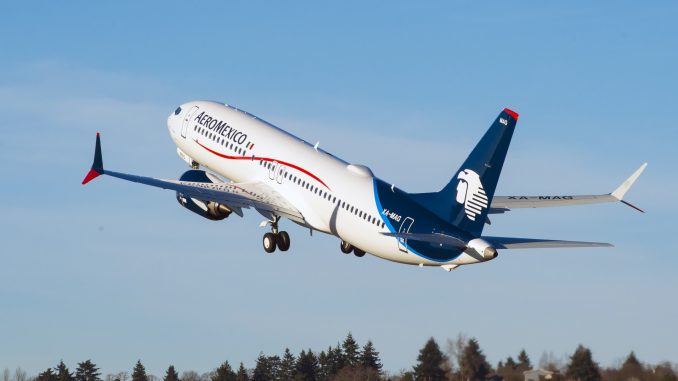 At Aeromexico specifically, the carrier is focusing on renewing its fleet, which will naturally have benefits in terms of fuel efficiency. In 2021, it announced an order for 24 new Boeing 737-8 MAX and 737-9 MAX jets, alongside plans to retire some of its Boeing 737-700s and Embraer E190s. 
In partnership with Neste, it carried out three flights between the US and Mexico using sustainable aviation fuel (SAF) for the first time in November 2021. Elsewhere, Castañeda said the airline is also undertaking a range of other initiatives, such as phasing out single-use plastics from 2022.
But Aeromexico is aware that it can't change the world on its own. "This is an industry that has been hit by a lot of press, which is good because it puts pressure on us and will make us act faster," he stated. "But I think it's important to understand which key projects we're going to collaborate on when we're all talking about lowering our emissions. We need to communicate that so customers understand what steps we are taking and can make decisions based on that."
Commenting on its broader strategy, Castañeda said of Aeromexico, "As an airline, we want to put our customers at the centre of everything that we do. That mentality, combined with Mexican hospitality, is something that differentiates us."
"We have also been investing a lot in creating a personalized experience," he added. "That's important because it not only lets passengers to create their own experience but it also allows us to introduce new products and services."
Download SimpliFlying's free Airline Health Safety Yearbook to find out more about Fiji Airways' approach to health safety and sustainability.