While the airline industry is aiming for Net Zero by 2050, ZeroAvia CEO and Founder Val Miftakhov says the goal should be so-called 'True Zero', where air travel has next to no environmental impact at all.  
Speaking at the Farnborough Air Show, Miftakhov pointed out that current aircraft fleets have a lifespan of 30 or so years, and so "we have to start yesterday" to deal with sustainability issues.
Miftakhov said that this is an existential question for the aviation industry. "Aviation is a great thing for humanity. The more connected we are, the safer we are as humanity…however, if we don't solve the climate issue, aviation will be severely restricted."
At the Air Show, Miftakhov outlined the thinking behind the decision of the British-American aircraft developer to go for hydrogen electric technology.
H2 electric involves renewable hydrogen being stored in tanks.  This is converted to electricity in flight using a fuel cell, which then powers the electric motors. According to Miftakhov, this solution results in a 95% reduction of climate effects.
This compares with combustion based solutions, such as H2 combustion, which Val Miftakhov says will only result in a 50% reduction, due to contrails and the production of additional NOx.
In fact the day before, Airbus held a press briefing at Farnborough to talk about its Blue Condor project, which is aiming to look at this issue.  A small hydrogen engine is being put on a glider, and tests are being carried out in the Winter in North Dakota.
A question came up at the Airbus press conference of whether the issue of NOx could even derail the whole hydrogen engine project, and it's worth noting that Amsterdam's Schiphol Airport is introducing a flight cap from November 2023 partially because of nitrogen oxides – as well as aircraft noise.
Meanwhile looking at pure electric solutions, there is a problem around both battery storage and the airport infrastructure required.
Battery electric aircraft will need the power supply of a small town
Speaking in a separate Farnborough session, Warwick University Professor Dr Andrew McGordon outlined the problems airports will face in serving a fleet of electric aircraft.
According to Professor McGordon, the largest Tesla charging station in the world (in Shanghai) which can charge 72 cars simultaneously, does not generate enough electricity to charge one 9-20 seat electric aircraft.
If you want to charge ten of these aircraft at once, you would need power equal to that used by a small town.  It is worth noting that Heart Aerospace, which like ZeroAvia, hopes to have a 19 seat aircraft flying by 2024 and has also signed contracts with United, is going down the all-electric route.  
Miftakhov outlined that ZeroAvia had made progress in thinking about the infrastructure needed for its H2 electric aircraft, including keeping seat costs down as "you cannot drive adoption just for the nice option."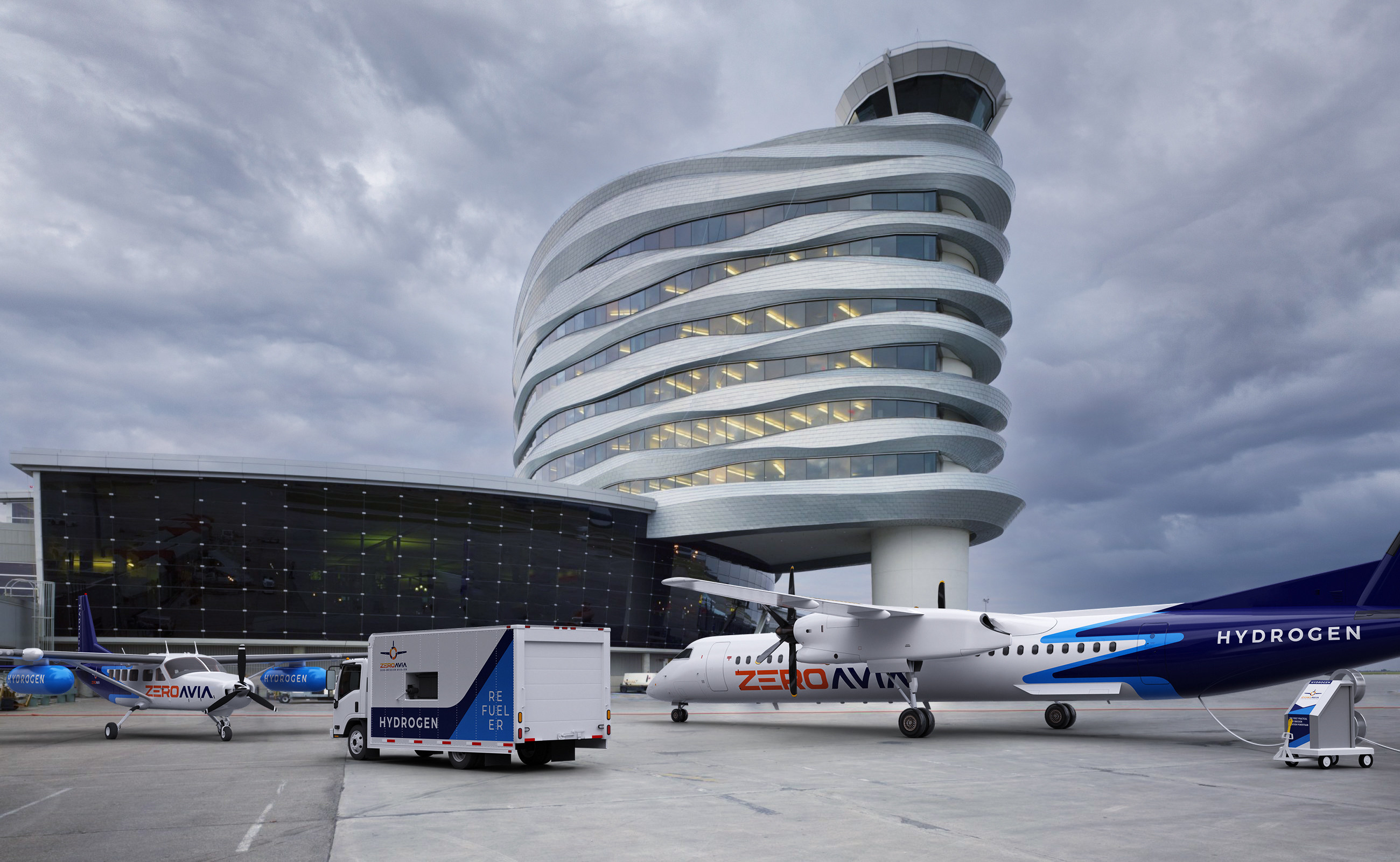 At Farnborough, ZeroAvia also signed an agreement with Edmonton Airport (EIA) in Canada. EIA will work with ZeroAvia to develop hydrogen infrastructure at both the main airport and Villeneuve Airport. The partnership targets exploring the use of hydrogen for decarbonization of aircraft operations, and also the wider airport ecosystem.
In the Sustainability in the Air podcast, SimpliFlying CEO Shashank Nigam discussed the wider point about costs with Universal Hydrogen co-founder John-Paul Clarke, who predicted that by 2025, green hydrogen will come at par with Jet fuel on a per seat mile basis.
That's one year after ZeroAvia's 19 seat aircraft should start flying commercially, and five years before ZeroAvia wants to have a 100-200 seat aircraft powered by its engines in the skies.
ZeroAvia's progress and technology has attracted the attention of a number of airlines and both industry and Governmental backers.  
At Farnborough,  ZeroAvia signed an agreement with Ravn Alaska to deliver hydrogen-electric propulsion for the operator's passenger aircraft. Ravn has placed an order for 30 of ZeroAvia's ZA2000 powertrains with the intention of retrofitting its De Havilland Dash-8 fleet to enable zero-emission flights.
ZeroAvia also has agreements in place with United and Alaska Airlines.  Meanwhile, aircraft manufacturers Mitsubishi and De Havilland are on board to see how ZeroAvia's technology can be retrofitted into their aircraft.  Mitsubishi now owns the Canadair regional jets, and the idea is that the CRJ series will be adapted for zero emission regional aviation.
ZeroAvia hasn't had a completely problem-free trajectory.  A 2021 demonstration aircraft crashed (fortunately with no injuries), with the investigation highlighting a number of issues, including commercial pressure to accelerate its timetable – something the company pledged to address. As we noted in our post about Boeing-backed urban mobility startup Wisk, Wisk's CEO deliberately has not put a launch date on the company's autonomous electric air taxis so as not to pressure the 500 engineeers working on the programme. 
However, the bigger picture is that ZeroAvia clearly has made significant progress, and attracted heavyweight backing.  This includes another $30 million investment from a range of organisations including airline group IAG, and Saudi Arabia's NEOM project, which aims to be "the world's largest hydrogen-focused future city."
As a result in a space which will see inevitable consolidation, ZeroAvia is a good bet to be a big player in sustainable aviation in the medium, as well as short term.