On my BBC interview last week, we discussed how "travel bubbles" could help kickstart travel, like between New Zealand and Australia. Countries like New Zealand and Vietnam seem to have finally won the battle against COVID-19. Others like Australia and Taiwan are not far either. So it would make sense to allow travel between "green zone countries" like Australia and New Zealand, or Taiwan and Vietnam, isn't it? I took normalised data from EndofCoronaVirus.org and grouped "winning" countries with significant travel demand between them to create multiple travel bubbles. I raised this question on a LinkedIn discussion which received enthusiastic participation. Let me elaborate on some of the insights here.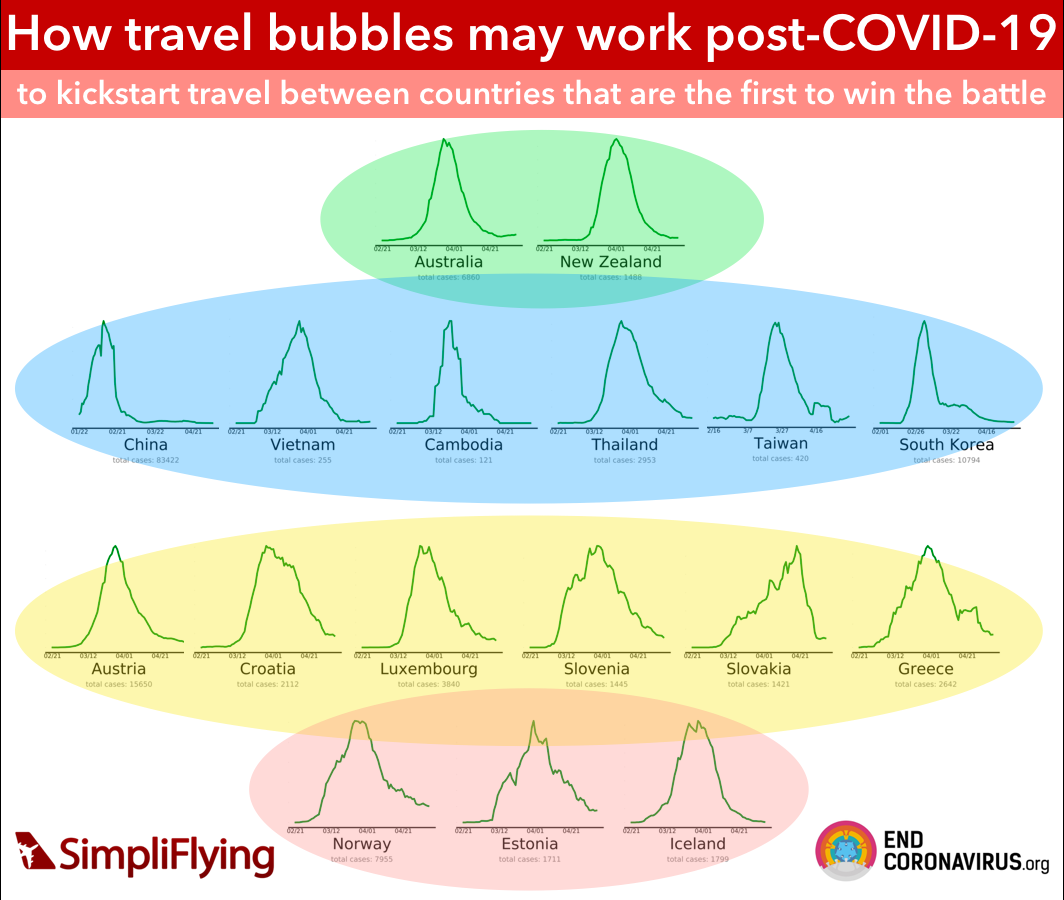 No quarantine needed
The biggest advantage? If you're flying within a travel bubble, there would be no need for a 14-day quarantine. Moreover, only a few of the procedures we highlighted in our Rise of Sanitised Travel report may be required. Forget about getting a blood test when flying from Dubai to Jeddah, as Mohammed felt a Gulf-region travel bubble is a possibility. You may not need to wait two hours for your COVID-19 results to come in and pay €190 upon landing in Vienna from Athens, while those coming in from Istanbul may not be able to avoid this fate.
A lot of people who may shy away from travel in general due to additional health measures being put in place may choose to do so within a travel bubble. Like between the Baltic states and Norway/Iceland. Or between some countries in South East Asia and China.
Domestic travel bubbles
Ed Sims, the CEO of WestJet, shared that such travel bubbles may first appear domestically in large countries like Canada. That actually makes sense.
"The concept of a bubble driven by a digital form of immunity passport coupled with contact tracing seems genuinely deliverable and sustainable" – Ed Sims, CEO of WestJet
Travel bubbles within a single country like Canada, Russia or even India have the benefit of homogenous privacy regulations for contact tracing, consistent health screening measures across airports and similar medical facilities for anyone who falls ill while travelling. Domestic travel bubbles may indeed precede international ones because they are easier to implement.
Non-air travel bubbles
Iztok Franko, a digital marketing expert, shared that  Slovenia and Croatia are "talking about an agreement to open borders for travel and should be effective soon. Over 100,000 Slovenians own boats and houses on the Croatian coast. They will be the first to be able to enter Croatia."
It is understandable that most Slovenians heading to Croatia will not be flying, but driving there. In fact, a lot of initial travel in travel bubbles may see people taking trains or driving. Land borders connect not just the European countries, but also in South-East Asian countries like Vietnam and Thailand.
Once these "travel bubbles" are operational, we can see how the results are, before replicating these around the world to boost travel confidence.
Are travel bubbles a long term solution?
While travel bubbles may act as catalysts to kickstart travel, are they a long term solution? Probably not. Especially as many countries find themselves left out of these travel bubbles. Vimal Rai chimed in,
"The more I think about this long-term and strategically, it's not about travel bubbles. It's going to be about a combination of immunity passports (whatever form they take), on-site testing, tracing app, masks etc." – Vimal Rai
In our report on the Rise of Sanitised travel, we too have highlighted the need for immunity passports and advocate the creation of a Transport Health Authority. In the long run, these collaborative efforts will definitely be needed. Till then, travel bubbles can help re-build confidence and kickstart our industry.
What do you think?
---

SimpliFlying has set up a Rapid Response Team to help airlines be ready for post-corona travel's realities. The team has been holding Board-level briefings to orient executives with the new touchpoints. We will be happy to do a 30-minute call with your executive team to run through the detailed post-corona customer journey map. In order to help the industry, these calls are free for airlines and airports. Get in touch to set up a call.